Our financial lives are getting more complicated with multiple accounts and everything being online.
If you're juggling several tools to manage your personal or business finances and wish that all your financial information was handled in a single place, Cinch Financial is an excellent solution for you.
How Does the Cinch Work?
Cinch Financial monitors it all, right from your missed payments, unauthorized payments, how much insurance you require, to your credit score. Cinch is a financial advisor that not only handles all your finances, but also offers personalized financial recommendations and tips. And, the best part is that it is quite an inexpensive option.
Cinch Financial acts as a fiduciary, and you can be assured that the advice that it offers is focused on what's best for you. Cinch offers reliable financial advice and clear-cut action plans that give you complete peace of mind in terms of managing your finances.
You can sign up for an account with Cinch Financial for free. You start an account by creating your login info, and completing a "getting to know you" survey. The survey consists of a few questions regarding your household income, demographic information, etc. so that Cinch can understand your financial situation.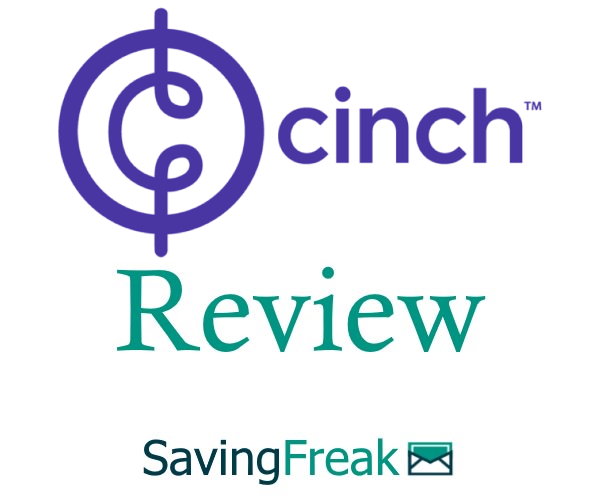 The next step is to verify your credit account so that Cinch Financial can offer you financial advice that is personalized based on your credit history.  Cinch can also offer you products such as insurance, credit cards, etc. that enable you to find a lower rate of interest and save money. This will not affect your credit score in any way, as this is a "soft inquiry pull".
Once your identity is verified, you will receive your VantageScore. You will then link your bank, primary checking account, and credit card accounts to Cinch so that your finances can be evaluated properly.
Cinch gives a list of several popular financial institutions that you can select from, or you can type the name of your financial institution or bank. You will then need to enter your "Access Code" to verify your bank account.
Cinch Financial may also access your financial accounts using a personal identification code that will either be emailed or sent as a text message to you. Once your bank account and credit card accounts are synced, you have the option of matching up the loans and credit cards you have to what appears on your credit profile.
For Cinch to work efficiently, it is recommended that you link all your bank or credit accounts. Cinch Financial takes a holistic approach to your financial well-being rather than focus on your individual transactions. Cinch Financial takes a snapshot of your finances by breaking it down into four components:
Spending Flow
Cinch has a handy chart which compares the "Money In" and the "Money Out", and in a glance, you will know what your expenses and savings are as well as your financial situation. The Pocket Money tool shows you how much money you have for your daily expenses without having to use a spreadsheet to track your income, expenditure, bills, saving goals, etc.
Debit and Credit
Cinch Financial aggregates all your debts in a single place, be it your credit cards, auto loan, home loan, student loan, etc. This serves as a useful reminder as you work towards paying off any of your unsettled debts.
Emergency Funds
Cinch encourages you to build an emergency fund that you may need in case of an emergency. It displays how much money you have saved away in your cash accounts.
Insurance
Usually, people take insurance policies only as an afterthought and it is not considered as a key component of personal finance. However, having the proper life insurance is of vital importance and is a critical aspect of being prepared financially. Cinch considers all aspects of your financial situation – your income, debts and number of dependents and it analyzes if you have sufficient insurance.
Fees/Pricing
You can sign up with Cinch Financial for a 90-day free trial. If you are happy with the free trial, then you can move to a monthly subscription by paying $4.99 per month.
The objective of Cinch is to save you more cash than what you pay for your subscription and there is a high chance that with a couple of banking or insurance recommendations, within 1-2 months, the subscription will pay for itself.
Company History
Cinch Financial was started in 2014 in Boston, Massachusetts. The company offers its financial services and supports accounts and individuals that are US based.
Alternatives
Cinch has proven to be a solid player as a personal finance app. Other Alternatives include:
Personal Capital – Just as comprehensive and with no fees, Personal Capital is one of the most popular financial apps available.
Trim – Focused on saving you money, the Trim app checks your accounts for extra subscriptions and opportunities to cut your budget.
Betterment – With their main focus as a robo-advisor, Betterment also syncs with your financial accounts to give you a full picture of your financial health.
Pros
Cinch leverages machine learning and artificial intelligence to impact your financial situation positively.
Filling in the questionnaires are quick, simple, and straightforward and takes just a few minutes to complete.
The Cinch website has a clean, clutter-free, and simple interface and is extremely easy to navigate.
Cinch offers personalized recommendations that can help you save money. With Cinch's unbiased advice, you can get rid of all your debt, improve your finances, and build on your savings.
Cinch is a fiduciary and is different from other financial tools by offering unbiased financial advice. It does not generate any income by suggesting any financial products and services.
Cinch gives you a 90-day free trial, which allows you time to discover the advantages that Cinch offers and not paying for the membership unless you are completely satisfied.
The low monthly fee of $4.99 per month charged by Cinch is really worth the amount as it is always looking at various options to manage your finances and save you money.
Cons
Cinch does not have a mobile app for Android or iOS and cannot be accessed via mobile devices.
Does not offer complete automation and does not have the capability of applying for loans or negotiating lower rates for insurance on your behalf.