If you're looking for a place where you can get the highest payout for your valuable diamond jewelry, then you should consider Diamond Buyers International.
How Does Diamond Buyers International Work?
Diamond Buyers International are not wholesalers of diamonds. They are diamond experts who sell to an extensive network of jewelers without the involvement of intermediaries.
Diamond Buyers International follows a simple 4-step process that will help you get the best prices for your jewelry, diamonds, and watches in the safest and quickest way.
Step 1: Get an Estimate Instantly
By making use of Diamond Buyers International's Online Appraisal Calculator, you can get an initial estimate for your valuable item instantly. Or you can call Diamond Buyers International or contact them online to discuss your items with them directly.
Step 2: Request For a Free Appraisal Kit
You can fill out a request form for a Free Appraisal Kit.
You will receive an appraisal kit from Diamond Buyers International free of cost. This kit includes a prepaid FedEx envelope which is fully insured and instructions on how you can send your diamond jewelry safely to Diamond Buyers International.
Step 3: Ship Your Items Confidently
Your FedEx package with your valuables is extremely secure, and the package is insured for a value of up to $5,000. Once the package is in the FedEx system, you will receive a tracking code, which will allow you to track your package.
As soon as the Diamond Buyers International facility receives the package, you will receive a notification, and you will also get an official offer for your jewelry within 24 hours.
Step 4: Get Paid
Within 24 hours, you will receive an offer for your jewelry from Diamond Buyers International along with a secure login and you can either accept or reject the offer.
If you accept the offer made to you, then Diamond Buyers International will send you the payment via PayPal, a direct deposit or a check immediately.
If you do not accept the offer, then Diamond Buyers International will send your jewelry back to you free of cost without any questions asked. Diamond Buyers International pays you the highest price for your jewelry because:
They do not deal via intermediaries. While most of the diamond buyers sell to wholesalers or brokers, who in turn, sell to the retailers, Diamond Buyers International sells the diamonds directly to jewelers. This allows them to pay you a higher price for your diamond jewelry.
While other diamond buyers pay less when there is lower demand, Diamond Buyers International holds their diamonds until the demand for them is high and they get the best prices for them. This is why Diamond Buyers International can pay you peak-season prices all through the year.
Diamond Buyers International's in-house diamond cutters are certified to recut the lower quality diamonds. This optimizes their value by reshaping the cut or minimizing their flaws and thereby, maximizing the value of the diamonds.
Services Offered
Diamond Buyers International buys:
Diamonds
Diamond jewelry
Designer jewelry
Watches
Instant Online Appraisal
If you want to know the value of your diamond, you can make use of Diamond Buyers International's online appraisal calculator and get the initial estimate for your diamond instantly.
Or, you can call Diamond Buyers International or contact them via email to discuss your jewelry directly.
Insurance
Diamond Buyers International ensures that you have complete peace of mind when you ship your valuable jewelry to them. Your package is shipped via FedEx. The Diamond Kits are insured for an amount of up to $5,000 along with free overnight shipping.
Safe Shipping
Your jewelry is shipped in a prepaid and insured FedEx overnight envelope.
Diamond Buyers International will send you a tracking code once your package is in the FedEx system. As soon as Diamond Buyers International receives your package, you will get a notification.
Risk-Free Satisfaction Guarantee
Diamond Buyers International guarantees that they pay more. However, if you are not satisfied with Diamond Buyers International's offer for your item, they will return it to you free of cost.
Company History
Diamond Buyers International has been in the business of buying watches, diamonds, and diamond jewelrysince 2007. The company is based in the Diamond District of New York and has over four decades of experience in the industry.
Alternatives
Diamond buyers international is a top company for selling your diamonds. These are three of their top competitors:
Worthy.com – Known for getting the best price on people's jewelry, our Worthy.com review details how they get the best prices.
Diamond Valet – Backed by a dealer network, our Diamond Valet review explains how the company works.
Mondiamo – With backing from BlueNile.com, Mondiamo has an easy path to selling your jewelry.
Pros
An established business in the diamond industry and has been in existence since 2007.
A BBB (Better Business Bureau) rating of A+.
Although Diamond Buyers International is a diamond specialist, they have decades of expertise, experience, and the resources to value precious metals. They are fully equipped to appraise the gold, silver and platinum settings of your diamond jewelry and they will pay you for the precious metal.
If you are not satisfied with the offer that Diamond Buyers International makes for your valuable item, then they will return the item to you free of cost.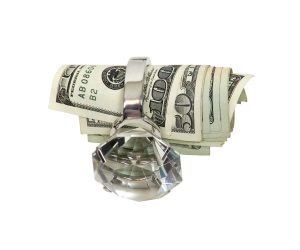 Cons
Diamond Buyers International offers insurance of up to $5,000 when you ship your jewelry to them. This is extremely low compared to some other companies like Worthy, who offer up to $100,000 any of the jewelry you send to them.
The website of Diamond Buyers International is outdated and not very user-friendly. The site does not have a lot of information about the company or its policies and processes.
If you want to sell your jewelry to Diamond Buyers International, you are entirely dependent on the appraiser of the company to give you an offer price for your jewelry. Companies like Worthy, use a third-party appraiser and provide you with the final report.
You can only contact Diamond Buyers International via phone or email. They do not have an option of correspondence via text messages or chat.
Diamond Buyers Internaitonal Review Bottom Line
Diamond Buyers is one of the top jewelry buyers available online, but they are a little lacking on their transparency when compare to the competition.
That is not a complete red flag because they have built a solid reputation as a company that pays and does take care of its sellers.