Getting a healthy meal on the table every night in today's busy world can be difficult, and the cost of eating out way too expensive.
This is where meal kit subscription services like Dinnerly have stepped in to help us eat better meals for a much lower price.
How Does Dinnerly Work?
Dinnerly is a meal kit delivery (subscription-based) service that works on a subscription basis and is designed for people who like home-style cooking, but are wary of shelling out too much money for it.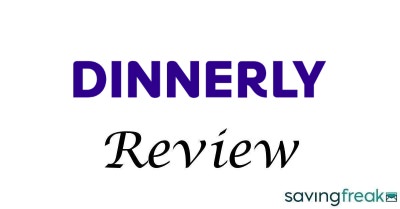 The service offers simple but great recipes and fresh ingredients that are delivered right to your doorstep.
The subscription has been designed to be flexible, meaning that you can skip as many deliveries as you want (in case you don't like what is on the menu).
The service can be canceled any time you want, in case it does not meet your needs. As the name suggests, the service only offers dinners (for now).
There is no customizing option since there are just six set options that are available on the menu. Don't worry about that, because the recipes are time tested and would be appreciated by the pickiest eaters.
Pricing
After you have subscribed, you are presented with two types of meal boxes (currently only two) to choose from.
There is the two-person box, which can be used to make three delicious meals for two people three times a week. The other one is called the family box, which serves four people three times a week.
Two-Person Box
The box contains two portions per recipe and costs $4.99 per meal. At three recipes per week and adding $8.99 for shipping, the total cost per week comes to $38.93.
Family Box
The box has four portions per recipe and costs $4.99 per meal. At three recipes per week and adding the delivery cost (same as above, $8.99), the total price comes up to $68.87.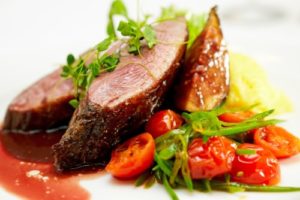 Regardless of the kind of box, the meal remains at $4.99. If you compare that with the cost of groceries, it should be a close wash, but compared to eating at a restaurant, it is a great deal.
The price is also low when you compare it with other such services. So how have they kept the price so low?
The approach is simple – keep the cost low by using fewer ingredients per meal, no printed recipes (all digital and always available), no big marketing campaigns.
The result? An astoundingly low $5! Furthermore, you don't have to get stuck with one subscription.
If you initially subscribed for a two-person box, but now feel like you should go in for the family box, you can easily do that by logging into your account and changing your preferences.
Types of Meals
The exciting thing about Dinnerly is that the menu changes every week, so you will never get tired of it. Dinnerly displays each month's menu (divided into four weeks), which consists of six recipes.
Each recipe categorized in a way that will tell you if it is vegetarian or non-vegetarian, spicy or non-spicy, if it is kid-friendly, low in calories, or a one-pot meal.
Clicking on each dish will reveal a detailed, step-by-step recipe that is fun to read and easy to follow. Each recipe has only six simple ingredients that cut down on preparation, thus saving on cooking time and cost.
If you are someone who follows a health-conscious path, you will be pleased to know that Dinnerly uses ingredients such as grass-fed beef, chicken that is raised free of antibiotics, and other organic and clean sourced methods.
Other ingredients keep changing seasonally and are packed neatly in an insulated box when they arrive, which can be refrigerated for up to four days.
All the meals can be prepared by using the most basic of kitchen ingredients such as oil, salt, and pepper, and Dinnerly provides the rest in ample quantities.
The recipes themselves are very exotic sounding, some examples include:
Italian Sausage Hero
Green Pesto and Bean Shakshuka
Spinach and Ricotta Calzones
The fancy names don't keep them from being easy and fun to prepare while being delicious and healthy. Cheaper meals do not translate to bad meals anymore!
Company History
Launched in June 2017 by Marley Spoon Incorporated, a Berlin-based company offering cost-conscious meal kits to paying customers. Originally launched in New York, Connecticut, Rhode Island, Washington, D.C., Pennsylvania, and Massachusetts, the company now delivers across the United States.
Launched initially as a friendly spin-off to Martha and Marley Spoon, the service was designed to conquer the one obstacle that was hounding similar meal kit services – affordability. The other challenge was that the meals be simple to cook and be delicious at the same time.
Dinnerly achieved this by doing two things quickly – cutting down on huge marketing costs and using less expensive, recyclable packaging and printing no recipe cards as their competitors were doing.
The idea gained popularity and has now been launched in Australia as well.
Alternatives
Green Chef – With all organic, non-GMO ingredients, Green Chef is a top choice for those looking for a sustainably sourced meal kit.
Hello Fresh – One of the biggest services with a ton of meal selections, HelloFresh is a top company in the market.
Home Chef – With personalized options, Home Chef makes it easy to get a kit that works exactly for your needs.
Pros
Dinnerly is excellent for those who want to save costs by cooking at home and not spending rather unnecessarily on a restaurants.
Simple, uncomplicated recipes.
The meals are fun to prepare and easy to cook.
Good for both meal planning and grocery shopping.
Good for those not very particular about your diet and you are not allergic to anything.
Overcome the cooking nerds by making simple, easy-to-cook meals for yourself.
All of Dinnerly's packing is environment friendly and recyclable.
Dinnerly makes it easy to change your meal plan, by offering you flexible plans.
Cons
Few options to customize your menu.
Digital recipes are a novel idea, but some people may find it difficult to scroll on their phones and cook at the same time and may want to print out the recipe.
The recipes available are only dinner options.
Limited vegetarian options.
No options for special diets. If you have certain food allergies or have lactose tolerance, recipes will not take this into consideration.
Some ingredients arrive packed in ice and frozen, which some people may not like.
Dinnerly Review Final Thoughts
Dinnerly is a fast riser in the group of top meal kit subscription services. Their pricing is allowing them to compete with services that are much more established.
For anyone looking to get started with meal kits, Dinnerly is an excellent option.