Shopping at your favorite store is an enjoyable pastime, which is only heightened by the possibility of earning extras and rewards, such as bonus points, discount vouchers, and exclusive deals.
Loyalty cards made this easier for retailers and are a great marketing tool for companies, as they encourage repeat customers and give a sense of belonging to their biggest fans.
Drop takes this context and moves it firmly into the present trends and preferences. Gone are the days of wallets stuffed full of loyalty cards; the power of technology allows us to carry our cards in our phone and have them with us at all times.
How does it work
Drop is a shopping app which allows you to earn gift cards on purchases you are already making, and money you are already spending.
The app is super simple and easy to use and allows you to earn rewards and gift cards on purchases you are already making. The sign-up process is straightforward:
Download the Drop app
The Drop app is readily available from Google Play or iTunes, and it can also be downloaded via the Drop website by simply entering your phone number and receiving the download straight to your phone.
Sign up, and link a bank card
Once you have downloaded the app, you need to enter some necessary information to create your profile. Once this is done, you need to link a debit or credit card.
The basis of the Drop app is that it lines up the purchases you make on your card with offers which would interest you. There is no need to log in or carry a card.
After your credit or debit card is linked, you simply carry on shopping as usual and Drop will do the hard work, quietly earning points in the background.
Pick your brands
You will then be asked to choose your top five favorite brands. There is a range to choose from, including Starbucks, Uber, Target, Trader Joe's, Wal-Mart and 7-Eleven, amongst others.
This is an important choice, as there will be no opportunity to change these at a later date. Pick the brands you use most often, as this will help you to maximize your offers and gain the best benefits.
Choose your bonus offers
Once you have picked your brands and linked your cards, you will be prompted to sign up for bonus offers.
These include one-off offers which allow you to earn a large lump sum of points, and to generating a sign-up link, which you can share with your friends to earn points and rewards.
There will be a section of the app titled 'bonuses,' which allow you to complete tasks such as adding a second card, completing a certain number of purchases and getting friends to sign up.
Earn your points
You will have already received some initial points at this stage, so the time has come to earn some serious numbers. You can do this by simply shopping with your linked card at the brands you picked.
You will receive either a one-time bonus lump sum or points per dollar spent, and it is easy for the points to come flying in.
Spend your points
Once you have a minimum of 5,000 points, you can exchange these for gift cards. Collecting 5,000 points will earn you a $5 gift card, and it is possible to exchange points in multiples of 5,000.
It may seem a high number, but it is easy to earn the points you need simply by carrying on your routine, day-to-day spending.
Get started with the Drop App>>
Is Drop App legit?
Drop is a legitimate app, which allows you to capitalize on your regular spending and everyday purchases. Some customers have complained that it can take a long time for points to appear in your account.
This is a valid concern; for very large purchases, it can show your points as 'pending' for several days or even weeks before they show up as useable points in your account.
The reason for this, however, is to give the consumer time to exchange or return the product, and this seems legitimate for the Drop business. They do not wish to shell out a large number of points if the customer is going to get their money back.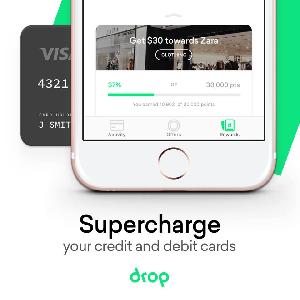 Pros
There are several pros to the scheme, such as:
Ease of use: the app eliminates the need to carry around a bag full of loyalty cards, remember to take them with you on your shopping trip, or search around in your bag to find the right one for the right store.
Zero effort: you can easily earn points at stores you visit all the time with no extra effort on your part. Simply by carrying on with your usual day to day business, you will be able to earn points towards a gift card, meaning you win without even trying!
Cons
As with any system, there are negatives, including:
It can take a long time for points to clear into your account for them to be transformed into gift cards.
You can only pick five brands to earn on, which may feel restrictive if you are an avid shopper.
Drop App Review Bottom Line
Drop App is a great concept that allows you to save across retailers without having to do any extra steps.
While it cannot completely replace cash back rebate sites, you can use the app in conjunction with other cashback offers. Overall this is a great addition to anyone looking for an easy way to save money.