One insurance company that has a strong reputation in the insurance industry is Accordia Life.
This Accordia Life Insurance Company review goes through the protection products to its customers, and while Accordia did not make it into our best individual life insurance companies, it has a proven to be a solid company with a great reputation for customer service.
History of Accordia Life Insurance Company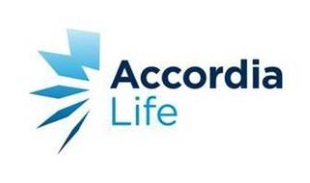 Overall, Accordia Life Insurance Company itself is relatively new to the life insurance arena. It, however, has been born out of knowledge and experience from the ancestors from which it came about.
Back in 1896, Central Life Assurance Company was established. This essentially began the long line of companies that was the beginning of Accordia Life. From Central Life Assurance, American Mutual Life Insurance Company was founded in the 1890s.
In 1996, Central Life Assurance Company changed its name to AmerUs Life Insurance Company. The following year, AmerUs announced its agreement to acquire AmVestors Financial Corp. Soon afterwards, in 2000, AmerUs acquired Indianapolis Life.
In 2014, the life insurance business was renamed Accordia Life.
Accordia Life Insurance Company Review
Accordia Life is considered to be an agent-focused company. This insurer tends to lean a great deal on indexed universal life (IUL) products.
These products are known for helping to meet both protection needs, as well as wealth transfer needs of their holders. Also, due to their tax-free loan features, IUL products can also help their holders to easily and conveniently meet supplementing their retirement income needs as well.
As a subsidiary of Global Atlantic Financial Group Limited, Accordia Life is considered to be a multiline insurance and reinsurance company. The insurer has in excess of $30 billion in assets under management. Currently, Accordia Life has ten offices in the United States.
Global Atlantic was founded in 2004, by Goldman Sachs. It became independent of Goldman Sachs in 2013. This company is derived from the former Aviva USA Life insurance business, which was acquired by Global Atlantic in 2013.
Accordia Life is considered to be a strong and stable company from a financial standpoint. It has been given the rating of A- from A.M. Best, which is considered to be "Excellent." This rating is 4th out of a possible 16.
Life Insurance Products Offered Through Accordia Life Insurance Company
Accordia Life offers several different types of life insurance to choose from. These include the following:
Term Life Insurance Coverage
Term life insurance provides pure death benefit protection only, with no cash value or savings build up. Because of this, term life insurance is typically considered to be fairly affordable – especially for those who are younger and in good health when they apply for the coverage.
Oftentimes, term life insurance is considered to be "temporary" life insurance coverage. This is because it is offered for certain lengths of time and then it expires.
Therefore, term insurance can be a good fit for someone who may be wanting to cover the length of their home mortgage or a child's college education costs.
The term life insurance products that are offered by Accordia Life Insurance Company provide lengths of 10 years, 20 years, or 30 years, and they provide guaranteed level premiums for each of these policies. There is also an annual renewable term life insurance option.
Coverage amount may be determined based upon an individual's specific needs and goals, and the face amount can begin as low as $50,000. There is also an option to convert the term life policy over to a universal life insurance plan (within certain guidelines).
Universal Life Insurance Coverage
Universal life insurance is a type of permanent life insurance protection. This means that there is both death benefit coverage, as well as a cash value component. With universal life (UL), the policyholder has some flexibility in that he or she can – within certain guidelines – choose when they make their premium payment. They may also be able to choose how much of their premium payment goes into the death benefit portion of the policy, as well as how much of their premium goes into the cash value component.
With Accordia Life Insurance Company, policyholders can leave a legacy that can be passed on to future generations. They can also have the ability to build their savings via the policy's flexible cash value.
The funds that are within the cash value component of the plan can be accessed via withdrawals or loans. These plans also may have a waiver of premium rider whereby through an additional charge, the insured can select protection to help meet funding needs in the event of his or her becoming disabled.
The policy can also be further customized via other riders, too, such as the:
Wellness for Life Rider – This rider offers the insured a "reward" for maintaining a healthy lifestyle. This can essentially help in reducing the insurance cost, and can also enhance the cash value over time. In addition, the insured may also be able to obtain a health risk assessment, and access to Health Services at the Mayo Clinic.
Accelerated Access Rider – This rider allows the insured to accelerate part of his or her death benefit proceeds should they be diagnosed with a chronic illness.
Overloan Protection Rider – This rider helps to ensure that the policy will not lapse if the insured borrows too much from the cash value component. There is no additional cost for adding this rider to the policy.
Primary Insured Rider – This rider offers an additional amount of level death benefit protection for the primary insured on the policy.
Children's Insurance Rider – This rider provides life insurance protection on the life of any child who is between the age of 15 days and 17 years old of the base insured. The insurance on the child will remain until that child reached the age of 25 years old. The rider may be converted over to a permanent life insurance policy for up to 5 times the amount of the rider's coverage.
Accidental Death Benefit Rider – The accidental death benefit rider will add life insurance coverage if the insured dies as the result of an accident.
Terminal Illness Accelerated Death Benefit Rider – This rider will help to speed up the time in which benefits are paid out if the insured becomes terminally ill. Here, a portion of the benefits may be paid to the insured if he or she is diagnosed and has a life expectancy of one year or less.
Return of Premium Rider – The return of premium rider will provide a death benefit that is equal to the face amount of the policy, plus the premiums – less any withdrawals – accumulated with interest.
Waiver of Monthly Deductions Rider – With this rider, all of the monthly deductions – for the base policy, riders, and policy charges – will be waived if the insured becomes totally disabled for at least six months before he or she reaches the age of 65.
Waiver of Premium Rider – With the waiver of premium rider, the monthly premium that is set under this rider will be credited to the policy if the insured is to become totally disables for at least six months before he or she reaches the age of 65.
Indexed Universal Life Insurance Coverage
Indexed Universal Life (IUL) coverage is similar to other universal life insurance products, except that the growth of the cash value differs. Here, the cash value is linked to an underlying market index (or more than one index) such as the S&P 500 or DJIA. Because of this, the cash value has the opportunity to grow based on market performance. However, the principal in an IUL policy can also be protected if there is a market downturn. This is because the policy's cash value will be credited with a 0% in this case.
Accordia Life Insurance Company offers several indexed universal (IUL) products to choose from. These include the following options:
Lifetime Builder IUL:
The Lifetime Builder IUL offers an income tax-free death benefit to help in building financial security for the insured's survivors in the event of death. It also provides the ability to accumulate high cash value build up.
This product has various crediting options. It is a great product option for those who are seeking a strong cash value accumulation opportunity, along with protection from potential market risk.
Survivorship Builder IUL:
The Survivorship Builder IUL product option offers some nice advantages to its holder, including an income tax-free death benefit to beneficiaries after the second death. This is because this particular product covers two individuals under just one single policy.
This plan is a good option for those who may be seeking additional liquidity for estate taxes along with more efficiency for wealth transfer issues. It can also provide the potential for tax-advantaged access to cash value to supplement retirement income needs.
In some cases, an individual who may not be able to obtain life insurance under a single, individual policy may be able to obtain coverage with the Survivorship Builder IUL, as they are being covered in conjunction with another person on the policy.
Accordia Life Provider IUL:
The Accordia Life Provider IUL policy is an affordable IUL policy option. Its cash value growth can help in supporting the death benefit, or it can help to pay off debts, or even in paying additional income needs.
Company Information