A key criteria in the purchase of life insurance coverage is the insurance carrier that you purchase it through. This is because you will want to ensure that the company is financially strong and stable and that it has a good reputation for paying out its claims to its policyholders. I put together this Genworth Life Insurance review to show how they fall into one of the better companies for financial stability.
While Genworth did not make out 10 best life insurance companies list, they are a solid company that is very competitive in the life insurance market.
History of Genworth Life Insurance Company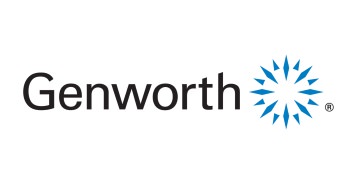 Genworth initially began its operation back in 1871. The company started out as The Life Insurance Company of Virginia – and today, it is still headquartered in that state. Throughout the years, the company has grown substantially. It has roughly 6,000 employees working to ensure that its policyholders and customers are taken care of properly.
The insurance products that are offered via Genworth are sold through a variety of different marketing channels, including banks, independent brokerage companies, broker GAs (general agencies), IMOs (independent marketing organizations), and also through Genworth's sales representatives. Genworth also allows independent financial reps to sell its products to their clients. This includes mortgage professionals who can offer Genworth's life insurance protection to ensure that mortgage debt is paid off in case a borrower passes away with a remaining balance on his or her mortgage loan.
Genworth is very well known for its pioneering of the long-term care insurance product back in the early 1970s. At that time, insurance coverage for those who were in need of care in a skilled nursing home facility were virtually unheard of – especially because programs like Medicare pays very little for this type of care, and Medicaid requires that an individual essentially spend down his or her assets to their state's poverty level in order to qualify. (Although unfortunately, there is still a great deal of misconception about what will and what will not pay for long-term care services among the retiree and pre-retiree population today).
Because there is so much misconception regarding long-term care and its payment sources, Genworth provides education about long-term care, as well as about other related topics such as care giving and family member support.
The company is also known for being an industry leader in the area of life insurance. The firm has designed and developed a number of different life insurance products based on its experience in order to fit with customer needs, as well as a wide range of different budgets.
Genworth Life Insurance Company Review
When conducting a Genworth Life Insurance Company review, it is important to keep in mind the company's overall financial strength and stability, as well as its reputation for paying out its claims to policyholders in the past.
One way to check the strength and stability of an insurer is through the ratings that have been given to it by the insurer ratings agencies. Genworth Life Insurance Company has achieved good ratings from several of these agencies, including (as of December 20, 2015):
A- from A.M. Best
BBB- from Standard & Poor's
Baa1 from Moody's
Although Genworth is not an accredited company with the Better Business Bureau (BBB), it has been assigned a grade of B (on a grading scale of between A+ to F) by the Bureau. The grades that are given by the BBB are based on 13 different factors. Some of the factors that went against Genworth in its grade include the fact that the company has had 21 complaints against it. However, some of the positive factors that helped the company included the long length of time that the firm has been in business, as well as the quick response that Genworth had to the 21 complaints – including the complaint resolutions. Of these 21 complaints, 16 of them had centered on problems with the company's product/service. Of the other five, three centered on issues with billing/collection, one on advertising/sales issues, and one on delivery issues.
Products Offered Through Genworth
Genworth offers a number of different life, long-term care, disability, and other protection products, as well as investment offerings. In terms of life insurance, the primary products that are offered via Genworth include the following:
Term Life Insurance Coverage – With term life insurance, the policyholder is provided with death benefit protection only. This is why this type of life insurance coverage is considered to be the most basic of all life insurance coverage options. In most instances, this type of coverage is also the most affordable. Term life insurance is usually used for protecting what are considered to be "temporary" needs such as the payoff of one's mortgage balance, the funding of a child's or a grandchild's college education expenses, or other types of debt payments. Genworth offers different term life insurance options for mortgage payment protection, as well as differing level term choices.
Whole Life Insurance Coverage – Whole life is a type of permanent life insurance coverage. With whole life insurance, the policyholder is provided with both death benefit protection, as well as with a cash value component. The amount of both the death benefit and the premium on a whole life insurance policy are typically locked in and guaranteed. Therefore, the policyholder does not need to worry about the policy being canceled by the insurance company – unless he or she stops paying the premium on the coverage. Also, the gain that occurs within the cash-value component of the policy is allowed to happen on a tax-deferred basis. This essentially means that there will be no tax due unless or until the policyholder withdraws these funds. The funds are allowed to be either withdrawn or borrowed for any reason – including the payoff of debt, the supplementing of retirement income – or any other purpose.
Guarantee Universal Life (UL) Insurance Coverage – A guarantee universal life (UL) policy from Genworth will provide more flexibility to the policyholder than a whole life policy will. That is because this type of policy will offer more flexibility in terms of when the premium may be paid. It also allows the policyholder – within certain guidelines – to alter how much of the premium dollars go into the cash value component of the plan, and how much go into the death benefit component of the policy.
Index Universal Life (UL) Insurance Coverage – An index universal life insurance policy will also provide both death benefit protection, as well as a cash value portion. This is a relatively newer form of life insurance policy that has grown a great deal in popularity over the past several years. With index UL, the growth of the cash value component is tied to an underlying market index such as the S&P 500 – Although the funds in the cash value are not invested into the index itself. These policies allow for the opportunity to grow during market upswings, yet they will also provide for the protection of principal during a market downturn – essentially offering the policyholder a type of win-win situation with the funds in the cash value component. Cash in the cash value fund may also be borrowed on a tax-free basis for supplement retirement income, as well as for other needs.
In addition to the actual insurance policies that are available through Genworth, there are also a wide variety of different riders that can be added so that policies and potential benefits can be enhanced even further.
For income purposes, Genworth also offers fixed annuity products to its customers. Today, due in large part to the fact that people are living so much longer, one of the biggest fears on the minds of retirees is whether or not they will have enough income to last them throughout their entire lifetimes.
Having the income from an annuity can help with alleviating that fear. This is because, by choosing the lifetime income option, an annuity will guarantee income – each and every month – for the remainder of an individual's lifetime, regardless of how long he or she may live.
Also, with many annuities, there is also a joint life option. This means that the annuity will insure income for two lives. Many couples will use this feature in order to ensure that both of the spouses or partners will have enough income to last for the remainder of each of their lives.
How and Where to Obtain the Best Life Insurance Premium Quotes
When seeking the very best quotes on life insurance offered by Genworth Life Insurance Company – or even by any life insurer – it is oftentimes the best course of action to work with either an agency or with a company that has access to more than just one single insurance carrier. The reason for this is so that you will be able to take a look at what multiple insurers have to offer you.
What many people may not realize is that no all life insurance companies will underwrite their applicants for coverage in the same manner. So, if you apply with one company for a particular policy and for a certain amount of benefit, you may be approved for coverage at a certain premium price. If, however, you apply for coverage through a different life insurance carrier – even if you are seeking the same type and amount of insurance coverage – you may be approved at a vastly different premium price. Therefore, just like when shopping for any other type of item or service, it pays to do your comparison shopping.
When you are ready to start your shopping, we can help. Whether it is Genworth or Banner Life, we work with many of the best life insurance carries in the market place today – and we can help you with obtaining all of the important details that you need. If you are ready to move forward,.
The purchase of life insurance can be considered as the ultimate gift to your loved ones. That is because the funds from this financial tool can provide those whom you care about with the ability to go on. The money can be used for any number of different purposes, such as paying off debt, continuing income, and paying final expenses. And, while those that you love will be in a time of sadness, they will have one less thing to worry about.
When purchasing the best policy for your needs, there are a number of factors that you need to consider. These will include both the type and the amount of the coverage. This is because you want to ensure that your survivors have enough funds for the needs that you are covering and that the coverage will not run out before it may be needed.
If you should find that you still have any additional questions regarding Genworth Life Insurance Company and its products and services – or, if you even have any questions about life insurance in general – our experts are here to assist you. Please feel free to call us. We can be reached via phone, toll-free, by calling 888-229-7522.
We understand that there are many details that must be gathered before making a life insurance policy purchase – and that can take quite a bit of time. But, the good news is that by working with an expert, much of this work has already been done for you. We will work with you in determining the type and the amount of life insurance coverage that will best suit your specific needs – as well as in deciphering which of the many carriers available in the marketplace will fit your requirements the best. Even if you've been turned down for life insurance coverage in the past, you still have many options that are available to you now. So, contact us today – we're here to help.