The purchase of life insurance is not just a financial transaction, but also a very personal experience. This is because the proceeds that come from a life insurance policy can often mean the difference between your loved ones suffering financial hardships or being able to continue with their current lifestyle, even in the face of the unthinkable.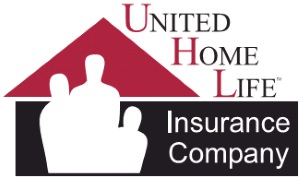 When you obtain life insurance coverage, there are some different factors to consider. Certainly, these will include the amount – and the type – of coverage that you're purchasing. However, another key criterion to think about is the actual life insurance carrier that you are getting this coverage through.
One reason for this is because you will want to be sure that the life insurance company is stable from a financial standpoint. You will also want to ensure that the company is one of the top life insurance companies in the United States and has a good reputation for paying out its policyholder claims promptly. One such life insurance carrier that has had a long history of doing just that is United Home Life Insurance Company.
The History of United Home Life Insurance Company
Along with its parent company, United Farm Family Life Insurance, the United Home Life Insurance Company has been providing life insurance policies to consumers for almost 70 years. From its beginnings back in 1937, United Farm Family Life knew the importance of providing coverage for families and other survivors.
One of this company's key traits is providing a wide variety of life insurance coverage without the need of having a medical examination before being approved for protection. Because of this, those applicants who may have an adverse health condition are still able to obtain the life insurance coverage that can provide financial stability, along with peace of mind to those they care about.
This insurance company, headquartered in Indianapolis, Indiana, goes by the motto of Simplified Products – Faster Results, which can definitely be the case when one applies for a no medical exam life insurance policy. This is because without the many health related requirements that are necessary with traditional, medically underwritten life insurance coverage, policies can be issued much more quickly – in some cases, in just a few days or less.
In addition to making the process of applying for life insurance simple, United Home Life Insurance Company also provides great customer service and a number of ways to use insurance coverage as a means of savings for college, retirement, and / or the payoff of debts.
United Home Life Insurance Company Review
United Home Life Insurance Company offers products that are easily understood and that provide security to policyholders' loved ones. The company is also dedicated to providing their clients with good, quality life insurance products as simply and as efficiently as it possibly can.
Not only do the company's life insurance products not require the applicants to go through invasive medical examinations, but they also do not ask pages of questions about an applicant's overall health and medical history.
Products are offered to consumers via a wide array of independent insurance agents – and because of this, the United Home Life Insurance Company's products are often compared to those of other, larger insurers. But, based on their ease of acceptance, this company can insure many applicants who are turned away by other insurance carriers.
Combined, United Home Life Insurance Company and United Farm Family Life Insurance Company have in excess of $2 billion in assets – along with in excess of $20 billion of life insurance in force. Because of this, these companies are in a good financial position to meet the promises that they have made to their customers.
These companies also make it easy for their policyholders and customers to update their information, obtain necessary details on coverage and other needs, and to file policyholder claims. Many of these needs can be taken care of directly through the company's website. Here, clients will find downloadable claim forms, policyholder service forms, and other documents such as billing forms for paying policy premiums via EFT (electronic fund transfer).
Insurer Ratings and BBB Grade
Due in large part to its financial stability, as well as its policy holder claims payments, United Farm Family Life Insurance Company has been given the rating of A (Excellent) by A.M. Best. United Home Life Insurance Company has been given the grade of A- (which is also considered as Excellent).
United Home Life Insurance Company has been an accredited business through the Better Business Bureau since May 6, 2016. This company has been provided with a grade of A+ (on an overall grade scale of A+ through F). United Farm Family Life Insurance Company has also been an accredited company via the BBB since May 6, 2016, and it has also been given a grade of A+.
Over the past three years, United Home Life Insurance Company has closed out a total of 4 customer complaints. Two of these have to do with the company's products and / or services, while one is in relation to advertising and sales issues, and another one is due to the company's billing and / or collection issues.
United Farm Family Life Insurance Company has closed out a total of just one complaint via the Better Business Bureau over the past three years. This complaint was in relation to issues with the company's products and / or services.
Life Insurance Products Offered by United Home Life Insurance Company
These companies offer a wide variety of different life insurance coverage to choose from. This can be especially beneficial for those who need life insurance protection quickly as well as those who may have adverse health issues and may not be able to obtain life insurance protection through a traditionally underwritten policy.
The products that are offered include:
Term life insurance
Whole life insurance – including final expense who life coverage
Accidental death
With term life insurance, an insured will be covered with pure death benefit protection, without any additional policy components such as cash value. These plans are issued for a certain number of years, such as 10 or 20, and during that time, the premium amount cannot typically be increased. In addition, the amount of the coverage will usually remain the same.
In some cases, a term life insurance product will offer the ability to convert the coverage over to a permanent life insurance plan – sometimes without the need to prove evidence of insurability. There may also be certain term life insurance policies that will provide a return of the paid-in premiums to the policyholder if he or she survives the term of the policy.
The term life insurance policies that are offered through United Home Life and United Farm Family Life Insurance include the following:
Express Issue Term 20 – The Express Issue Term 20 policy is a level benefit term life insurance plan that offers a level premium guarantee of 20 years. At the end of these 20 years, the premium can then increase on an annual basis.
Express Issue Term 30 – With the Express Issue Term 30, an insured will get a level death benefit plan with an initial level premium guarantee of 30 years. At the end of these 30 years, the premium will increase annually.
Premier 20 with ROP – With the Premier 20 plan, there is an initial premium guarantee of 20 years, after which the premium can increase each year going forward. This policy will build up a cash value which may be used to "return" to the policyholder his or her annual premiums paid through the end of the initial term period.
These policies offer simplified issue underwriting, which means that rather than a medical exam that tests bodily fluids, the company will instead use a personal history interview (PHI) – which is a short telephone interview of the applicant – in making its coverage decision, along with an application for coverage. As long as the policyholder continues to make premium payments, the policy will remain in force for the duration of its term.
There are also additional riders that may be added to these policies to better "customize" them for fitting with a policy holder's needs. These may include:
Total and Permanent Disability Benefit (Waiver of Premium)
Accidental Death Benefit Rider
Child Rider
No-cost Terminal Illness Accelerated Benefit Rider
There is also permanent life insurance coverage available via United Home Life Insurance Company. Here, the death benefit amount will be guaranteed never to go down, and there is a cash value component that will grow over time, provided that premiums continue to be paid. The amount of these premiums will be locked in and guaranteed never to go up. Should an applicant qualify, they may be able to obtain a whole life policy at a "preferred" rating.
These policies may offer a number of different riders for further customizing the coverage and the overall plan. These can include:
Terminal Illness Accelerated Death Benefit Rider
Common Carrier Accidental Death Benefit Rider
Life-Threatening Cancer Accelerated Benefit Rider
Charitable Gift Donation
In addition, there is also whole life coverage that is available for juveniles via United Home Life and United Farm Family Life Insurance Companies. These plans will lock in a low premium rate for the entire life of the child-insured, along with a guaranteed insurability Benefit Rider.
There are also simplified issue final whole life insurance plans that are available. These whole life insurance policies will provide a death benefit that is guaranteed never to go down, as well as premiums that are guaranteed never to go up. Plus, being permanent insurance, there is also a cash value component in the policy that allows cash to grow and compound, tax-deferred, over time.
The final expense policies that are available include the following:
Express Issue Premier
Express Issue Deluxe
Express Issue Whole Life
Other Coverage Offerings
In addition to just straight life insurance protection, United Home Life Insurance Company, and United Farm Family Life Insurance Company also offer additional forms of coverage. One of these is accidental death benefit coverage.
For those who commute to work each day, those who frequently travel, or even for a teenage driver who is on the road, this type of protection can be extremely beneficial. That is because it can be an inexpensive addition to life insurance coverage that is already owned.
The company offers the Protector AD policy that doubles over 20 years and can be attached to a small whole life insurance plan. The premiums on this AD coverage are both level and guaranteed for 20 years. There is also a return of premium feature at the end of the 20 year period. This can provide a refund of the premiums that were paid in. At that time, the coverage can terminate. (If the insured does not opt for the return of premium, then they may continue their AD coverage with a guaranteed annually increasing premium.
How to Get the Very Best Life Insurance Premium Rates
When seeking life insurance coverage, it is usually best to work with an independent company or agency that has access to more than just one, single life insurance company. That way, you will be able to compare different coverages, benefits, and premium rates – and from there, you can determine which will be the best for you.
We can assist you with this, as we work with many of the top life insurance carriers in the marketplace. To get the process started, just fill out the form on this page. We understand that the purchase of any life insurance coverage can be a bit confusing. But we can walk you through the process of finding the best plan for you. So, contact us today – we're here to help.