Life Insurance may not be as easy to obtain for some individuals as it is for others. This is especially the case if suffer from a health condition such as type 1 diabetes.
In the eyes of the insurance company, type 1 diabetes is considered to be a risk factor – and because of that, it can be more difficult to secure diabetic life insurance coverage that is needed by many people, even if they are controlling or managing the condition.
The good news is that there are life insurance solutions available for those who have type 1 diabetes – even if you have been turned down for coverage in the past. But, it is important that you know how and where to apply for the right type of policy. Doing so can be beneficial as it can lead you to the insurance protection that you need – and that can provide your loved ones with the financial resources that are needed in case of the unthinkable.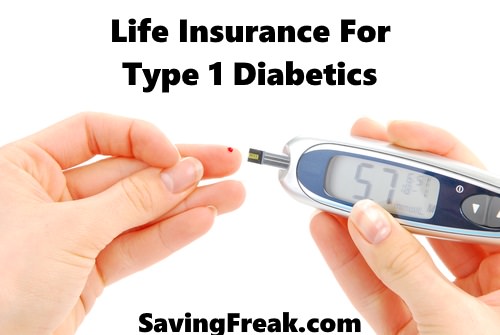 What is Type 1 Diabetes and Why Can It Affect Your Application for Life Insurance Coverage?
When people refer to diabetes, it is important to know that there are two types of this condition – type 1 and type 2. With type 1, the body does not produce insulin – the hormone that is needed by the body in order to obtain glucose from the bloodstream into the body's cells.
It is estimated that only 5 percent of those who have diabetes have type 1 diabetes as versus type 2 – and most often, type 1 diabetes will be diagnosed when an individual is still quite young. Because of this, in the past, type 1 diabetes was referred to as juvenile diabetes.
Unfortunately, diabetes can lead to other, riskier, health-related conditions – including kidney disease, heart disease, and stroke. At this time, there is also no cure for type 1 diabetes. Therefore, when a person who has type 1 diabetes applies for life insurance coverage, they are considered to be riskier to the insurance carrier – and because of this, the risk may reflect in higher rates on premiums, or even by being declined for coverage altogether, depending on the situation.
What the Life Insurance Underwriters Want To Know If you are Diabetic
Applying for any type of life insurance (term or whole policies) will usually entail the completion of an application for coverage. This application will require that you provide the insurance carrier with personal information about yourself, as well as information about your health and health history.
The details that are usually requested on a life insurance application for coverage will include your:
Name and Contact Information
Gender
Age
Height and Weight (Weight as it relates to height)
Marital Status and Children
State of Residence and Contact Information
Smoking Status / Tobacco Usage
Alcohol Usage / Frequency
Risky Hobbies (such as rock climbing, skydiving, scuba diving, etc.)
Foreign Travel Frequency
Other Life Insurance In Force (and the amount of the coverage)
If you have type 1 diabetes, then it is probable that the life insurance company will also require additional, more in-depth details about your health condition. Therefore, you will likely be asked some or all of the following:
Date of Diagnosis
Medications
Dosage of medication and recent changes to dosage.
Other methods for controlling your diabetes
Any relevant testing
Have your been hospitalized within the past 12 months concerning your type 1 diabetes?
What are your most recent A1C levels?
What are your most recent blood sugar levels?
Do you visit any type of medical specialist due to your type 1 diabetes?
In most cases, it will be required that you undergo a medical examination as a part of the life insurance underwriting. During this exam a paramedical professional will meet with you either at an office location or in your home.
In the exam, they will take your blood pressure and heart rate reading. He or she will also need to obtain a blood and a urine sample from you, which will be tested by the life insurance company for certain additional health / risk factors. In addition, the paramedical professional will also typically ask you some additional health-related questions.
The insurance company may also want to review your medical records from your primary care physician and / or from any specialist that you see due to your type 1 diabetes condition. This way, the underwriters may get a more clear picture of your overall health.
How Much Will My Policy Cost?
The cost of your life insurance coverage when you have type 1 diabetes will be dependent on some different factors. Just as with any other type of applicant, price will be rated on the type and the amount of coverage you are purchasing. It will also depend on your age and your gender.
Because of your type 1 diabetes, the underwriters will factor that into their overall decision when reviewing your application. Therefore, if it is deemed that you are in very good health – even factoring in your type 1 diabetes condition – then you may be able to secure a Standard policy classification. If this is the case, then you would be able to pay the Standard, or average, policy rate.
If, however, it is deemed that your health is not as good as a Standard, or average, policyholder, but it is not poor enough to decline you for coverage altogether, and then you may be able to obtain a Substandard policy classification. Here, you would likely pay higher rates for your life insurance coverage.
If the insurer would end up declining your coverage based on the results of your medical exam, you have other options for coverage. No medical exam life insurance policies are made just for people who cannot qualify for standard insurance. The rates are higher than those of comparable medically underwritten policies, bu these guaranteed issue plans can offer people an option for the life insurance protection – and the peace of mind – that they and their loved ones need.
Not all insurance companies treat health conditions exactly the same way. For example, if an individual with type 1 diabetes was to apply with one carrier, he might be able to secure a Standard policy rate. However, if the same individual applied with another life insurance carrier for the exact same type and amount of coverage, he may be granted a policy with a Substandard class by that particular insurer. For this reason, it pays to shop around before making your final determination regarding which policy and insurance carrier to purchase through.
When doing so, it can working with an agency who has access to many insurance carriers – the agency is likely familiar with which of the carriers may be more apt to take on applicants who have type 1 diabetes, and which ones won't. This alone can save you a great deal of time during the application process.
How to Help Your Application Through the Process
Prior to applying for coverage, you can improve your chances of your application being accepted by an insurance carrier. For example, if you are not already doing so, you can help in managing your type 1 diabetic condition through proper diet and / or exercise. Therefore, talk with your doctor about the potential options that may be available to you. When reviewing applications for life insurance, underwriters always prefer to see that an applicant is taking steps to better his or her health situation – in turn, helping to prolong their lives.
Also, before taking your medical examination, you should also be sure to maintain a healthy diet in order to ensure that your blood sugar levels are at an appropriate level, as well as that your blood pressure shows up in a normal range. Because these readings will be taken by the paramedical professional, you want to make sure that the data that is sent back to the life insurance company is as positive as possible, as it will be considered closely in your life insurance coverage decision.
If you work with an agency or company that specializes in higher risk cases such as those who have type 1 diabetes, you may also request that the agent submit an additional report or page with your application that explains the ways in which you control or manage your condition. Any additional information that can be presented to the insurance underwriters that shows you in a positive light can be helpful in moving your application forward.
Where to Get Quotes on Life Insurance for Type 1 Diabetics
Using the quote form on this page will help you obtain life insurance even with any number of issues, including helping you with the proper type of coverage for your needs, assisting you with the right amount of coverage for your situation, and helping you to locate the best carrier in the insurance marketplace.
We understand that the purchase of life insurance can feel somewhat daunting for those who have type 1 diabetes – or any type of health condition. This can be the case, especially if you have been turned down for life insurance coverage in the past. But the good news is that today, you have many more options to fit your needs. So, contact us today – we're here to help.