If you have diabetes, you may feel like your options for getting life insurance coverage are limited. Because diabetes left unmanaged can lead to other, more serious health issues such as kidney failure, heart attack, and even stroke, the prospect of obtaining life insurance can be a bit daunting. This is because life insurance underwriters can see someone with this health condition as being riskier to the insurance carrier.
But today, given longer life expectancy and the advancements in medical technology, there are many more options available for people with diabetes. In addition, what many may not realize, is that all life insurance companies may not underwrite their policies in an identical manner. This means that even if you've applied for life insurance in the past and been turned down by a particular insurer, you could still qualify with another. The key here is working with a company or an agency that is experienced in working with "higher risk" cases.
In doing so, we can help. Our experience in the industry has shown us which of the many carriers that we work with are more likely to underwrite those who have diabetes – which can save you much more time (and frustration) during the application process. We can also help you to determine which type of coverage may be right for you.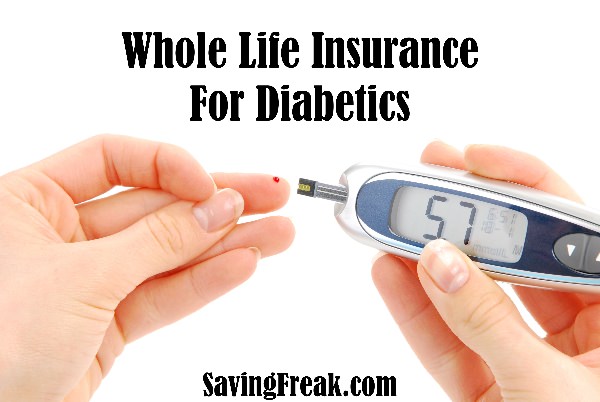 Whole Life Versus Term Life Insurance
When considering the different types of life insurance, there are two primary forms that are available in the market. These include term and permanent. With term life insurance, you are essentially purchasing death benefit coverage only. And, as the name implies, this coverage will protect you only for a specified period of time – or term – of years, such as 10, 20, or 30. With this in mind, once the time period has expired, the life insurance coverage will no longer be in force.
If an individual who wishes to continue having coverage wants to continue it, they will typically need to re-apply at his or her then-current age and health condition. At that time, it is likely that the new insurance premium will be much higher, due to their increased age. The individual also runs the risk of possibly not qualifying, due to potential health issues.
Permanent life insurance coverage will protect a person for the remainder of their life – provided that the premium continues to be paid. The most basic type of permanent life insurance is whole life coverage.
With whole life insurance, an individual has death benefit protection, along with a cash value component. The amount of the death benefit is guaranteed. And, the cash value is allowed to grow on a tax-deferred basis. This means that there will be no tax due on the growth of the funds that are inside of the cash value component. This can allow the funds to compound and grow a great deal. The only time that tax is due on the gain on these funds is at the time of withdrawal.
The policyholder is allowed to borrow or withdraw the cash at any time – and for any -reason – for example, paying off large debts, supplementing retirement income, or even for taking a vacation.
On a whole life insurance policy, the amount of the premium is typically guaranteed and is locked in never to increase. This can be helpful for those who are trying to budget for expenses over time.
Why Consider Whole Life Insurance for Diabetics?
Whole life insurance can be a good choice for someone who is a diabetic. There are several good reasons for this. First, because diabetes is a condition that does tend to progress throughout the years, locking into a life insurance policy that does not expire after a certain period of time can help to ensure that you will have long-lasting life insurance protection.
In addition, whole life insurance can provide much more than just death benefit protection. It can help you to save for the future through the tax-advantaged cash value component. Therefore, this type of protection can provide you with guaranteed death benefits, as well as additional savings opportunities.
Can You Qualify for Whole Life Insurance If You Are a Diabetic?
While it can be more difficult to qualify for a whole life insurance policy as a diabetic, working with a company that is experienced in working with higher risk applicants can help you to find the carrier that is right for you.
There are many life insurance companies in the market today that will take on diabetic applicants – so there are opportunities available. It will be important to fully and completely fill out the application and paperwork that is required so that the underwriters are aware of your condition.
What the Life Insurance Underwriters Will Want to Know
When applying for a whole life insurance policy, it will be required to fully complete an application for coverage. This will typically ask for personal information such as name and contact information, as well as additional details such as the insured's:
Age
Gender
Height
Weight
Smoking Status / Tobacco Usage
Alcohol Usage
Occupation and Income
Marital Status
Health Condition and History
Family History
Prescription Medications
Frequency of Foreign Travel
Hobbies and Habits
Other Life Insurance Policies In-Force
As a diabetic, it is probable that the insurance underwriters will also want to know additional information regarding your health condition while reviewing your information for a whole life insurance policy. This will help them to obtain a more thorough picture so that they can make a determination about coverage, as well as about premium price. Therefore, some or all of the additional condition-specific questions that may be asked could include the following:
When were you initially diagnosed with diabetes?
Have you experienced any complications from your condition?
Do you take any type of prescription medication for your diabetic condition?
If so, what type of medication, and what is the dosage?
Do you manage or control your diabetic condition in any other manner, such as through diet and / or exercise?
What are your most recent blood sugar levels?
What are your most recent A1C levels?
Have you been hospitalized within the past 12 months due to your diabetic condition?
Have you had any relevant testing performed within the past six months pertaining to your diabetic condition?
Do you visit a medical specialist due to your diabetic condition?
In many cases, the life insurance underwriters will want to review your medical records. These may come from your primary care physician, a specialist that you see for your diabetic condition, or from both.
A medical exam will also likely be required as a part of the complete underwriting process. This involves meeting with a paramedical professional for approximately 30 minutes where the applicant's blood pressure and heart rate readings will be taken. A blood and a urine sample will also be taken, which will be tested by the insurance company for certain risk factors. Certain health questions will also be asked of the individual.
Once all of the information has been received, the underwriters will be able to make a much clearer determination regarding the coverage, as well as about the premium price to charge for the whole life insurance coverage.
Other Options for Whole Life Insurance
If you are unable to qualify for a medically underwritten whole life insurance as a diabetic, there are other potential coverage options. One avenue to consider is a no medical exam life insurance policy.
Because no medical exam is required for underwriting purposes, people with various health issues such as diabetes may have an easier time qualifying. And, although the premium on these types of policies is higher, it can provide you with an avenue for the protection that you need.
How and Where to Get Premium Quotes on Whole Life Insurance for Diabetics
When you are ready to move forward with your diabetic life insurance coverage, we can help. In order to see which carriers may be best for you and your specific needs, just simply <Click Here Now>.
If you have any additional questions regarding finding whole life insurance for diabetics – or even if you just have a question about life insurance in general – please feel free to contact us directly. We can be reached by phone, toll-free, by dialing 888-229-7522.
We understand that you may be apprehensive about applying for a whole life policy as a diabetic – especially if you may have been turned down for coverage in the past. But, the good news is that today, you have many more choices available to you so that you and your loved ones can have the peace of mind that you deserve. So, contact us now – we are here to help.