While renters do not have to worry about replacing their home should the worst happen, they do have the possibility of losing all the possessions in their home.
Renters insurance allows you to protect your possessions affordably.
This renters insurance guide explains everything you need to understand and how to get the lowest rates on your renters insurance quotes.
What is Renter's Insurance?
Renter's insurance covers your personal items while you're renting a home. It's available to anyone renting a property from small lofts to large houses. If your goods are lost, stolen, or destroyed, renter's insurance should cover the replacement costs.
It also usually covers the cost of accommodation for a short while if you cannot live in the home after a loss event. If there's a fire, for example, the insurer might pick up the bill for hotel accommodation until you can move back in or find something else.
There is also an aspect of liability insurance included in renter's policies. This is important as it will cover liability claims that might arise if someone is injured in your home. The caveat here is if a structural defect causes the issue. If that's the case, the owner would have to pay the claim.
What Does Renter's Insurance Cover?
What coverage do you get with this type of insurance? That depends on the situation.
Natural Disasters
Most damage caused by natural disasters should be covered. That is if the damage is caused by fire, rain, hail, or wind. Disasters that are usually not covered without additional costs include floods and earthquakes. If you live in an area prone to these events, you might have to pay a high premium for this extra coverage.
It's also good to differentiate between damage to your personal belongings and damage to the structure of the property. If the window is broken, that's going to fall under your landlord's insurance. If, on the other hand, your garden furniture is damaged in a storm, you'd be able to claim.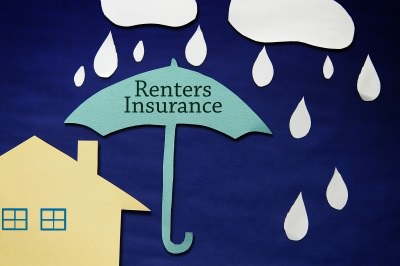 Some Lodging
You might think that it's up to your landlord to find you somewhere to stay while your place is undergoing repairs. It's not. Your landlord has no duty to provide you with alternative accommodation at all.
Fortunately, most renter's insurance policies do make provisions for alternative lodging while you don't have access to your place. They'll pay to put you up in a hotel or rented room while your place is being repaired.
They're not going to provide lodging for six months, but they should give you enough time to at least find something else.
Your Personal Items
Maybe you don't think that you have enough stuff to warrant ensuring it. We'd recommend doing a quick inventory of your place. Now, look at the replacement cost of everything. Rental insurance is a  good idea, whether you have a lot of stuff or very little.
Most people have at least a fridge, laptop or computer, a home stereo system, and TV. Already you're looking at significant replacement costs. Then there's your clothes and furniture to consider as well.
All in all, it may not be worth a lot, but we're not talking about selling it here. We're talking about how much it will cost to replace it all.
Personal liability
Let's say that you throw a party at your apartment. If one of your guests hurts themselves and decides to sue you, you'll have to pay their medical bills. They might also choose to sue you for lost income and pain and suffering as well.
Now, maybe your friends wouldn't do something like that to you. Are you sure that you're only ever going to have your friends over? What if they invite someone you don't know? What if you have people working in your home?
There are many instances where liability insurance is essential. You never know when some ambulance-chasing lawyer is going to get involved and convince the injured party that this is an easy payday.
If you have a dog, you have to have liability insurance in case it bites someone. It's important to check beforehand if the insurance will cover the breed of dog you have. Pitbulls, for example, are considered high risk and most insurers won't cover them.
How bad could the medical costs be? If someone is injured in your home, you're looking at paying the costs for:
The ambulance
Diagnostic tests like X-rays
The emergency room visit
Medication
Specialist advice possibly
A hospital stay
Surgery
And so on
Coverage for Personal Items You Carry
In some cases, your insurance might cover your items if they're in storage or if you're carrying them with you. High-value items like laptops or phones might need to be itemized on your policy, but you'll get a certain amount of all-risks insurance. This means that there will get a certain amount of cover for unspecified items while you're outside your home.
Theft
Replacement after a robbery is one of the main perks of this kind of coverage. Again, if you have very valuable items, you'll need to itemize them, provide proof of value, and pay more. Your general policy will offer a fair amount of coverage against theft though.
What Isn't Covered by Renter's Insurance?
This is insurance coverage, so there are naturally going to be exclusions to what you can claim for. These usually include:
Damage by flood or earthquakes.
Items that you lose accidentally. So, if you leave your sunglasses at your friend's place, you're not covered.
Damage caused by your pet.
Items of value that have not been specified.
Items owned by a roommate – they need to have insurance of their own.
A deductible. Typically there is some sort of deductible put in place on these policies to offset spurious claims. You can minimize the deductible, but it will mean paying a higher premium instead.
Getting Renters Insurance Quotes
Renters insurance is very competitive.  Having only to cover a persons possessions and not the entire property makes quoting much simpler than with a homeowners insurance policy.
For this reason, you can get quotes from multiple sources that are simple and easy to understand.  What you want to make sure to do is get quotes from multiple companies so you know you are getting the best rates.
Top Companies for Renters Insurance
Jetty – Revolutionizing the industry with instant quotes, a Jetty renters policy is an easy way to get your coverage fast.
Liberty Mutual – Known for their auto insurance and other policies, Liberty Mutual renters insurance is a top choice.
All State – All State is well known for offering multiple lines of insurance, and renters is one of their specialties.
Final Notes
Getting most types of insurance makes good financial sense. Renters insurance will cost you a few dollars a month but weigh that up against the cost of replacing all the items that you own. When you do that, it becomes clear that it's a smart move.
The liability aspect of the insurance is also something that is important. Maybe you don't have a lot of your own stuff. Maybe you've rented a furnished apartment. You'll still have people over, and that makes it essential to have liability insurance.
Finally, it's nice to have the peace of mind of knowing that you'll be provided with lodgings if your home becomes unlivable.