Helping you to find affordable VPN service is the reason we spend so much time in creating our list of best vpn reviews.
Our StrongVPN review will help you understand why they have been able to be around for such a long time and get a feel if this is the right company for you.
What is StrongVPN?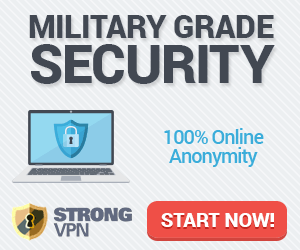 Based in the United State, StrongVPN is a large and popular provider of virtual private networks. There have been some issues regarding its reputation and attitude around privacy.
Their privacy policy seems adequate on paper, but they have developed a reputation of taking immediate action against those sharing files on torrents. StrongVPN has also been found to not be the most forthcoming when it comes to details regarding their technical security.
If this were simply a cheap solution being offered, it would be easy to recommend passing it up for other more viable solutions, such as HMA Pro VPN. On top of these issues, StrongVPN is also one of the most expensive VPN services you will find.
Plans and Pricing
Pricing is certainly not StrongVPN's strength. At a quick glance of their available packages, it is easy to be immediately overwhelmed.
They have 7 monthly packages to choose from, 3 offering PPTP, 3 offering OpenVPN, and one offering both. Their first PPTP package starts at $7 per month.
That might seem affordable, and even cheaper than some other services, but it is a very basic package. It is only PPTP, which is not very secure.
If your main concern is accessing content that is otherwise geo-restricted, PPTP might be sufficient for you, but you can find it for much cheaper than StrongVPN offers, and even StrongVPN's own DNS Package would do a better job at only $5 per month.
OpenVPN is the only thing you should be looking for if you want to find adequate levels of privacy and security online. StrongVPN's first OpenVPN service starts at $10 per month.
You will find this to be right in the range of their competition's top packages. The Lite Package, as it is called, only offers servers within the United States.
In fact, neither the Lite or the Standard Packages offer servers outside the United States.
If that is important to you, starting with the Deluxe Package at $20 per month is your only option. This package gives you access to servers in 19 countries, a far cry from HMA's over 60 countries at almost half the price.
Trying to understand all of the nuances within the different packages offered by StrongVPN can feel a lot like reading the assembly instructions in a foreign language from your latest purchase at Ikea and made our review of StrongVPN much more tedious.
The Deluxe and Premium Plans provide access to international servers, but outside of that, their only real difference is in the number of server switches that are allowed.
This limit is placed on the accounts at a time when nearly all of their competitors are offering an unlimited number of switches per month. Again, you are asked to pay a premium price for a subpar service.

StrongVPN Pros and Cons
One of the most confounding things about StrongVPN is that the PPTP IP addresses are dynamic, but the OpenVPN IP's are all static.
Why is that a concern? It means it would be relatively simple to tie any user to specific activity on the web if they chose to do so.
If anonymity is one of the reasons you are looking for a VPN service, this is something you will want to avoid.
Nearly every other worthwhile OpenVPN provider out there uses shared IP's, which makes it much more challenging to tie any individual user to any specific activity. StrongVPN does sell pre-flashed and configured DD-WRT routers.
These are ideal if you want every internet capable device in your home connected to one VPN connection, but, as is a recurring theme with StrongVPN,
it is expensive. You can expect to pay 3-4 times more for your router than if you bought it retail yourself, and you can add into that an $85 per year fee for the VPN service.
Speaking of connecting devices to StrongVPN, you are also limited to one device with their VPN plans.
Comparing that to competitors like Hide My Ass VPN which allows for up to 3 devices at a time to be connected, again leaves us disappointed and at a loss to explain the significantly higher prices of StrongVPN.
On the plus side, they do offer nearly 500 servers in 19 countries, but again only if you sign up for the Deluxe or Premium Plans. Their customer service is a strength.
They offer online 24/7 chat service and are also available through Skype, email, and by phone. Part of their service includes a Team Viewer remote setup option.
While, virtual private networks are generally not difficult to setup, this is a great example of a company going above and beyond in the name of customer service.
A member of the StrongVPN team can remotely log in to your computer and install the VPN client for you.
The interface is very simple and straightforward to use. The dashboard really only provides a login and then the option to change servers, which again the number of times you can change servers is limited within the service.
A little disappointing was that there was no port forwarding or internet kill switch on the dashboard.
Besides the Windows client, Mac users should have no issues using StrongVPN's client. There are also setup guides for Android, Linux, and iOS, that latter requiring a jailbroken device though.
Speed and performance were not an issue when streaming a movie using servers in the United States and UK.
StrongVPN Review Final Thoughts
That being said, even with the performance and excellent customer service we cannot finish this StrongVPN review with a recommendation to use their service because of the high cost.
You would be well served to look at some of our other VPN reviews and find a VPN provider that provides both great service and a good price. Click here if you would like to visit the StrongVPN website see if their services have changed since this review.