Anyone who has extra gold scrap or jewelry lying around, has probably been tempted to convert their gold into some extra spending money, but where do you go? Who do you trust?
If you have traveled through any reasonably sized population area, you have probably seen signs advertising "Sell Gold for Cash" or "We Buy Gold!"
While many of these places are legit businesses that will do what they advertise, there are also scammers out there looking to take a considerable chunk of the value of your gold.
This guide to selling your gold will help you understand the process and where to sell your gold.
Best Gold Buyers
There are hundreds of places to sell your gold locally and online. These are our top options for anyone looking to sell their gold.
CashforGold USA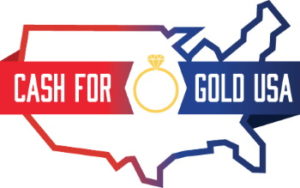 CashforGold USA has built up its reputation after a disastrous run of customer service complaints about ten years ago.
In 2011 the company was bought by CJ Environmental, a top name in purchasing precious metals and gems. CashforGold is excellent for converting broken jewelry, gold scrap, dental scrap, gold coins, watches, and anything made from precious metals.
The precious metals they accept include:
Since they are a refiner of precious metals, CashForGold USA is looking for the raw materials, not the value of a piece of jewelry. For that, you want to check out Worthy.com
Worthy.com
Worthy is not a direct gold buyer, but they will get you the absolute best price on when you sell your jewelry and watches.
They take your item, appraise it, take professional pictures, and put it up for online auction. You get to see everything that is going on through the whole process, even the appraised value.
Once the auction finishes, you decide if you want to accept the price or have the jewelry shipped back to you.
Worthy.com is willing to help you sell:
Gold jewelry

Watches

Necklaces

Bracelets
For anyone looking to sell jewelry in good to excellent condition, Worthy.com is your best option.
Pawn Shops
If you want to go local, then a pawn shop is going to be the easiest option to find. There may be gold refiners in your area, which is another good option.
The only problem with a pawn shop is that they are frequently a middle man. That means you are going to sell your gold to them and they will sell it to someone else for a profit.
This means there are at three, and maybe more, people making money on the sale of your gold. You also don't know how much each middle man is getting as a percentage.
If you want to do a quick check, you can use Cashforgold USA's calculator on their price of gold page. This will give you a ballpark of what you should expect from them as a price for your gold.
How Selling Your Gold Online Works
I am a fan of selling your gold online because you get a better rate on your sale and the process is so much more convenient than going through a local pawn shop.
We are going to look at the CashforGold USA process as an example, but the Worthy.com works very similarly, except they put your item up for auction.
Here is how the CashforGold USA process works:
Fill Out the Online Form
You go to CashforGoldUSA.com and fill out their online form. This will give you a free shipping option that is insured.
This way you can send them your gold, and if anything happens to it, you will receive the replacement value of what you sent.
Send them Your Gold
Whether you choose FedEx label or USPS, your gold will be insured for shipment. You either package the gold and send it, or drop it in the sealable envelope that is sent to your home.
The label will be addressed for you to send that gold off to CashforGold.
Appraisal
CashforGold USA will do an appraisal of your item. This will include testing what qualify of gold you have sent and value of any other metals that you sent them.
Cash Offer
Within 24 hours of them receiving your gold, you will receive a cash offer for what they are willing to pay for it.
Accept or Decline
If you accept the offer, you will receive payment within 24 hours. If you decline, then CashforGold will ship your gold back to you.
Nothing else to deal with and you do not have to leave your home if you do not want to.
How to Know Your Gold is Real
Gold is one of the most imitated metals on the planet. Here are a few ways to make sure your gold is real:
Hallmark
Real gold is almost always stamped with a hallmark. It will usually have the karat weight of the gold (10k to 24k).
For European gold, you will get a decimal value of how much of the item is pure gold. An item stamped ".750", would be 75% gold, or 18k in the USA,
Liquid Foundation
If you have liquid makeup foundation lying around this is a quick test that can be an indicator if your gold is fake.
Apply the foundation to your forehead along with powder. Take your gold jewelry and rub it across the foundation.
If it leaves a black streak, the jewelry IS likely gold. It's not foolproof but a quick and easy way to test at home.
Water Test
Gold is a heavy metal. If you have ever picked up or watched some pick up a gold bar, you will know this to be true.
If you put a piece of supposed gold in the water and it floats, it is not gold. Several types of fools gold are not nearly as dense and will float.
Magnet Test
Any jewelry that is attracted to a magnet is not gold.
Employ any of these tests to see if your gold is real and not waste yours or the gold buyers time.
How Much is Gold Worth?
Gold is usually priced at per ounce for pure gold (24k). As of the last update of this post (September 1, 2019) pure gold is selling at $1,473.42 per ounce.
Now that is not what you are going to get for your gold when you sell it.
You are going to get a portion of that even if you are selling 24k gold. Also, note that gold is measured in troy ounces which are slightly heavier than a regular ounce. So don't pull out your home scale to measure unless it has grams.
Also, if your gold is not pure gold, you will only get a percentage of the value of pure gold. For example, 12k gold is half gold, and thus you can cut the price by 50%.
Your best bet to know the price of gold today, is to head over to the CashforGoldUSA calculator. Gold prices change all day while the markets are open, so always remember that the price may change before you get your offer.
When You Should Not Sell Your Gold to a Gold Buyer
There are two main reasons to not sell gold to a gold buyer.
Gold Price Free Fall
If gold is at a very low price historically, you may want to hold on to your gold and wait for the inevitable price jump.
For example, gold prices closed at $272 an ounce in 2000. If a person waited to sell their one troy ounce of gold until 2005, they could sell it for $513, or $1,087 in 2009.
Just like investing in stocks, check to make sure you are not selling at the worst possible time.
Gold Jewelry
High-end jewelry is a handcrafted piece of art, as well as being made out of precious metals. Having jewelry from a well-known designer or that is part of an inheritance could fetch a much higher price on the second-hand market.
For this we recommend using Worthy.com for any jewelry and WP Diamonds as an alternative for diamond jewelry.
Selling Gold for Cash Final Thoughts
Right now, gold is at some of the highest prices it has ever been.
This makes gold scrap an excellent option for making extra cash. This can come from a myriad of sources including electronics, dental gold, or just old jewelry around the house.
If you have gold now is a great time to sell. So collect the extra gold you have around the house and use that dormant money for something useful, like your Roth IRA or debt.