Swiffer makes some of the most useful cleaning products for around your house.  The dusters, mops and WetJet have become SUPER popular with retail sales of over half a billion dollars. 
The problem is that every item has a part that is disposable so you have to keep buying new pads, dusters, and cleaning solution. Basically, Procter and Gamble is printing money with these disposable cleaners. 
Now you don't have to be one of the people that falls into their money making scheme, because there are a ton of ways to avoid paying full price for all those refills and pad.  Here are seven way I save money by using Swiffer hacks.
Coupons
There are almost always coupons for swiffer refills.  The best place to hit them up is coupons.com for printable coupons.  P&G also puts out a monthly coupon insert in the first Sunday paper of each month.
You also can try the coupons page on the swiffer website.  There is usually both coupons for the starter kit, as well as the different refills.
Flip and Use The Other Side
On both the Swiffer WetJet and the Sweeper you have pads that attach and gather up the nasty stuff on your floor. 
Either side of the pads will work to get up the gunk.  So if you aren't queezy about touching the dirty side you can flip it over and make use of the whole pad.
Use Generics
When an item is as popular as swiffer generic versions are always going to pop up.  I was able to pick up generic versions of the swiffer products at a local Fred's store for almost half the price.  That is a much better deal and they worked great.
Wash and Reuse The Dusters
While the duster and sweeper products are marketed as use and throw away they can actually be washed.  You will need a mesh laundry bag used for washing delicates.  Toss the duster or sweepers in the mesh bag wash them up and let them dry.  They will work for several cleanings not just the one.
Don't Use Their Pads and Dusters
Once you buy the main Swiffer starter kit you don't have to purchase new pads or dusters all the time.  You can make your own very simply and then keep reusing them.
DIY Swiffer Duster
Basically if you can sew in straight lines you can make your own duster pads out of anti-pill fleece.  When you are done they will look like this: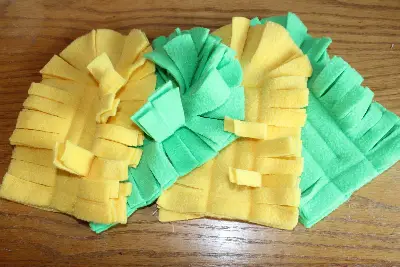 I got my instructions for these from Michelle over at Michelle's Creations.  She really makes it easy with everything you need to get your duster pads made fast.  Best part is when you are done you just toss these bad boys into the washing machine with your other towels and cleaning rags.
DIY Swiffer Sweeper Pads
This is by far the easiest of the three and requires absolutely NO SEWING!! 
Most sites will tell you to use chenille socks which will work great, but I also found these slip on dusting socks that will do even better because they are actually made for dusting your floors and picking up dust and dirt. 
They are both made out of microfiber so either way, just slip it over your Swiffer Sweeper and go to town.  When they are good and dirty toss them in the laundry and go again.
DIY Swiffer WetJet Pads
You can make these by sewing them but I prefer the non-sewing option.  What you need:
Swiffer WetJet
Washcloth sized rags
Dish clothes with the mesh on one side for cleaning
Binder Clips
Scissors
I am sure you can probably put this together now.  Fold the wash cloth to cover the bottom of the WetJet, take the dish cloth and wrap it around the WetJet bottom (securing the wash cloth in place), and secure on top of the WetJet with the binder clips. 
If you have too much fabric there then cut a little off to make it easier to secure. Once you have it together it should look like this: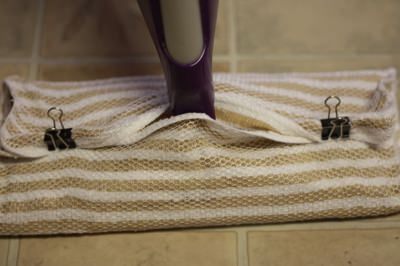 When done mopping take of the clips and throw the rags in the washing machine. If you are looking to polish instead of scrub the floors then use the non-mesh side of the dish cloth.
Refill the WetJet Bottle
This one is my favorite and that is why I saved it for last.  I hate paying exorbitant amounts for cleaning soap, because it is mostly water.
The geniuses at Swiffer make it really hard to get that cap off without breaking it so you cannot use your own formulas. Here's how you do it
Get a pot of water boiling
Take your empty WetJet bottle and hold the cap in the boiling water
Leave it in the boiling water for 1-2 minutes and try to turn cap.  If it doesn't turn easily put it back in for 30 second intervals until the cap comes off easily.
Once off look inside the cap at the ridges.  These are what make the cap hard to take off so shave them down with a utility knife.  DO NOT MESS WITH THE THREAD OF THE CAP.

Now that you have your cap fixed fill with floor cleaning liquid of your choice and screw the cap back on.  A good recipe is half water, half vinegar, and 2 tablespoons of vegetable oil if you are polishing your hardwoods.
That's all I got on Swiffer.  If you have any other ways to make Swiffer products cheaper to use, then post them in the comments or hit me up on twitter @SavingFreak.