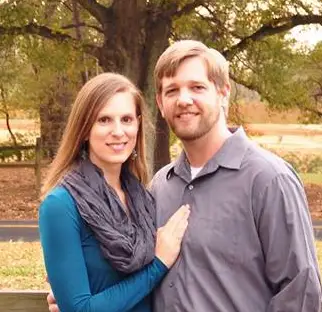 Hi I'm Paul.  I started this blog to help people learn to spend less on the things you need, save more for the future, and make more money to supercharge your finances using all the resources that are available offline and online.
My wife Amy and I started our passion for managing our finances one month after we got married.  13 months later we had paid off all our debt while my wife was still going to school full time.
Since then we've bought a house, had three kids, and changed jobs a few times and still no debt except for the mortgage.
Our success in our finances led us to want to help others.  So we helped launch the financial coaching ministry at our church. This has allowed us to meet one on one with more than 100 other couples to help them get their finances in order and start honoring God with the way they manage their money.
Before the Wedding
Before I married the smoking hot babe in the picture you see here, I was not good at managing my money. I was working for Sprint selling cell phones making very good money (this was right when the cell phone market went CRAZY) and still ended the month with very little or nothing in my bank account.
Now don't get me wrong, I have always been a deal seeking missile. I just didn't manage my money in such a way that allowed me to prosper. You see the down side to finding amazing deals all the time is wanting to constantly buy things even when you don't need them.
It was so bad that while we were dating Amy and I had a joke about me having already bought the stuff she wanted. Once she even thought out loud, "It would be really nice to have a bread maker." And yes, I already had a bread maker that I bought on clearance at Sears and had never used.
After the Wedding
Once Amy and I were married, we started and completed Financial Peace University by Dave Ramsey. Now we had a plan. All of a sudden my penchant for spending less on just about anything became a skill that allowed us to do way more than other people who were our age or were at our income level. I am sure getting our finances in order has prevented many fights that most young married couples have to suffer through.
Where are You?
The pivotal point in my life was marrying an amazing woman and wanting to get obstacles out of the way that might harm our marriage. Have you hit that pivot point yet in your life? I hope you have and I am here to help.
Whether you are just starting on getting your finances in order or are here to pick my brain for new ways to take it to a WHOLE NOTHA LEVEL. I look forward to sharing and learning together.
Credentials
Amy and I have been helping people in the Greenville, SC area for the last 10 years through financial coaching. This means we regularly sit down with other couples, help establish their financial goals, and build a plan that works for them.
Paul is a licensed insurance agent and has traveled the country teaching personal finance to crowds of up to 1000 people at a time, as a part of personal finance seminars and training sessions for financial coaches.