If you need help filing your taxes, there are many firms you can turn to. Going with a CPA is a tried and tested tactic, but one that can prove expensive. Good tax return software can help you avoid overpaying and help you get the best results.
There are many options out there, however, so we're here to make the choice simpler. We'll focus on the Liberty Tax option. By the time we've gone through our Liberty Tax review, you'll be able to see if it suits you or not.
How It Works
Liberty has both an online and in-person option. For this review, we'll focus on their online services. However, some people take the process as far as they can online, and then go in to complete the process.
It's easy to use. You sign up and create your account, and then choose the package that seems to fit your situation best. You'll be required to answer a series of questions. It pays to mention here that Liberty offers their software in both English and Spanish, which is an unusual plus.
The answers you give will help the software populate your return and decide what forms you need to complete. It will look for deductions that may apply and ensure that everything is filled in correctly.
Once you've checked everything and are satisfied, you pay the fee and submit the return. Then all you need to do is wait for it to be assessed.
Start a return with Liberty Tax>>
Features
W-2 download facilities: Import your W-2 with a few clicks
Free email and chat support: Use the chat function on the site or email your query.
Import your prior return: This feature is available whether you went through Liberty or not.
Credit Maximizer: The software looks for every possible deduction and credit to get the very best return.
Free return amendments: If you need to change something on your return, the amendment won't cost you.
Expert advice across various channels: Reach out via chat, social media, email, and so on as it suits you.
Audit assistance: Have you received the dreaded audit notice? The team can assist with advice for dealing with the IRS.
Free review in person: If you'd like extra confirmation, you can take the return to a tax expert at participating branches. This review is free.
Online tools: There are many online tools like calculators that can help you with your taxes. You don't have to have an account to use many of them.
Tax organizer: This tool helps you make sure that you have all the right documents.
W4 withholdings calculator: W-4s are no one's favorite form, but this calculator will help you to ensure that you have the right numbers to work with.
Versions
EZ – $15.96
This is the simplest plan. If you don't have extra income or need to list your deductions, and you have a simple return, this plan is perfect.
Get started with Liberty Tax EZ>>
Basic – $23.96
This is the option if your tax situation is a bit more complex. It allows you to enter itemized deductions and figures related to your health savings account. It's not ideal for someone with a more complicated tax situation. If, for example, you own a business or receive a lot of money from investments, you'll need a more advanced plan.
Get started with Liberty Tax Basic>>
Deluxe – $39.96
This is not the most advanced plan, but it covers you for a more complicated situation. If you're self-employed, this is a good option. If, on the other hand, you need to report capital losses or gains, or deal in farming or real estate, you need a different plan. This package does entitle you to free expert support.
Get started with Liberty Tax Deluxe>>
Premium – $59.96
This is the top plan available and provides all the services that the company has to offer. If you have a more complex tax situation, this is the option you want to choose. If you run your own business, dabble in the real estate market, earn rental income, or farm, this is a good choice.
Get started with Liberty Tax Premium>>
Liberty Tax Competitors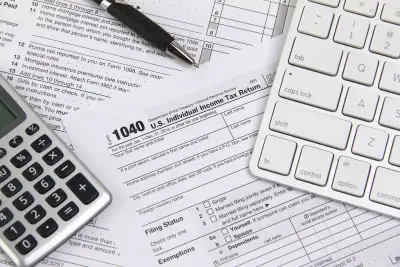 Pros
Simple to Use with a Clean Interface
The site won't win first prize in a web design contest, but that's not an issue. It works well, it's intuitive to use, and you can read everything clearly and easily. There are no excessive amounts of information that you need to scroll through. There are, however, links that you can click if you want to learn more.
Go Into a Branch for Help
Typically, you sign up for an online service because it's more convenient than schlepping into an office in person. That said, the option is there if you want to use it.
If you decide that you want someone to check your return before filing it, you have that option. Also, if you decide that it's become too complex to handle on your own, you can have the information transferred over to a local office.
Easy Navigation of the Return
If you like to get the easy bits over and done with fast so you can spend more time on the more confusing sections, this software allows you to do so quite easily. You can complete the sections that you've already got documentation for and leave the rest until you're ready for them.
Refund Advance Loan
The company offers a refund advance for those who are expecting a refund of over $5,095 after fees have been accounted for. You can get an amount of up to $3,250 and will receive the money 24 hours after applying for it. Liberty charges a fair interest rate for these loans.
Cons
There Are No Freebies
Most companies have a free filing option for no-frills returns. That is not the case here.
Full-Functionality is Pricy
The lower-priced plans are pretty lacking when it comes to features. If you want a complete package, be prepared to pay.
The Site Times out Fast
Be prepared to do a much as possible during each session, because it times out fast. If you get up to use the bathroom, you'll likely have to sign in again. It even times out when you're perusing the "Learn More" section as well.
The Customer Service Hours Could Be Better
We understand that a business cannot be open twenty-four hour a day. However we were surprised that this company's support only applies during normal business hours, Eastern Standard Time.
Considering the service that they're offering, we expected more. After all, we don't know many people who complete their personal tax returns during normal business hour, so this limitation in support is very disappointing.
The Last Word
In short, we do think that this is a good program, but there are a few improvements that we'd like to see. You're paying a fair amount for the service that you get, and there are some great features to draw on. However, there are other online tax platforms that offer better features and we don't feel that the focus with Liberty Tax is quite as consumer-centric as it should be.