For most people the Roth IRA is first and best option for retirement savings.
My first retirement account was a company 401K, because they offered me a nice match, but the first retirement account I opened on my own was a Roth IRA.
Best Places To Open A Roth IRA
As with any investment account, there are some places that offer a better Roth IRA than others.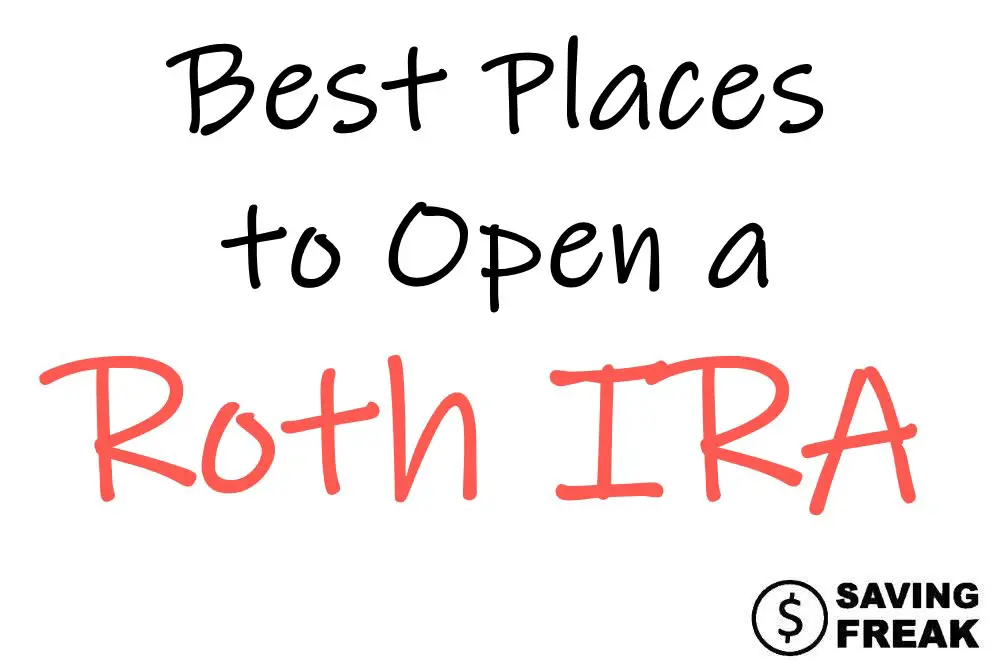 So, it's important you know which places are the best, to get more value out of your investment. For the remainder of this piece, we will talk you through the best places to open a Roth IRA.
So, now's the time to take a look at where you should go to open your account. You'll find that the
re are many different places to open a Roth IRA, and some are best suited for certain categories. We've picked out the best depending on these categories:
Betterment – Best Roth IRA For Newbies
Betterment is the best place to open a Roth IRA if you're a beginner investor. You don't know much about investing or IRA's, and you want to open an account that's low maintenance and easy to handle.
Sure, Betterment is a fairly new site, but they've quickly risen to the top of the pile when it comes to helping out newbies. What sets them apart from a lot of other companies is that they do all of the work for you.
When you visit their site, you simply create an account and fill in a few extra details. These details revolve around your investment goals, and how much of a risk you want to take. Once you've done this, their advisors will automatically come up with a solution to you.
Unlike other companies, Betterment uses a computer algorithm rather than human, financial advisors. Serious investors might not like this, as they want to speak to someone they can trust and discuss their options.
But, for beginners that want to take a hands-off approach, it's perfect. You sit back and watch the algorithm go to work and decide the best course of action for your money. It can help you open a Roth IRA that grows steadily over time and requires very little work on your behalf.
For anyone looking to get started in the Roth IRA world, this is the best place to go. It's incredibly easy to use, you invest automatically, and the prices are considerably lower than others as things are done by computer algorithms instead of humans that require wages.
Open an account with Betterment>>
M1 Finance – Most Affordable
M1 Finance is a relative new comer in the investing world, but they bring some really amazing options to their platform.
First, is that there are no fees for trading stocks and ETFs. You read that correctly, no fees!
Second, you can buy fractional shares of stock. This means that if Apple stock were trading at $100 a share you would have to buy shares one at a time at $100 a piece.  With M1 Finance you can buy a part of a share. So you could take $150 and own 1.5 shares of  Apple stock.
Where they are lacking is in that there are restrictions on your investing. You do have access to more than 6,000 securities that are traded through the stock market, but you cannot buy into mutual funds or other similar investments.
Also, they only complete trades once per day. So if you put in a buy order on a stock and the price goes up before M1Finance makes their daily purchase, you pay the higher price.
If you're a smaller or new trader, this is a great place to open your Roth IRA account because the fees are non-existant. However, if you want to diversify outside of securities (stocks and ETFs) then you are better of with one of the other other online brokerages.
Open an account with M1 Finance>>
Ally Invest – Most Affordable for Mutual Funds
If you're looking for a really cheap place to open a Roth IRA, then TradeKing is the place to go. It's long been rated as the best all-around discount broker in the country. To add to this, it's also well-known for its exceptional customer service.
Setting up your account is as easy as one, two, three, and you can begin investing in minutes. TradeKing is perfect for anyone looking to make very small trades or investments. You can start trading for as little as $4.95!
They also offer some excellent free trading tools as well as granting members access to a great online learning center where you can learn more about trading and making the right investments.
As if this wasn't enough, there's a large community on the site complete with forums for people to bring together their knowledge and tips for fellow users.
TradeKing is simply the top dog when it comes to discount trades and value for money. If you're keen to open a Roth IRA for very little money, then this is your best option.
If you've already got a Roth with another brokerage, don't worry. TradeKing has the beautiful benefit of giving you $150 when you transfer all your assets to them from your old brokerage.
Open an account with Ally Invest>>
TD Ameritrade – Best for ETF Investing
For a reliable broker with plenty of different options, you should check out TD Ameritrade. They're incredibly experienced and have been operating for well over three decades.
As well as having an online brokerage they also have over a hundred branches throughout the US. Their experience and track record prove they're highly reliable, particularly at long-term trading.
Their online platform is so easy to use, and you can set up an account at a moment's notice. The layout is very simple, and you can start trading right away.
There are no fees for setting up an online account, and you do get some special online discounts too. This includes a 60 day 'free trading' period where no commission is taken from any of your trades. You can also earn up to $600 in bonuses online too.
If online trading isn't your thing, then head down to one of their physical branches. You can go inside and speak to any of the expert financial advisors if you have any queries about your Roth IRA.
They give sound advice and have plenty of different Roth IRA options for you to choose from.
Open an account with TD Ameritrade>>
Lending Club – Best Alternative Investment Roth IRA
The majority of Roth IRA providers will deal with stock market investments. Your money gets put into your account and then invested in various stocks and shares based on what your broker suggests.
If you want to move away from this type of investment, the Lending Club is your best bet. They're the biggest peer-orientated lender in the country. Instead of investing in stocks, you invest in loans.
You create an account and make a deposit of as little as $1000. Then, you begin building your portfolio and investing in different loans. Every month you get payments as borrowers begin repaying their loans. You can withdraw your payments, or you can reinvest them in more loans.
Lending Club is a great option if you want to take a really active approach to your Roth IRA. You get a monthly cash flow, which is not something you get with other Roth IRA's out there.
It offers you a chance to make some seriously good returns, the only downside is that their fees can be a bit high. This is certainly not a place for beginners, it's for the seasoned investment veterans that want to take their Roth to a new level and move away from stocks.
Open an account with LendingClub>>
Best Of The Rest
The above options are all fantastic choices for their categories. But, there are a few honorable mentions that are still great places to open a Roth IRA:
E*TRADE
E*Trade has been one of the most renowned Roth IRA brokerages for some time. What ma
kes them good is the fact that they also offer banking capabilities. This makes it easier and more convenient to create a Roth IRA as all of your banking gets done in one place.
Open an account with E*Trade>>
USAA – Best Roth for Military and Veterans
USAA is the best place to go if you're in the military and want to open a Roth IRA for yourself or family members. Since they are not a for profit financial services provider, you can be sure that their rates are some of the lowest.
Open an account with USAA>>
Roth Eligibility
It is crucial you understand if you are eligible to open a Roth IRA. They may have plenty of benefits, but there are income restrictions involved. Your income must fall below the limits in place, or else you won't be able to contribute to a Roth.
Here are the current Roth IRA income limits:
Must earn less than $194,000 if you're opening a joint Roth with your spouse
Must earn less than $132,000 if you're opening a single Roth on your own
Currently, the average income in the US is around $50,000 which means most people will be safe and eligible for a Roth IRA.
Why Open A Roth IRA?
Why would you wish to open a Roth IRA? It's simple, everyone should have some sort of retirement plan in place from a young age. You want to try and accumulate as much wealth as possible in preparation for the moment you stop getting a paycheck in the mail every month.
Roth IRA's are a very good retirement option as they offer you flexibility and tax benefits. Some believe it's better to pay tax now and not have to in the future so their investments can grow without a gray tax cloud looming over them. Also, you can withdraw any money you contribute to your Roth without paying penalty fees – again, this differs from a traditional IRA. Another benefit is that you have no limit for how long your money stays in this account. With traditional IRA's you have to withdraw your money once you reach the age of 70.