My family are big fans of the ready to cook meal kits.  They have allowed us to try new and interesting meals without the cost of buying large quantities of all the individual ingredients.
With the popularity of these mail delivery meal kits, other food vendors are getting in on the craze and making it easier to get food directly to your home.
Butcher Box is one of these companies, bringing some of the highest quality meats directly to your kitchen, while never having to venture out to the grocery store.
What is Butcher Box?
Butcher Box is an organic meat distributor. This means they are not an online grocery store or an individual farm.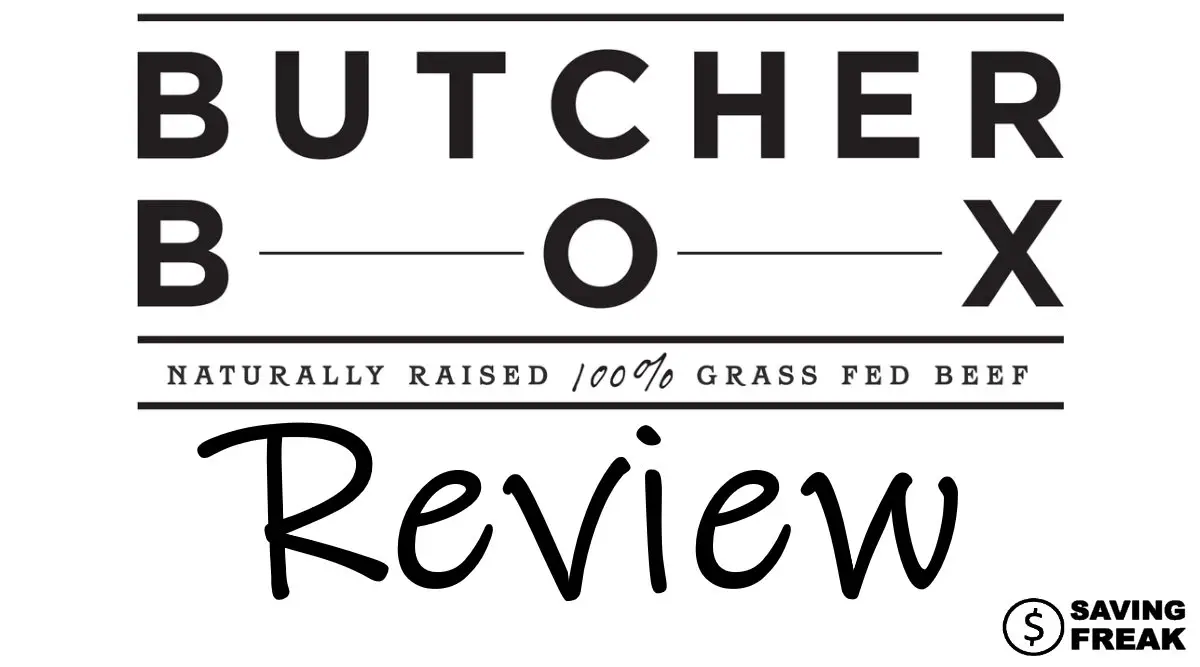 They work with family farms and meat producing cooperatives in order to bring high quality meat products to your home each month.
Think of them as a middle man that makes it SUPER easy for you to get the quality of meats that many grocery stores either do not carry or carry at much too high a price.
How Does Butcher Box Work?
Butcher box is a subscription service that allows you to choose packages of meat that ar
e delivered directly to your home.
You get to choose between monthly or every other month deliveries. You can also choose "add-ons", which are simply adding an extra item to your delivery.
Curated Box Options
Curated boxes are boxes of meat that are mostly chosen for you. This means that you a
re not choosing the individual cuts of meat.  You can choose which types of meat that you get. currently you can choose curated boxes that are:
Mixed – Beef, chicken and pork
Beef and chicken
Beef and pork
All Beef
Custom Box
Starting at $129, Butcherbox's customize option brings to you a diverse range of cuts, which opens up various possibilities of not just exploring the meats but also acknowledging their potential for a fantastic meal.
In front of you will be a well-balanced selection of easy-to-cook cuts — from chicken breasts to luxur
y varieties such as Denver steak. An option of selecting about 12 add-ons will spice up your meal in an instant.
While the Classic Box is priced at $129 a month (which translates to 8-11 lbs of meat, i.e., 24 meals!), their Big Box has often been tagged as the best-value purchase, which, at $238 a month, will serve you 16-22 lbs of meat, which dishes out 48 individual meals!
Custom Recipe Library
To help you with cooking your yummy delicious meat. Butcherbox maintains a recipe library.
The librarcy contains tons of delicious recipes developed by top chefs and for every type of meat you can order on the Butcher Box website.
Quality of Butcher Box Meat
Butcher Box meat is some of the highest quality you can find.
Beef
All Butcher Box beef is one of the main features of their boxes. In fact every one of the curated boxes include beef. The main quality features of the beef are:
Grass fed  and grass finished
Free to roam and pasture raised
High in vitamins, minerals and Omega nutrients
Chicken
The condition of how chickens are raised and slaughtered have become a hot button topic for high quality meat consumers. Butcher Box chicken is:
Free range
Organic
Barn roosted
All vegetarian feed.
Pork
As with the other types of meat Butcher Box provides, their pork products are equally cared for. The qualities of their pigs are:
Heritage breed
Open barn bedding
Easy outdoor access
All-vegetarian diet
As you can see, Butcher Box makes sure that the farms where they get their meats are focused on quality and humane practices.
Cost of Butcher Box
The cost of the curated boxes is $129 and the custom boxes is $149. The costs include shipping and if anything goes wrong with the shipment company takes full responsibility.
Now when I first saw these prices I was a little sticker shocked, but instead of turning my back and walking away I did a little research to compare apples to apples instead of organic to inorganic.
Turns out, according to the USDA, for the quality of meat these prices are on the low end of the range. The hard part about getting real data is that there are so many different definition. For example, grass-fed grass-finished beef is more expensive than grass-fed grain finished beef, even though both get to label themselves grass-fed.
The other factor that I want to stress is availability. Not everyone has access to organic, grass-fed meats. Butcher Box is a godsend if you want the best meat, have nothing available in your area, or the only available meats are at very expensive high end stores.
Getting Butcher Box for Less
While the initial sticker shock wears off, let's consider some ways to make your dollar stretch farther with a Butcher Box purchase.
Take a Look at Your Current Spending
I know many people who spend more than $129 a month on meat. If these boxes can simply replace that spending you already have and you get a better quality meat, then it's a big win, especially considering the time you save not buying it yourself.
So spending a little time figuring out your monthly meat budget may make all the difference.
Go for the Curated Boxes
My family typically chooses these types of boxes because we want the variety of meats. This forces me (the picky eater) and our children to eat new foods.
The other reason to choose this box is that these types of services usually put items that they got discounted as a part of giving you the feeling that you are getting the best value.
For Custom Boxes Choose Large Cuts
Roasts and whole chickens are just a couple of the large cuts of meat you can get with the custom boxes. These cuts are less desirable than a filet and fetch much lower prices.
When you make these selections, you will notice that they come with a significantly larger portions than more desirable cuts like the New York strip.
Order Items You Cannot Get Locally
Large retail sources have the advantage of bulk purchases. So if you can get grass-fed ground beef locally and for less take advantage of that and order the harder to find cuts from Butcher Box.
Make Bone Broth
One way to get more from any meat you purchase is to boil down the bones to bone broth or stock. Bone broth has a ton of nutritional value and is a big boost to your gut health.
My wife has been doing this whenever we puchase a whole chicken and it really is an easy way to improve your health.
Butcher Box Special
Thanks to the kind people at Butcher Box, they have provided SavingFreak.com readers this offer on a first purchase:
Company History
The company's own backstory is a simple story of a man in search of an honest meal. Mike Salguero, the founder, once found himself at someone's living room to pick up a $400-worth meat from a cow share.
And when he learned that the cow was 100 percent grass-fed, he took it upon himself to conjure up a business that is built upon this foundation of purity. Which is where the health of the stock became paramount and is now a tradition that is there to stay.
It also became clear to Mike that not everyone has access to this quality of meat. It was also linked to the fact that knowledge about this was limited too.
And so, with ButcherBox, Mike went on to build two kinds of foundations: to produce the best quality meats, and to build an awareness about its health benefits through the company's specially curated services.
Pros
Reasonable price for the product
Gives access to organic products that many people do not have
Great for those that hate shopping
Gives affordable access to nicer cuts of meat
You get to choose your portions or the size of the meats.
Cons
To get the best price you give up picking your own meat
Not good for those who need to focus on their budget instead of on the best quality of meat.
Can get better prices if you have local farms who offer whole animal purchases
Butcher Box Review Final Thoughts
Butcher Box provides a really great service that allows so many more people access to grass-fed grass-finished beef, free range organic chicken, and heritage breed pork.
While not exactly a meal delivery service, it's definilety a legit service and the pricing is in line with the products that are being offered.