Purchasing a mobile home with bad credit may seem like it's impossible.
However, with the right information and some preparation, a person can absolutely figure out how to buy a manufactured home with bad credit.
Which Mobile Homes Qualify for Real Estate Loans
Having your purchase qualify as real property is an important step in getting approved. The reason is real property qualifies for real estate loans.
Real estate loans are secured by the property itself and are much easier to qualify for than other types of loans.
There are two factors that qualify a mobile home for a real estate mortgage.
Real Property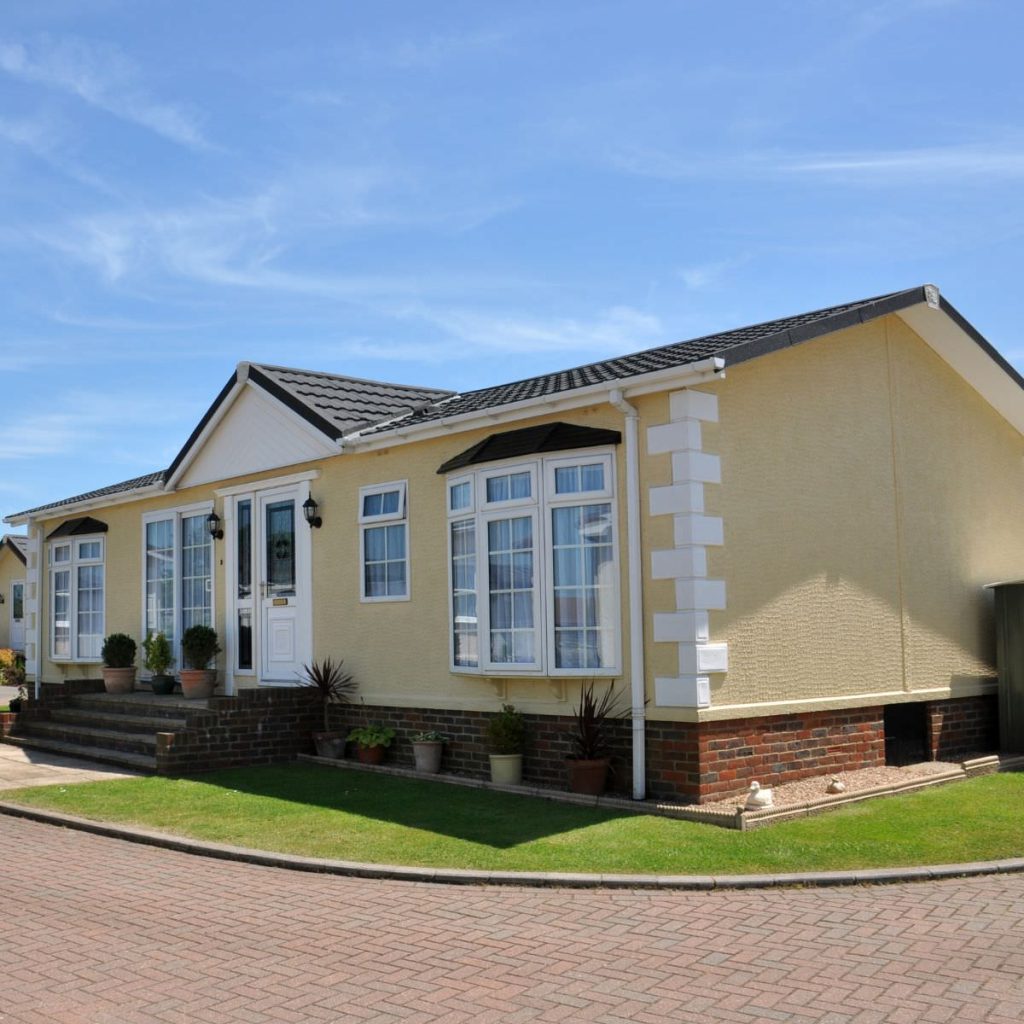 To qualify as real property, a manufactured home must have a permanent foundation. Along with the permanent foundation the home must be on a lot that is part of the sale.
That means if you are looking to be in a mobile home park where you rent the lot does not count.
Each state may have a slightly different definition of what qualifies as a permanent foundation so check with your state regulators to get the exact information you need.
It is much easier to get financing for a manufactured home that is classified as real estate so it's important to be with in your state's regulations.
Manufactured Home Designation
The only other requirement is that the mobile home must be a manufactured home that was built after July 1, 1976. This is the official date for when HUD standards (housing and urban development) were changed to define and regulate this type of housing.
What you Will Need to Qualify
No matter what type of loan you choose there are a few criteria that all will require for you to qualify for financing.
Income
No one is going to lend you money if you do not have a source of income to pay back the loan.
Real estate loans will require at least two months of W2 pay stubs. If you own a small business, you will have to submit two years of income statements for the business.
Down Payment
If you have bad credit almost every loan type will require some form of a down payment.
The larger down payment you can put together the more likely you are to qualify for the loan and the worse your credit can be.
If you can put together a 20% down payment, there are very few lenders who will reject you for the loan.
If you don't have that much, there are other mortgage options we will cover below.
Debt to Income Ratio
Your debt-to-income ratio is the amount of payments you make toward debt divided by your income each month.
For example, if you make $3,000 a month and have $1,000 of debt payments your debt-to-income ratio is 1,000/3,000 which equals 33%.
Credit History
If you are on this page there is a good chance your credit history isn't great. The good news is that you can clean up your credit pretty quickly by paying off bad debts or working to settle past due debts.
How much of any of the above factors you need will depend on the type of financing. Let's look at the requirement of the different financing options that you will need to meet to purchase a mobile home with bad credit.
Financing Options
The good news is there are a lot of financing options for manufactured homes. The bad news is you need to know which option will work best for your financial situation.
These are the mobile home loans that can help you purchase a mobile home with bad credit.
Conventional
When most people talk about a home mortgage, they are referring to a conventional loans.
In the past you had to have a 20% down payment for traditional mortgages. That got a lot smaller with PMI and loosening of mortgage rules.
For someone with poor credit, you will need to have at least close to that 20% down payment to get approved for traditional home loans and you are looking at higher interest rates than someone with a mediocre to good credit score.
FHA Loan
The Federal Housing Administration offers mortgages with favorable qualification to lower income families. To qualify you must meet these requirements:
A 3.5% down payment with a minimum credit score requirement of 580
A 10% down payment if your credit score is between 500 and 579
Debt to income ratio of less than 43% after the loan and 31% before taking out the loan
Have mortgage insurance on the loan
The other two requirements for FHA loans are that the mortgage must be for your primary residence, and you must have proof of steady income.
If you can meet these requirements, you are looking at significantly lower interest rate than with a traditional home loan.
Title I FHA Loan
Under the umbrella of the FHA are Title I loans. These loans are used for financing a manufactured/mobile home and the lot it is placed on.
What makes them different from regular FHA loans is that the loan is from a traditional lender, but insured by the FHA.
Title 1 loans have a lower down payment of 5% for people with a 500 credit score or higher and they tend to have shorter terms (20 years is the most common).
USDA Loan
The United States Department of Agriculture has a loan program to encourage home ownership in rural areas for low-income households.
USDA loans require zero down payment, but lenders will require a credit score of 640 for loan approval. You can get a USDA loan with lower credit scores if you go through manual underwriting and can meet several of the following requirements:
Lower debt-to-income ratio
A consistent and stable income history
Cash reserves or other
A good history of paying rent or a mortgage that is higher that what the USDA loan payment will be.
Even people with no credit can get U.S. Department of Agriculture loans if they have enough examples of them paying their monthly bills on time.
VA Loan
Veterans Administration loans are available to eligible veterans, and they require zero down payment.
VA loans do not have minimum credit requirements, but they will check your work history and ability to repay the loan.
To be eligible for a VA Loan a veteran must meet one of the following requirements of having served:
At least 24 consecutive months
At least 90 days or the full period for which you were called to active duty
At least 90 days if you were discharged for hardship or a reduction in force
Less than 90 days if you were discharged for a service-connected disability.
VA Loans are available for any active duty service member, national guard, and reserve members of our military who meet the above requirements. You can check VA.gov for more information on the VA loans program.
Alternative Financing
Chattel Loan
If your manufactured home is not going to qualify as real property you will need to go with a personal property loan. Chattel loans are personal loans on a movable piece of property.
For our purpose we are focused on mobile home loans, but this could also be for a piece of machinery or a vehicle.
Dealer
If you are purchasing your manufactured home brand new from a dealer, they will frequently have financing available.
These financing options are motivated by making a sale, so the loan terms can be favorable for those with less than perfect credit.
Friend or Family Member
If you have this option, you can get your best deal by borrowing from someone know.
A quick word of warning, Thanksgiving dinner doesn't taste quite the same when you sit across from someone you owe money. Take this route with great care and make sure all the terms of the loan are laid it in very clear writing.
Rent to Own
As interest rates begin to rise this may be an excellent option for someone with poor credit.
People looking to move out of their modular homes but unable to find a person to purchase, may be willing to work out a deal with you where they finance the purchase of the home for you.
Down Payment Assistance
Many states and local governments will provide financial assitance through grants to make homeownership purchases.
Each state is going to be different so check with the HUD page for your state or contact the local government (county/city) where you are looking purchase your home.
If you have some of the downpayment but not all, this may work out to be an excellent option to complete your manufactured home loan.
Why Your Credit Score Matters
A higher credit score provides you with more loan options and more competitive rates.
A credit score is simply a measurement of your likelihood to pay back a loan. If you are careful to pay all your bills your credit score will go up over time.
As a financial coach, I've seen people clean up their credit and move their score more than 100 points, up to 700, in 90 days.
If you have some time, instead of buying a mobile home with bad credit, I recommend cleaning up your credit and getting a conventional loan. The amount you save in interest long-term will be worth it.
Improving Your Credit
Cleaning up your credit isn't as difficult as many people think.
There are two things you have to do:
Clean up anything on your credit report that is incorrect
Bring all accounts into some sort of good standing
To make these steps, you need to pull your credit report from each of the three credit bureaus. This can be done for free through AnnualCreditReport.com.
Credit Repair Services
If you do not feel comfortable doing credit repair on your own, you can use a credit repair service.
They will take you through the process of settling any outstanding bad debts and removing items on your credit report that are incorrect.
Buying a Mobile Home with Bad Credit Bottom Line
It doesn't matter if you choose to clean up your credit first or get by with one of the financing options listed, you can purchase a mobile home with bad credit.
Out of all the options, the most important thing you need to do is get your finances in order so that you can thrive in the future.