Halloween is now the second most expensive holiday, behind Christmas of course.
Even in my fairly Halloween averse neighborhood we have neighbors with blow up displays and decorations all over their yard.  To top that off, if you have children, there is big pressure to get them very cool Halloween costumes.
This year instead of blowing $20 a head or more on costumes try some of these great DIY Halloween costume ideas.
I made sure to get this out at more than 30 days before all Hallows Eve to give you plenty of time to get these awesome ideas done.
DIY Halloween Costumes for the Novice Costume Maker
When it comes to sewing I am not much use, but I could handle all of these costumes.  Most of these are also very cheap Halloween costume ides.  So basically, cheap and easy Halloween costumes, just how I like 'em.
Infant/toddler sushi costume
Toddler costumes are the best and this one is pretty simple. I went through this one and I am sure I could handle this one, even with my rudimentary sewing skills. Tutorial
Simple Shark
Some quick adjustments to a sweat suit and you have a pretty cool shark costume. This one is great for all the lovers of shark week. Tutorial
Row Boat
This one is super easy and very inexpensive. Cardboard, glue and paint and your sailor is ready to paddle their way to some candy. Tutorial
Dragon Wings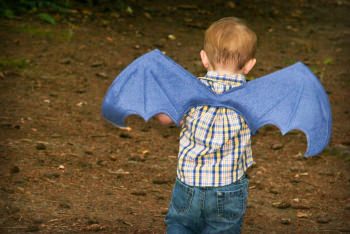 Gotta love dragon wings. These are a combination of fleece and metal hangers and are easily scaled and tailored to your liking. These good looking wings are affordable and easy. Right up my alley. Tutorial
Scuba Diver
Little tiny scuba divers are super cute. And if you are handy with the spray paint and two liter bottles your kiddos can be little scuba divers this year. Overall this is one of the easier ones on the list. Tutorial
Monarch Butterfly
Scissors, felt, and glue are all you need to put together some pretty awesome butterfly wings. I am thinking one of my daughters might be sporting the monarch look this year. Tutorial
Pink Flamingo
Pink dress, tights, and feather boas. That is all it takes to put this classy little costume together. Tutorial
Jet Pack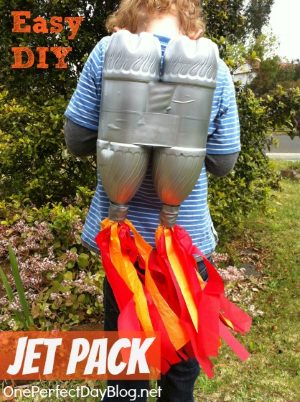 I really liked the rocketeer when I was a kid and this jet pack is pretty simple for the rocketeer in your family. Once again spray paint and two liter bottles take the front stage on this one. Tutorial
Easy Skeleton Costume
Freezer paper, paint, glue and some easy cutting will get this costume done. If your kid likes spooky but you don't want to spend a ton getting this kind of costume at the store then this will really cut the costume budget. Tutorial
Pineapple
Great for toddlers and babies, this one is not only adorable, but you can modify it to look like other fruit. This one requires a little sewing but it is just needle and thread so this is probably at the top of my list for easy diy Halloween costumes for toddler girls. Tutorial
Fairy
There are a ton of fairies in the Disney universe. Tinkerbell is the most famous and all of her movies have made fairies popular again. This costume will let your little fairy be very happy this Halloween. Tutorial
Green Eggs and Ham
If you have a Dr. Seuss fan in your house then being the green eggs and ham guy could be a popular choice. This one requires a sewing machine but it isn't complicated to do not fret. Tutorial
Army Man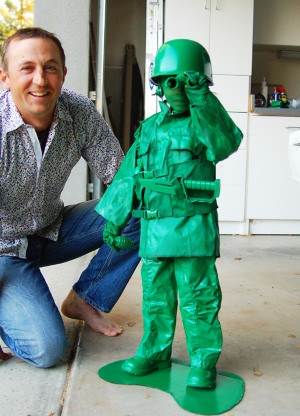 Who doesn't love those little green army men. If your kid isn't excited you can always show them a Toy Story movie. I used to lose my in the sandbox after I used a hose to turn it into a volcano. This one is not super cheap, but compared to what you spend having someone else do it for you it is on the low end. Tutorial
Mickey Mouse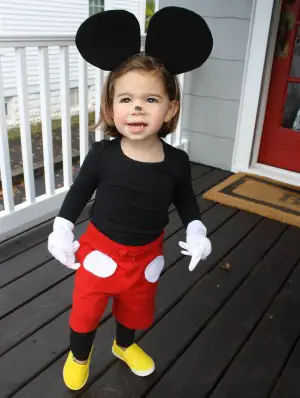 Mickey is a classic and I promise you that they will not come after you for infringement of copyright. Tutorial
If you are need a wider variety of Mickey and Minnie Ideas try this costume out.
Scarecrow Tutu
Regular scarecrow not girly enough for your princess? Well this scarecrow tutu is a great way to combine her wants with style. This one was really easy to put together. Tutorial
Ice Cream with a Cherry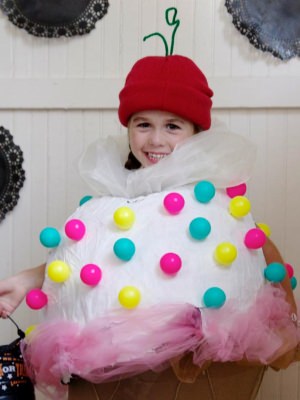 Laundry basket, paper-mache, and plastic balls make this a super easy scoop of a costume. Manvi Drona did a great job putting this one together. Tutorial
Owl
This is a great owl costume for little girls with a fun tutu and an owl hat that is easy to make out of an existing hat. Tutorial
Fox
This one is a compliment to the owl costume above and is perfect for an older brother younger sister combo. A similar modification to a hat and a great fox tail make this costume pretty cool. Tutorial
Batman
You should always be yourself, unless you can be Batman. This batman costume is a great way to get your little one ready to save Gotham. Tutorial
Paint Tray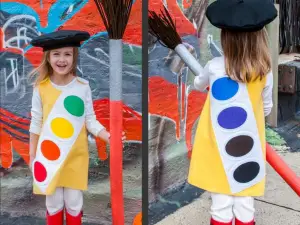 This one made me laugh, but it is very cute and pretty easy to put together. Cutting, sewing, and ironing are all that is required so this one makes the easy list. Tutorial
Karate Kid
This one is probably the simplest of all. If you already have a karate enthusiast in your house then getting them to look like the karate kid just requires stuff you probably have around your house. Tutorial
Mermaid
I have to say Andrea, the lady who put the tutorial together, is a master. The mermaid is the one that caught my eye but she has much more and makes it very easy to get that princess look. Tutorial
Peter Pan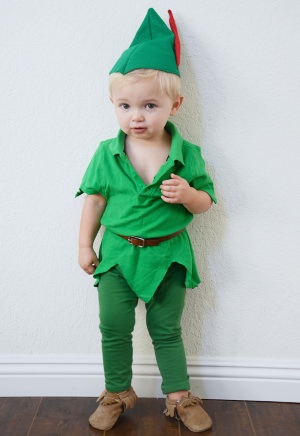 We did a Peter Pan themed party for our kids as a joint birthday party. This looks very similar to what we did for hats as party favors. They are easy and fun for the kids. Tutorial
Edward Scissor Hands
I have never understood the appeal of this cult classic, but I have several friends who would jump at the chance to dress their little guy up like Edward. The hands are plastic butter knives so don't worry about doing any damage. Tutorial
Olaf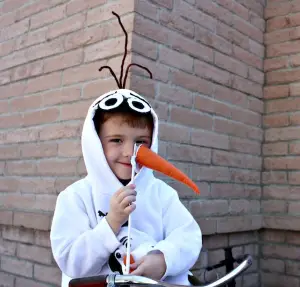 Ok I went and saw the frozen movie without reading what it was about. When I entered the theater I seriously thought it was a story about a reindeer and a snowman. I was sorely disappointed, but that didn't stop my kids from liking the characters. This is a great Olaf costume for the frozen lover in your family. Tutorial
Chimney Sweep
Marry Poppins is a great movie and you can probably get your child to dress up as a chimney sweep if you show them the movie first. This is an easy one. Tutorial
Full Costumes for the Advanced Costume Maker
The tutorials are there to walk you through how to do these cute DIY Halloween costumes, but you are going to spend some time putting these bad boys together. Some sewing or crafting skill will be necessary for these.
Optimus Prime

Transformers were the biggest baddest toys on the market when I was a kid. Imagine my glee when they made a comeback, and my son started liking them. Optimus is the head of the good guys and a fan favorite for costumes. Tutorial
Little Red Riding Hood
I looked at the tutorial for this one and thought, "That is a lot of work!" But the outfit is so stinkin' cute! Tutorial
R2D2 From Star Wars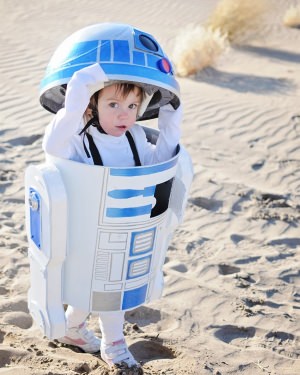 R2D2 is one of the only characters who was a part of all six Star Wars movies. Here's hoping he makes an appearance in Episode 7 and on your front porch this Halloween. Tutorial
C3PO From Star Wars Costume
3P0 is the sidekick of R2D2 and also a fan favorite for Star Wars junkies worldwide. If you cannot teach your kids the force, then this is a good alternative. Tutorial
Minecraft Armor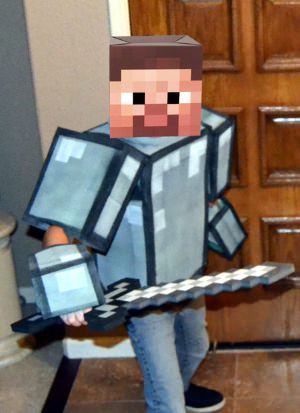 I have always thought Minecraft was kind of doofy with all the cubes, but it has some great learning features and is SUPER popular. This costume could get you kid the label of being a square. Tutorial
Dr. Who's Weeping Angel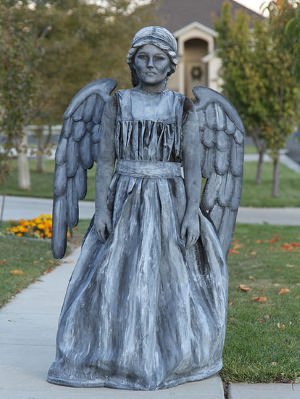 I am not a Dr. Who fan. In fact, I frequently refer to Dr. Who as the cheap British version of real Sci-Fi. The Weeping Angels are statues that the creators of Dr. Who like to pretend is a good idea for a villain. Whovians think it is a great idea so I am sure someone will dress their kid up as one. Tutorial
Minions
The movie has made these guys ultra-popular. You might like them a little less after making this costume. Tutorial
Headless Bride Costume
OK, this one is just cool and creepy. You can take the principles and apply them to a bunch of costumes. Your kid might win the scary costume contest with this one. Tutorial
Robot Costume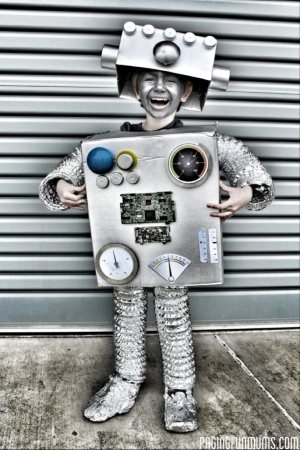 This one is cool, but I am pretty sure that I would bet that I could build my son a toy robot faster than I could build this costume. Tutorial
Gene Simmons from KISS
You would think that people who are fans of KISS would die out after a while, but apparently there are still enough of them that there are instructions on how to make a costume. Tutorial
Historical Train Costume
This one is awesome if you have a train enthusiast in your home. Just be prepared to spend some real time with cardboard boxes. Tutorial
Emmet from The Lego Movie
The Lego Movie was shockingly good. While I would choose to go with Lego Batman (because if you can be Batman why wouldn't you?) Emmet is a good second place. Tutorial
How to Train Your Dragon- Toothless
Magic Wheelchair is a whole non-profit that designs amazing costumes for kids in wheelchairs. This costume is one of theirs. Tutorial
Sonic the Hedgehog
Sonic seems to be everywhere these days. I even saw him pop up on an Angry Birds game. If you are not familiar, Sonic is a super-fast video game character. Do not expect the completion of this costume to be as fast as the video game. Tutorial
Mermaid Costume
I know, I know I already posted a mermaid costume on here.  BUT, I have two daughters so I have to put two mermaids.  Heaven forbid they show up at the ball wearing the same exact costume. Tutorial
Captain Hook and Tick Tock Crock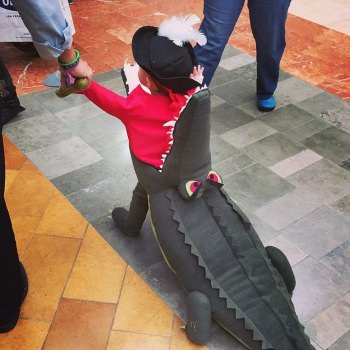 As far as toddler costumes go this one might be at the top of the list. This is an awesome toddler costume and you will get a lot of oohs and aahs from neighbors. Tutorial
If you know of any more great DIY Halloween costumes that can be done pretty easily for those of us who are sewing impaired, then leave them in the comments to help us all save a little money this Halloween.