I hate getting my oil changed, and I really hate changing the oil myself.
Changing oil is relatively simple, so the difference between one oil change and the next revolves around price. That's why finding the cheapest places to get an oil change has become a priority.
I have been visiting various oil change services, and any prices I quote are from my local area. These cheap place to get an oil change tend to pan out in the following order.
Cheapest Oil Change Places
Walmart
Walmart is the discount leader for a reason, and this also goes for their car care centers. Every type of oil change was consistently $10 less than anywhere else I could go.
My van takes an extra quart more than most vehicles, and they didn't charge me more for the extra quart.
If you do not have a coupon, there is no way you will beat the Walmart price from any of the large chains.
Jiffy Lube
Speaking of coupons, Jiffy Lube is a coupon monster when it comes to oil change service.
Most of the time, they still do not beat Walmart, but they are faster, and the specials they run can get the price in the same ballpark as the everyday low prices at Wally World.
Pep Boys
Pep Boys is right there with Jiffy Lube when it comes to running specials and offering coupons.
They also have a rewards program that will build up cashback toward Pep Boys gift cards. Pep Boys also has tires and a full-service shop that gives you more options for using their specials and rewards.
Local Mechanic
Mechanics will not make a ton of money doing oil changes, but some offer low-cost oil change services so they can get under your car and look for other potential car problems.
You never have to accept the services a local mechanic recommends, but it can be good preventative advice and an inexpensive way to get your oil changed.
Other Oil Change Options
DIY
Changing the oil yourself is the cheapest way to get an oil change.
When I researched the price of oil and oil filters, I was saved anywhere from 25% to 50% off the prices at the various oil change stations.
You will need to dispose of the old oil properly, which is free at AutoZone and other auto parts stores.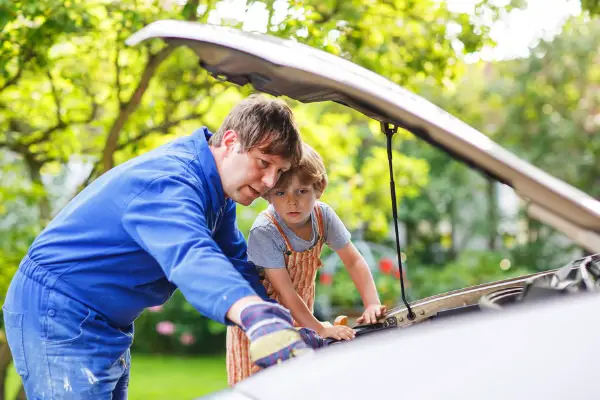 Groupon
I am a big fan of Groupon for discounted rates on services, restaurants, and activities in for local businesses.
Deals for cheaper oil changes are on the site frequently. In my area, Valvoline has a discounted Groupon deal all the time.
Take a Test Drive
Most car dealerships have a repair shop attached to them. As an incentive to get people in to shop for new cars, some of these dealerships will offer an oil change on your existing vehicle.
Cheap Oil Change FAQs
How Much is the Cheapest Oil Change?
The cheapest oil change was $20 at Walmart. This price was for a conventional oil change, meaning good old fashioned oil with no synthetics.
How Much Does a 10 Minute Oil Change Cost?
A 10 Minute oil change is going to cost you at least $40 without a coupon on conventional oil. I recently got a 10 minute oil change done with 25% off of a synthetic blend, and it still cost me $45.
Is it Cheaper to Get an Oil Change at a Dealership?
It can be cheaper to get our oil changed at the dealership, but it will have to be with some kind of special. On an average day, Walmart will be much less expensive.
How Much Does a Full Synthetic Oil Change Cost?
A synthetic oil change will cost you $40 at Walmart and can be as much as $70 at other locations.
Is Synthetic Oil Worth the Cost?
In most cases, synthetic oil is worth the cost. Synthetic oil is engineered to last longer than conventional oils.
According to Scientific American synthetic oil can last more than 10,000 miles or six months. For most owner's manuals, that is at least two oil changes.
Final Thoughts on the Cheapest Oil Changes
Until we get to all electric vehicles that can go long distances and charge quickly, oil changes are going to be a normal part of car maintenance.
When I began to compare prices, I couldn't believe how much I was overpaying for a service that is one of the simplest ways to keep your car running.
Finding the cheapest place to get an oil change is going to depend on your location and the options available to you. This guide should get you started but check your local options to make sure you are getting the best deal.