There are dozens of different rebate apps out there on the market.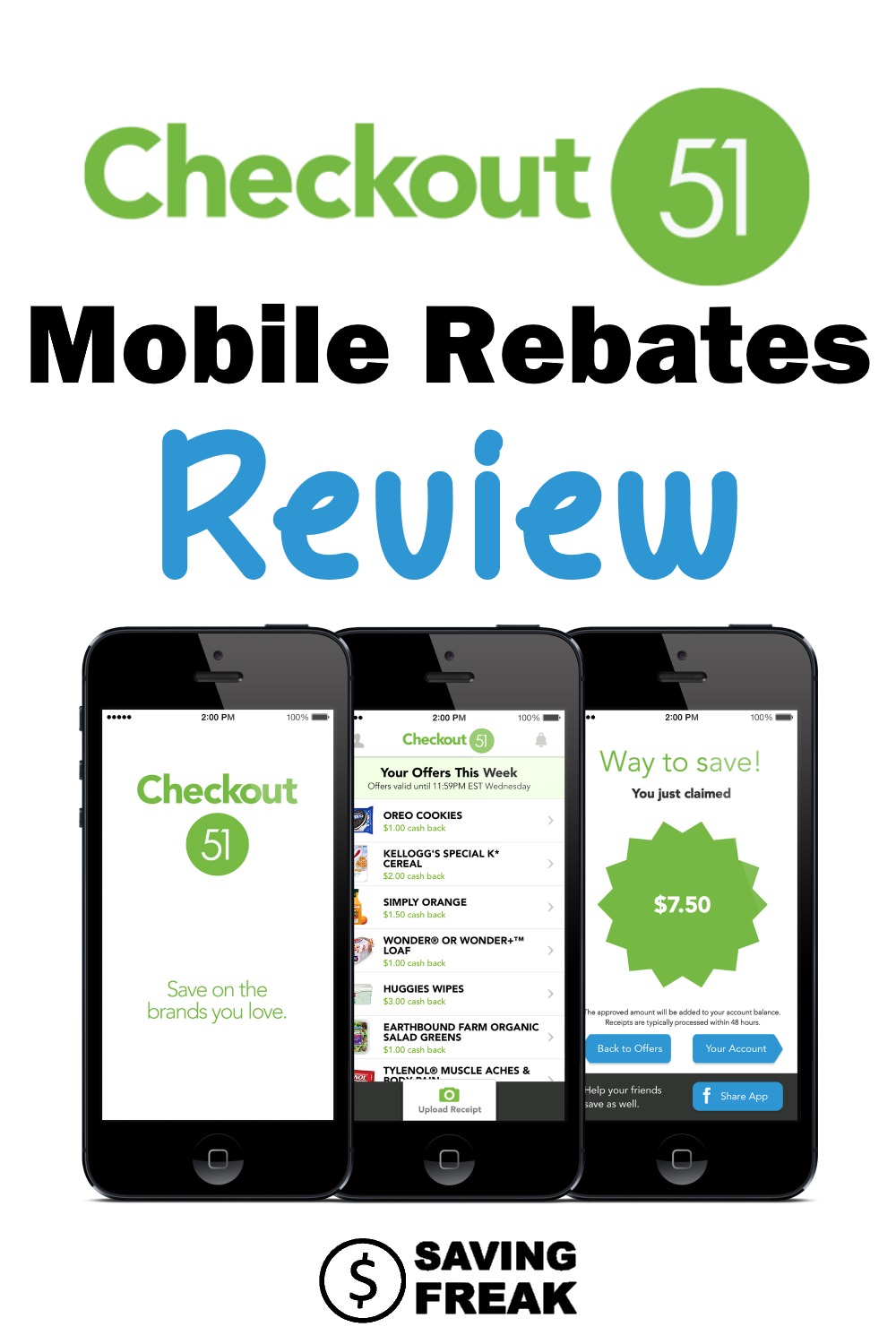 All of them have different systems and advantages.
One of the newest and most popular rebate sites on the Internet is Checkout 51. If you haven't started using it for your shopping trips, you're missing out.
One of the best things that you can do to put a couple of extra bucks in your wallet is to utilize these rebate programs. You're going to be buying these products, you might as well get rewarded for it.
What is Checkout 51
The premise of Checkout 51 works like most other rebate websites. Create an account by signing up on their website, or you can download their app. Making a new account with Checkout 51 will only take you a few minutes. Don't worry, they won't require that you enter any banking information, just name and email address. After you've created your account, it's time that you start reaping the rewards of Checkout 51.
Every week, they have different offers that you can look through. Find the things that you need (or just want) based on the offers, go to a store and buy any of those items, then upload your receipt. It's as easy as that. There are two different ways for you to upload your receipt, you can either take a picture with your phone or upload it through the smartphone app, or you can scan it and use your computer. After you upload the picture, you should receive credit fairly quickly. It could be in a matter of an hour, or could take as long as two days, but 80% of the uploaded receipts are credited within the hour. The flexibility to use your computer or phone is an excellent addition that most rebate sites don't offer.
With Checkout 51 you won't have to worry about keeping all of your coupons with you, or accidentally leaving them at home. Instead of saving money when you go through the checkout line, you're getting rebates AFTER you buy your groceries. You don't have to sit down, clip coupons, and then hold up the whole checkout line as your fumble through your three and a half foot stack of coupons.
Browsing through the deals is quick and easy to understand, even if you're new to these types of programs. They offer rebates on just about anything you can think of. Anything from microwavable pizzas to laundry detergent. While there are a few deals that you have to buy from specific stores, the majority of them can be bought anywhere.
The deals vary in how much cash back you'll get with each purchase. If you've been a coupon-er before, then a lot of these deals are going to look familiar. For example, you'll find a lot of $1 cash back on things like steak sauce, Pop-Tarts, ketchup, etc.
Checkout 51 vs. Ibotta
If you've been around any money saving or frugal living websites, you've probably heard of ibotta, it's one of the most popular cash back programs.
There are a lot of similarities between the two rebate programs, but there are also some unique differences. The first difference between the two is that with Checkout 51, you have the freedom to either use their app on your smartphone or tablet or you can use your computer. With ibotta, you're restricted to using the app. For most people, this isn't a huge hurdle to get over, but there are a lot of consumers that prefer to use their laptop or desktop instead of fiddling around with the app.
Another significant difference between the two is the stores that you can shop at. With ibotta, each deal is limited to a specific store. Yes, there are plenty of different options for you to choose from, Walmart, CVS, Target, etc., but you will be limited to the larger stores. With Checkout 51 on the other hand, it doesn't matter where you shop as long as you purchase the item and get a receipt. Checkout 51 gives you the ability to shop anywhere you want. Small local stores, big discount stores, or anything in between. With Checkout 51, you can even make your purchases online. You can get rebates for all of the deals while doing your shopping at Amazon grocery. Free cash back and you don't even have to leave your house.
Your preference for how receiving your rebates can also impact your choice when deciding between the two programs. With Checkout 51, the company is going to send you a physical check. With this program, once you hit $20 in rebates (which probably won't take long), you can cash out those rewards and then you'll receive a check in the mail. The ibotta program isn't quite as simple. They offer several different options, but none of them are as easy as having a check mailed to you. They only require you to have $5 accumulated to cash out, which is much nicer than the $20 of Checkout 51, but with ibotta you can get your rebates through PayPal, gift cards, or through a service called Venmo. It's nice that they give you all of the different options, and if you consistently use Starbucks gift cards, then you might enjoy their system, but otherwise Checkout 51 has a slight advantage.

The Disadvantages
Sure, these rebate apps and sites are a nice tool to put in your saving arsenal, but there is always a dark side. If you were already gearing up to start getting cash back, don't worry, none of the cons are deal breakers.
Unlike coupons, you don't get your cash back right away. As I mentioned earlier, you have to wait until you have at least $20 in rewards before you can cash them in and then you have to wait for the check to come in the mail. As long as you don't mind waiting several weeks (or months) on getting your rewards, then Checkout 51 could be perfect for you.
The other disadvantage is you are more limited on the deals that you can get. Unlike coupons, it can only use the deals that Checkout 51 has for that week. Sure, they have dozens and dozens of different products to choose from, but you're still limited in the end. There are also a lot of random items that most people wouldn't buy frequently.  I do not view the rebate services as a replacement for coupons, but more of a compliment to them.
Getting the Most out of Rebate Programs
The programs are extremely simple to use and a great way to get a little cash back on your groceries and house hold products. One of the biggest advantages to these apps and websites is that you can still use your coupons or other deals on top of the rebates. Checkout 51 doesn't care what you pay or if you use coupons, as long as you have a receipt to prove that you bought it. If you aren't ready to give up your couponing habits, you can do both and enjoy double rewards.
If you start to get in the groove of these rebate apps and websites, you can even start using several at the same time. It's a great way to double up on your rebates without spending tons of time. There is nothing stopping you from using BOTH Checkout 51 and iBotta, while both programs have different deals, there is always a chance that you will find the same products on both of them.
Final Thoughts on Checkout 51 App Review
If you're looking for a simple way to reduce your grocery bill, this is a great way to do it. Checkout 51 is one of the best rebate programs out there, it can start getting rewards in a matter of minutes. You don't have to put anything or pay a monthly membership. It's free and easy, what could be better?
I would suggest that you sign up for the program and at least give it a shot. What do you have to lose? You might find that you love the rebates, or that it's not for you.
Let's say that you earn enough rebates every month to cash in a $20 check. That means that you'll pocket an additional $240 every year. Most people find that racking up $20 a month is easy, and most people accumulate much more than that. As I said before, the majority of these deals you would be buying regardless of the rebates. If you're buying these things and you aren't using Checkout 51, it's like leaving free money on the table.