I put together this FreedomPop review because they have become an interesting cell phone service carrier that is trying new and innovative ideas to provide people with affordable and many times free service.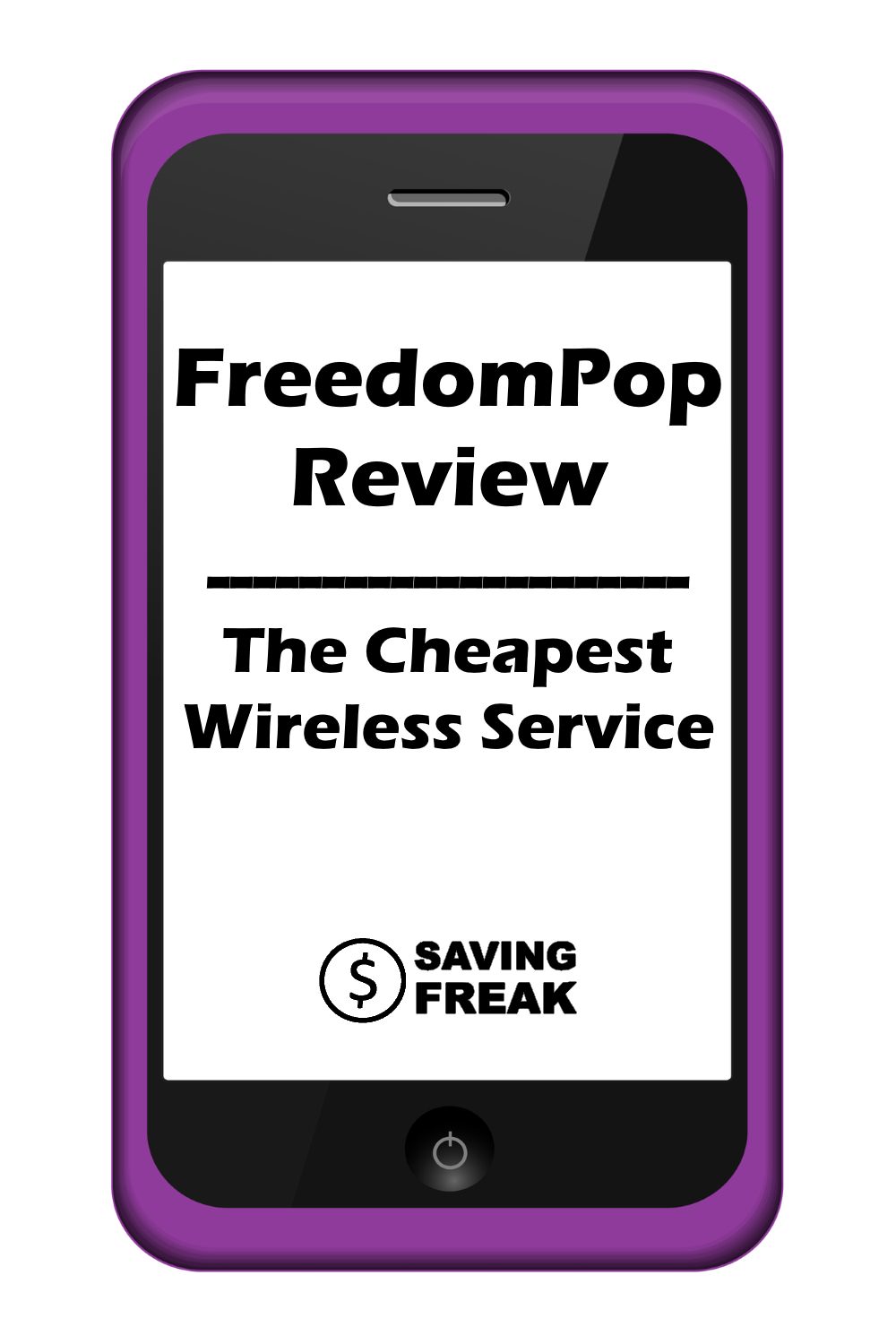 If you are getting killed by cell phone bills or looking to put your kids on a plan for the first time, then there is definitely a FreedomPop offer worth trying.
What is Freedom Pop?
FeedomPop is a wireless reseller that used the fremium model to attract new customers.  This means their initial plan is free of charge to customers and offers top level services with restrictions.  These restrictions push you to pay for more features that are still affordable.
What also makes them unique in the cell phone marketplace is that they only work off of VOIP.  So instead of purchasing voice, text, and data connections from their partner Sprint, they are only purchasing data services and running all three services through the Sprint data network.
The Plans
When I first checked out FreedomPop they were only pushing out two plans.  They have expanded their services and are making a push to make sure people are able to afford whatever plan they need.
The Free Plan
FreedomPop has become famous for their free phone and data plans.  The plan that you will see advertised everywhere is "Free Service" and includes 200 free voice minutes, 500 text messages, and 500 MB of free data.  This also works for their wireless hotspots and USB sticks which get 500 MB of free data each month.
What most people do not realize is that FreedomPop is betting that you will like their service and upgrade to the other VERY affordable plans unlimited text messaging, talk, and data plans that they offer.
$5 Wi-Fi Service
I have to say that this is a pretty awesome idea.  Instead of using cell towers this plan uses the connection form over 10 MILLION wi-fi hotspots across the country.  So you get your voice, text, and data all from this giant network.
The service will also connect from any hotspot that you have access to.  So if you are at home or work you can connect and have your phone service rolling along.  All that for $5 per month.
This is probably not the plan that you want if you or the person you are purchasing it for goes down lonely rural roads but I can definitely see this working for someone who lives in a somewhat urban area with lots of businesses to connect to.
Imagine getting this service for a high school student.  The phone will not work while they are driving in the car but will at home, school, or pretty much any restaurant they will be at.  Overall this makes a lot of sense for a specific niche in the cell phone market.
Unlimited Plan
The unlimited plan ends up being the most popular plan for this carrier.  It is a $19.99 monthly plan for unlimited talk, text messaging, and Data.  With coverage in all major population areas this is a steal for many people.
How is the FreedomPop Network?
FreedomPop coverage does not come from their own towers but from the Sprint LTE network to provide service.  While this is by no means the largest of the four carriers the Sprint network is sound for most people.
Sprint leases out their service to multiple resellers.  So between the actual Sprint service and other services like Virgin Mobile, Boost, and Kajeet you probably know someone currently using the Sprint network.
The best thing you can do before purchasing a FreedomPop device is to find someone who has one of these services and ask them how their coverage is in your area.  You might even invite them over for dinner and secretly call their number to see if it rings inside your house.
Or you can check the Sprint LTE network Coverage Area Check Page and see what services are available in the areas you visit the most.
The Devices
There are three types of devices that you can purchase with the FreedomPop service: Phones, Mobile Data, and Home Internet.  Each one has really great priced services.
Phones
FreedomPop Has really stepped up their game with their phone offerings.  The prices range from $50 to whatever you are willing to pay.  There are currently 38 different devices available on the site.
Mobile Data
When you talk about mobile data you are really referring to either a wireless hotspot, a USB stick, or a tablet.  Right now there are four mobile hotspots that are worth purchasing for data service.
The least expensive is $99 on their website but you can get it for less on Amazon. Make sure you are getting a hotspot that works with the LTE network and not the wimax network.  Wimax networks are old technology and do not give you nearly as much coverage as LTE.
You get a free 500 MB of data or you can get a 2 GB plan for $19.99 per month.  Both of these are lower than any competitor.
I am a big fan of the USB stick and the portable hotspot options.  This gives you the ability to get internet wherever you are.  This comes in really handy when I need to be away from the office or am stuck waiting on someone.  I just connect to the wireless hotspot and away I go.
There are currently five tablets you can purchase from FreedomPop.  They are the iPad Mini, Samsung Galaxy Tab 3, Galaxy Tab 4, LG G Pad and the Freedom Tab Liberty.  They range in price from $75 to $299.
Since you have probably heard of the the other brand name tablets.  The liberty is a slimmed down tablet when it comes to hardware but is good for the $75 price tag.
If you are used to a robust high end table you will not be pleased but if you are user with not too much needs (e-mail, facebook, etc.) it will do the job nicely.
Home Internet
This is a pretty cool idea and something Sprint gave a try back in 2004.
If you live in a 4G LTE area you can purchase a device called a Freedom Hub Burst that will connect to the LTE network and provide your home with 12/Mbps download speed internet service.  It's like having mobile broadband but using it at home.
Now if you get your internet from the cable company that will sound like a slow speed but that speed is right in line with what you get with DSL service.  And the prices are awesome. 
You get 1GB per month for free.  So if you are a light user you can pay one time for the device and have decent internet at home at no charge.  The paid plans are:
5 GB for $17.99 per month
10 GB for $33 per month
If you have teenagers that stream their entire existence across the internet and back into your home then this will not be a good idea, but basic users can save a bundle over the phone company DSL service.
BYOD
What is really cool about Freedom Pop usable devices, now, is that most Sprint and Verizon smart phones are now able to be brought directly over to FreedomPop.
There was a time where you had to purchase a FreedomPop cell phone, but that has changed considerably and the list of devices you could bring over from Sprint grew a lot just a few months ago.
If you have a Sprint or Verizon device and are looking to switch you can see the complete list of BYOD.  You can also bring your phone number with you no matter which carrier you currently have.
Other Place to Purchase Devices
You can get any used Sprint device so Ebay is a great option.  If you are looking for new or refurbished devices then Newegg always has several FreedomPop options and so does Amazon.
The Downside to FreedomPop
So with all these great prices there has to be a downside right?  There are a few catches that you want to be wary of.
The first is, because FreedomPop starts most people off on the free service, they are constantly trying to get you to upgrade to something where they get paid.  Now this seems like normal business but they take it a little far in that you many times have to opt out of going to a more expensive option.
Second, customer service is a lacking.  So if you do have a problem you are going to have to be patient to get it resolved.  The cell phone industry as a whole has a bad rep for customer service flaws, but has been improving as a whole.
Trying to call FreedomPop customer service will take you back to how the big carriers were about 5 years ago.
The final problem I had was getting information out is this carrier.  Getting plans and phone info was a pain because the company website constantly wants you to reenter your email address to see the different devices.  Apparently they are not big on selling the mobile hotspots right now because I had to type in specific models to get any information.
My Personal Experience
My wife is a chorus teacher so having  a separate phone from her personal cell phone for when she takes her class on trips is very useful.
So we decided to purchase a smart phone and give FreedPop a try.  Since the freemium model was available we started with the free plan and then upgraded when she took a five day trip with her class.  The results were mixed.
Since we were trying this service out, the smartphone itself was mediocre.  It has a microsd card slot for expanded memory, but both it and the sim card slid in under the battery and swapping out the microsd card was a pain.
Other than that the features were average with a nice screen and decent specs.  Basically your not so special smart phone.
For data (unlimited or free data) the phone worked as expected. The Freedom Pop service connected through the Sprint LTE network with little problems and did what it was supposed to. Text messaging also worked with no problems.
Where the Freedom Pop review went down hill was on the unlimited voice service.  As I stated above, FreedomPop does not use the cellular network for voice service only data.  So if you have a not so good data connection the voice service goes down hill pretty fast.
One other quirk is that the phone gives preference to Wi-Fi networks over the data from cellular network.  So if I am talking on the phone at my house and then walk down the street there will be about a five second pause as the phone switched from the Wi-Fi to the cellular network.
I don't view these a deal breaker issues, but something to be aware of.  For today's teenagers this is probably no problem at all since they never actually talk on the phone.
FreedomPop Review Final Thoughts
Overall FreedomPop is such an inexpensive mobile phone service that it is worth the hassles that might get thrown your way.
The reviews online are mixed and that is to be expected with the limited customer service.  The overwhelming sentiment is that if it works for you this is a nice service to have.
Having tried this service myself, I will tell you that a lot of how well the service works is dependent on the quality of the phone.  We got the cheapest phone available and it does really weird stuff.  My nephew brought over an iPhone from Sprint and he doesn't have any problems.
So if you are willing to give it a shot it can really save you some cash.  Learn more on the FreedomPop Website.