Many families struggle with the problem of getting healthy meals on the table. The pull of work, school, and social activities make it hard to invest time in healthy meals.
Meal kit services like Gobble have stepped in to help get home-cooked healthy meals that take much less time to prepare.
How Does Gobble Work?
Gobble is a meal kit service that claims you can have your meal ready in just 15 minutes and with just a single pan.
Like most meal kit services, Gobble also allows you to choose your meals, and you can choose from a variety of options. You select three meals a week for either two people or four people. There are Gobble meals that are also certified "Gobble Kid Friendly", if you have kids that you'd be ordering for.
Gobble also offers a breakfast subscription, which features the executive chef's curated breakfast dishes that are added to your scheduled week's delivery.
You get three easy and quick breakfast options per week and a gourmet brunch dish. You can also add-on sides, salads, soups, and desserts if you want.
Gobble has been voted as the "#1 Meal Kit" by the Parents Magazine. Gobble is so simple and makes preparing dinners super convenient. All the meals contain fresh ingredients that are locally sourced from sustainable farmers located in the Bay Area.
The chefs from Gobble do all the necessary prep work for you like peeling, pre-slicing the veggies and meat, marinating, par-cooking the grains, pasta, and sauces, which allows you to cook your fresh restaurant-quality homemade dinner in a jiffy, without spending hours in your kitchen.
Now, you need not worry about your meal planning, grocery shopping, prepping for the meal, and the clean up after cooking.
So, how does Gobble work?
First, you need to choose your meals from Gobble's varied weekly menu. There are several options for meals that you can choose from.
The Gobble chefs do all the tiresome prep work for you. So, now you don't have the hassles of chopping, measuring out the ingredients, or several dishes in your sink.
You will receive your Gobble box with the 15-minute dinner kits that contain ingredients that are freshly made. The ingredients will be sent to your doorstep in a refrigerated box, which is recyclable.
All the meals come along with a recipe card with instructions on how to prepare the dish.
The best part is that you can adjust the deliveries as per your schedule and you don't have to make any commitments.
All you have to do is cook the ingredients, and you will have your meal ready in just 15 minutes, which will give you more time to spend with your family.
The ingredients come in insulated boxes so that they remain fresh for a long time. You can store the ingredients in your refrigerator for five days. And, if you freeze them, the ingredients will last up to three months. This is especially true of soups and proteins frozen in the first few days of receiving your kit.
Gobble delivers the dinner kits every week on Tuesdays, Wednesdays, and Thursdays, according to the delivery in your particular area between 8 am to 8 pm.
Gobble is exceptionally flexible, and you have the option of skipping weeks, changing dishes, and even canceling your subscription any time at all. You can also order whenever you want and what you want without any commitment.
You can manage your meal subscription and all the settings by simply logging into the Gobble dashboard. After logging in, you can change your address, modify your dinner kits every week, modify your meal preferences, etc. Gobble currently allows only a single account per home.
Pricing
Gobble has two pricing plans – for two people and four people
2-Person Plan
In the 2 Person Plan, you will get six meals per week in three different dinner kits. The meals are portioned perfectly for two people. You can select the dinner kits that you like.
Although Gobble automatically generates the order for each week based on your meal preferences, you also have the option of choosing the kit you want each week. The entire Gobble menu is available for all the members irrespective of your meal preferences.
2-Person Plan Cost
Cost of Each Meal: $11.99
Cost for 3 Dinner Kits (or 6 Meals): $71.94 (per week)
Shipping Cost: $6.99
4-Person Plan
The 4 Person Plan contains 12 meals per week in three different dinner kits. The meals are portioned perfectly for four people. And, just like in the 2 Person Plan, you can choose your kits as per your preference, and there are no restrictions.
4-Person Plan Cost
Cost of Each Meal: $11.99
Cost for 3 Dinner Kits (or 12 Meals): $143.88 (per week)
Shipping Cost: $6.99
Minimum Order
To schedule a delivery, the minimum order that you must place with Gobble is two dinner kits or for meals. The price for this is:
Cost Per meal: $13.99
Total Cost: $55.96
Shipping Cost: $6.99
Maximum Order
If you feel that 6 or 12 meals are not sufficient, you can add more meals to the weekly delivery.
Gobble offers free shipping to new customers on their first box.
Breakfast Subscription Cost
Cost: $44 per week
Serves: 2 people
Price: $88 per week
Serves: 2 people
You must purchase the Breakfast Subscription as an add-on to your regular delivery. It cannot be purchased as a standalone option.
Types of Meals/Products Available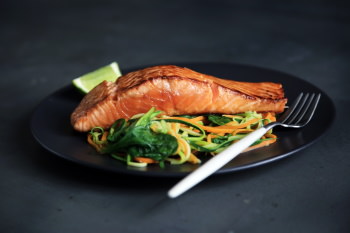 You can choose any meals according to your preference, and Gobble offers various options such as vegetarian, low-carb, dairy-free, and gluten-free meals.
In the Breakfast Subscription, you can choose between the classic and vegetarian options.
Company History
Ooshma Garg founded Gobble in 2010. Its headquarters is located in Palo Alto, California. According to the founder, Gobble serves over 1 million meals a year.
Alternatives
Daily Harvest – Known for having the widest range of ingredients and meal plans.
Dinnerly – One of the least expensive options on a per meal basis.
Yumi – Top option for those looking to get organic baby food delivered to their home.
Pros
Gobble has been voted as the "#1 Meal Kit" by Parents Magazine.
Several meal options to choose from.
Ingredients for each meal are pre-measured and pre-cut.
Individual meals come with their recipe cards.
There are many promotional offers that you can save as discounts on your future orders.
Cons
Meals may take more than 15 minutes to prepare.
Recipes have several steps before the meal is ready.
Minimal nutritional information is given along with the dishes. Apart from the information on allergies, nutritional information is just approximate calories per meal.
Sometimes, the meals may be quite bland and lack flavor.
Gobble Review Final Thoughts
Gobble is a legitimate competitor among the top meal kit services that allows you to make healthy meals in a short period of time.
While they do tend to underestimate the full time it takes to prep the meal, the time is close enough that you will be pleased with how quickly the meals are ready.
If their pricing and options meet your expectations, you should feel great about using this service.