If you are starting to look a little shaggy, but are in the middle of social distancing or need to keep your expenses low, learning how to cut your own hair at home is a viable option.
The drawback is that if you aren't careful, you could set your style back anywhere from 30 to 120 days. To help us all keep from making that mistake, here is everything you need to know to trim your hair like a pro (as much as we can).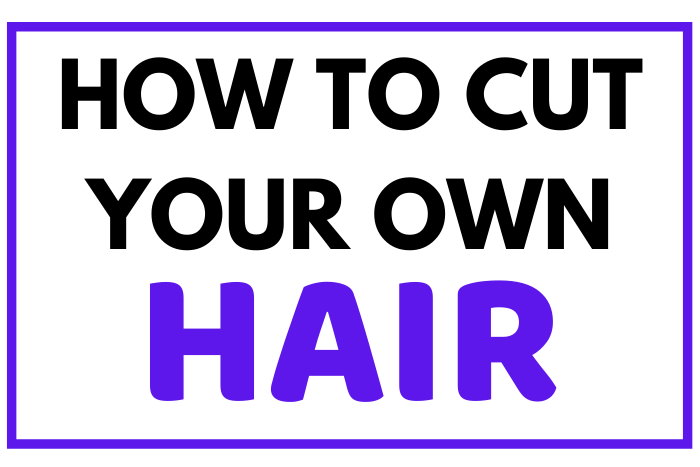 Also, this is not a step by step guide. Read the whole article before trying anything, and be warned you are doing this at your own risk.
Buy the Right Tools
Kitchen scissors will cut your hair, but they won't do it well. So put that blunt force instrument down and buy some styling shears.
Styling shears are pretty affordable on Amazon. I saw this pair of Equinox shears with good ratings for less than $10.
Most scissors we use regularly are too dull to do anything but damage, causing more split ends and bad cuts. These styling shears are super sharp and will give you the best cut for healthy hair.
Clean, Dry, and Style Your Hair
We aren't pros here, so cutting your hair while it is wet is a big mistake. Wet hair allows a stylist to be more precise when cutting your hair, but they also have the training to make that precision useful.
Even more important is to make sure you wash and condition your hair before cutting. Dirty or oily hair tends to cling together, making an uneven cut more likely.
Dry hair that is already clean and styled makes sure that you don't end up with any surprises.
Start Small
If you are going to keep the best looking hair, you will eventually have to go to a stylist, the goal here is to delay that trip, not to avoid it.
Do not focus on the end result, start with small cuts that allow you to cut the hair a little at a time. An inch or two wide at the most is where you should start.
You can always cut more off, but none of us are going to fix a bad cut of a bunch of hair.
Once you make that first small cut, use the length of that hair as a guide to working your way around your head. You can use hair clips to secure sections while cutting. Professionals recommend alligator clips, which are also pretty affordable on Amazon.
Direction of the Cut Matters
We are ready to begin cutting, but how you cut can be the difference between victory and abject failure.
Pull your hair straight upward. This will give you the best chance of getting an even cut.
Once you have a small amount of hair poking out above your fingers, take your scissors and make them parallel with the hair sticking out. The scissors should point upward and, on the ends of your hair, lightly open and close your shears.
This technique is called point-cutting, and it gives you a lighter cut while making sure there aren't uneven strands of hair. These strands stick out when you cut the hair straight across, which is called a blunt cut.
I had a hard time picturing this, but once I watched a few of these YouTube videos, it made a lot more sense.
Watch the Bangs
This is not the time to get adventurous with your bangs. These first-time cuts are to get us cleaned up, not a completely new style.
Use a comb as a guide to keep the line straight, but make sure there is no tension on the hair. Then use the same point-cutting technique mentioned above. Once again, Youtube videos will help make sure you understand how to get it done.
Maybe once you've done this several times and watched a lot more videos, you can be braver, but I'm sticking to just a quick trim. I am certain that more courageous moves will lead to me wearing a hat during video conferences and meetings.
Curls Can Make it Easier
Every friend we have with curls complains about how their hair makes things complicated. However, thick curly hair can be easier to trim than straight hair.
The technique is that you can cut each layer of your hair back a curl or two. This video shows an amateur with curly hair cutting her different layers back and then evening them out.
Questions to Ask Before Cutting Your Own Hair
Before you take on cutting your own hair, these are some questions you should ask before taking it on.
Is it Necessary?
If you are not a trained stylist, this is probably not going to be the haircut that you take pictures of and send to all your friends.
For most people, split ends will take three to four months to start appearing. As long as you are withing that time frame and your hair feels healthy, you can put it off a little longer.
For the guys out there, you can do some very minor trims and even out the hair on the back of your neck to make a big difference.
Will Treatments Work?
Many times it is how we treat our hair that makes the need for a stylist more frequent. Slow down on styling with heat and do a little less coloring, and your hair will stay nice longer.
You can also use hair treatments like the Pantene Pro-V Intense Rescue Shots to repair split ends and other damaged hair problems.
Is There Someone Who Would Do a Better Job?
Just so we are clear, I am not the best person in my house to cut my hair. My wife would do a better job than me. She's much more cautious.
My daughters are too young at this stage, but either of them will be more capable than I am because of their attention to detail and love of style even at a young age.
So if you have someone that can do a better job, use them because this trim could last a lot longer in the wrong hands.
Final Thoughts on Cutting Your Own Hair at Home
My grandmother was a stylist, and she taught me a lot about my hair. While I am not good at cutting it, I have been known to give my stylists great details about what not to do, since my hair was about the only thing that made Memaw curse.
So yeah, my hair is complicated and can stick up in three different places. For that reason, I am not going to try anything close to a full cut.
Since we are in the middle of a pandemic, I will probably have to resort to some minor trims, and I hope that we become proficient enough at cutting that we can save money by making each haircut last a little longer.
What I know is that hairstylists are genuinely well-trained professionals, and if I want my hair to look great, I need a stylist. However, in a pinch, learning how to cut your own hair just a little can make a big difference in your look and your wallet.