The cost of higher education keeps going up and up and being able to get a few college scholarships could be the difference between carrying student loan debt or graduating with no debt at all.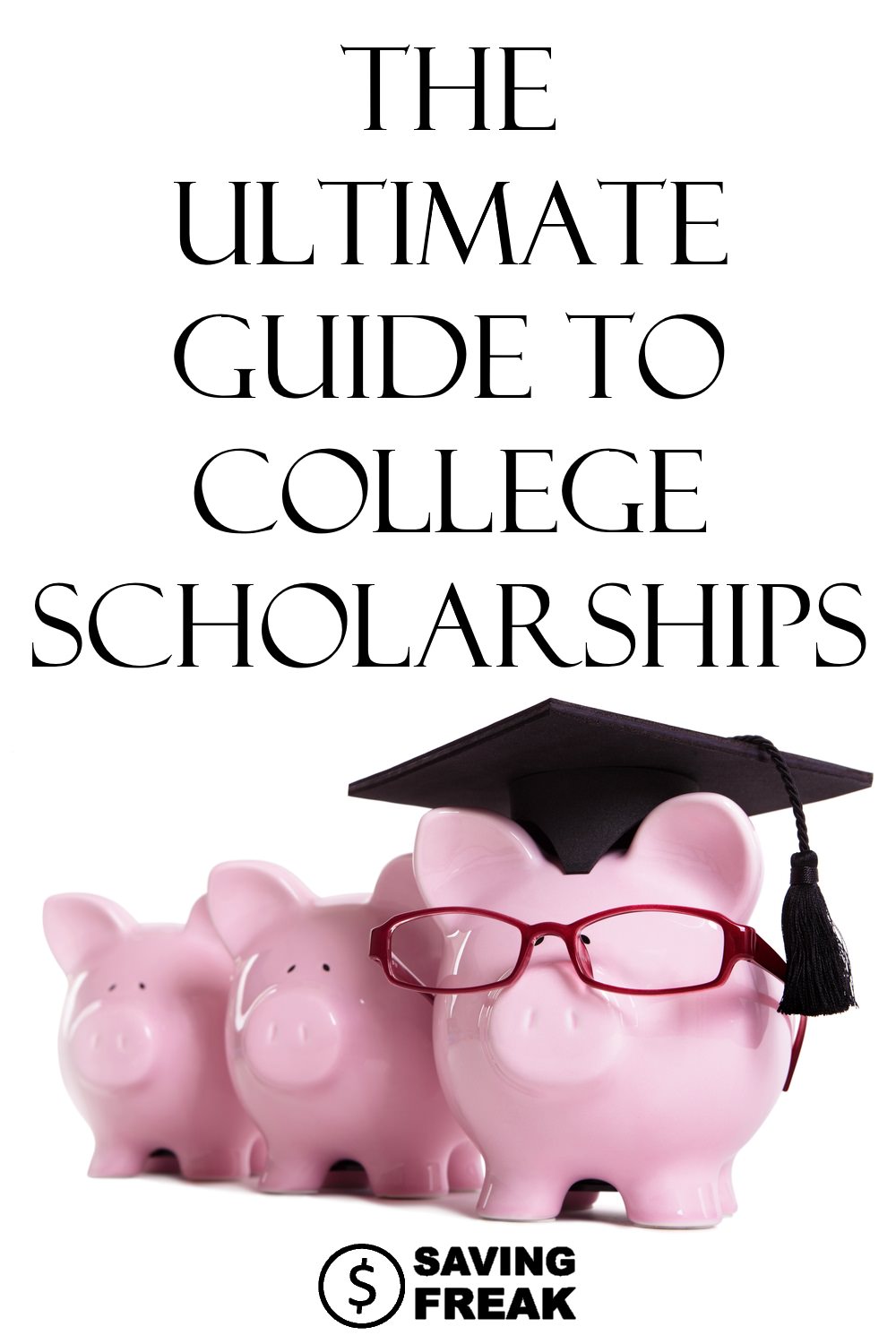 Scholarships are granted for all sorts of reasons.  Want to know the best part?  They aren't all academic and it isn't difficult to get them.  The truth is that almost anyone can qualify for some scholarship money if they are willing to put forth the effort.
What you have to have is a plan to put you in the best position to score those scholarships.  We are going to break them down into three steps:
Preparation/Organization
Searching for Scholarships
Applying for Scholarships
Once you get your brain around these three areas, you will be ready to be a scholarship application machine.  So let's get started!
Preparation/Organization
These two areas are lumped together because they really put you in the best position to apply for scholarships.  Once you have laid this ground work you are going to be able to hammer out applications and put yourself in the best possible situation to get approved for the money.
Understand the Requirements
Scholarship committees are not out there just wanting to hand out money to anybody.  They want well rounded people that will represent their organization well.
They also want to be able to say they helped someone get a college degree.  So while grades are a big deal, having varied interests and extra curricular activities go a long way to making sure you are the best candidate.
Make Good Grades
This may seem basic when talking about scholarships, but there are very few scholarship panels that are going to give consideration for someone who barely gets out of high school.  For the vast majority of scholarships, getting into the the top ten percent of your graduating class is a big boost. If you go to a very small school or are home schooled, then make sure you have ample evidence of you being a good student.
This is not to say that there are no scholarships for average students.  There are scholarships out there for almost anybody, but the better your grades the more opportunities for funding you are going to have.
Ace the Tests
For better or worse testing is a big part of our education system.  Getting good scores on the ACT or SAT is a good indicator of how hard you can work to prepare and of your overall intelligence.  If you are not a great test taker then I would recommend going through a test prep course to help you maximize your score.  It will be worth the investment.
Extracurricular Activities
Grades only get you so far in the scholarship application process.  Make sure are participating in extracurricular activites and that you actually enjoy them.  When you are asked about something you enjoy, you are going to be more naturally enthusiastic.  This is going to show in how you write and in any interview you may give.  Having details about how an activity or experience has impacted your life will carry much more weight than having a big list of stuff that you just showed up for.
On top of that, there is pretty much a scholarship for whatever activity is out there. Chorus, band, drama, debate, student government, and ROTC all have scholarships if you want to pursue careers in those fields.  Even people who are big on Star Trek have scholarships for trekkies.
Do Some Service
Being active in your community and helping others is a great way to build yourself into a better human being and scholarship panels know this.  There are hundreds of ways to donate your time to charities and service and they all will be very rewarding.  Some ideas include volunteering at:
Food Banks
Homeless Shelters
Hospitals
Mentorship Programs
If you live in a very rural area where there are not a lot of local opportunities, there are also ways to volunteer your time online like doing phone calls for fundraising.
Ask for Information
Tapping the knowledge of other people can go a long way to helping you get yourself in the best shape to be granted a scholarship.  Three groups of people you should talk to are:
Counselors – If you go to a public high school there are counselors there that work with people just like you who are moving on to college.  They may have tips on what others have done to get scholarships and they also have great resources to get you prepared to apply for scholarship opportunities.  They have a lot of resources, but they also have a lot of students who come to them so make sure to respect their time.
Reviewers – You can actually reach out to the people who will be reviewing your scholarship.  You should be able to ask about any part of the scholarship application process.  I would focus most on how they weight the different aspects of the application (test scores vs grades vs extra curriculars).
Friends and Family – If you put the word out you are applying for scholarships, people are happy to give you feedback on how to paint your application in the best light, as well as pointing out areas that you may need to improve.  Maybe you spent too much time playing video games and not enough in the community.  I am sure your parents will be happy to point that one out to you.
Know Your Story
People not only want to know why you are a good candidate, but also why you are going to college.  What is inspiring you to seek higher education and how will this scholarship help you to become a better person and productive member of society.  Your commentary on your overall journey, where you have been and where you want to go, can go a long way to persuading a panel that you are the person they want to invest in.
Get it All Together
You have spent all this time preparing yourself to be a great candidate, so make sure you have all your information organized.  Keep it together like a professional would a resume.  You want to have statistics as well as comments on what you did and what was accomplished.  Having all of this in one place will make the application process much easier.
Finally have a document or spreadsheet that keeps track of all your scholarship searching.  Places to keep the scholarship, deadline date, and website will help you maximize your efforts.
Searching for Scholarships
Once you have all your stuff together and you are doing the right things to help you qualify for as many scholarships as possible, it is time to find scholarship opportunities.
Types of Scholarships
There are categories of scholarships.  Almost every one you come across will have some sort of merit-based classification.  This means you have to meet at least a minimum set of standards given by the organization who is providing the scholarship.  The categories that you are going to find most often are:
Academic – This is the one everyone thinks of when we talk about scholarships.  Top grades and academic performance are the focus of these scholarships.
Institutional– These are scholarships given by a school as a part of their broader financial aid program
Need-based scholarships –  scholarships for students that need additional funds to pay for their education They are also be useful for students who's parents make TOO MUCH to receive financial aid, but not enough to be able to afford the high cost of college.
Athletic – This is the one everyone hears about.  If you are a good athlete then you may be able to pick up a scholarship (partial or whole) to a small school.  These can be highly competitive.
Demographics – These scholarships focus on getting specific parts of the population into college. While scholarships for women an minorities are the most famous of this category of scholarships, there are scholarships for just about any demographic out there.
Industry/Career – Certain groups want to encourage people to pursue specific careers and majors.  For this reason they will offer scholarships if you are pursuing your studies in that field.  Technology and engineering are the most lucrative here, but there are a bunch of different groups willing to contribute to your education if you are going to be a part of their industry.
It is important to note that not every scholarship fits neatly into one category.  You could have a scholarship for women who are pursuing engineering degrees.  In that case it would be a demographic and industry scholarship.  Just be sure you fit everything the scholarship is wanting in a candidate.
On top of that most of these scholarships can be broken down into two other categories:
Renewable – Scholarships where you will receive money every year that you're going to college (normally a limit of four years) and you usually have to maintain a certain GPA
Non-renewable – These are one time payment scholarships.  While these may seem like they aren't as good as their renewable cousins, there are a ton of them out there.  If you get enough you can apply them to whichever year of schooling you need.
Some scholarships do come with restrictions on how it can be spent (FYI, I haven't found one that says it can be spent on steak, but I am still hopeful). There are some that require the money to be spent on textbooks or room and board, while others are simply unrestricted money that can be used in whatever area your academic costs require.
Finding Scholarships
Now that the basics are out of the way, let's get down to the real stuff. Because there are over a million different scholarships out there, it can be a daunting task sifting through all of them to find ones that you can apply for.
Quantity is Key
Be warned, finding and applying for scholarships is going to take some time. A lot of time.
You're going to want to apply for a lot of scholarships. Because you should be applying for dozens and dozens of scholarships, it's important that you start searching early and often.  On top of that new scholarship opportunities pop up all the time.  So getting into a weekly or monthly routine of finding scholarships is going to make a big difference in how much money you receive.
Each scholarship, no matter how much, is money that you do not have to pay out of pocket.  So even if it takes one hour to apply for a $200 scholarship, that is way better than having to pay that money from your own wages.
Take Advantage of the Resources at Your Future School
Once you have that acceptance letter you will want to talk to the financial aid office and get them to help you in finding scholarship opportunities.  Not only does the school have their own scholarships, they also have access to organizations and individuals who have private opportunities for scholarships to that particular institution.
These scholarships can be competitive, but you are probably only competing with the other incoming freshmen.  That is a lot smaller pool of competition than you will get for other scholarship opportunities that are as large as what you can get from your chosen college.
Once I had received my acceptance letter, I quickly learned that there was a $1,000 a year scholarship just for my major.  Because I asked, I applied and got that scholarship added to the other academic scholarships that I received.
Use Free Resources
Counselors – Both high school and college counselors will have great resources to help you build your list.
Local groups – This can include, civic groups, community groups, non-profits, and businesses that are in your local area or the local area of the school you want to attend.
Government Agencies – Grants work just like scholarships so check with both state and federal agencies to see if you qualify.
Employers – I have friends who worked at Chic-fil-A just to get into their scholarship.  Other businesses have similar programs, so before you apply for that part-time high school job, check the employer's website to see if they have a scholarship that you could qualify for.
Trade Organizations – This has gotten much broader, but there is probably an organization for your field of study.  See if the national or local chapter has scholarships available.
Go to the Scholarship Search Engines
Many people start and finish their search with online search engines. The reason we didn't list this option first is that people tend to get stalled online and not take advantage of all the networking you can do with the previous choices.  Five good options for scholarship search engines are:
Peterson's – they boast more than $10 billion in scholarships in their database.
Fastweb – a lot of different options here on top of a large number of scholarships.
UNIGO – Another huge list of scholarship opportunities.
College Board – the same people that bring us the SAT also have an extensive scholarship database.
Cappex – Not to be outdone by the others, Cappex claims they have more than $11 billion in scholarship money in their directory.
Apply to the Highest Value First
As you search and collect information on the different scholarships for which you qualify, make sure to prioritize the ones that you must get in.  Larger value scholarships will probably take more time, so be sure you are budgeting your time to be able to get those done.  You can get a lot of small scholarships, but getting a few really big fish will make paying for college a lot easier.
Applying for Scholarships
Every scholarship contest is different and could require different things, but the majority of them are pretty similar. To make the process as fast as possible, there are a couple of things that you should have on hand for every scholarship.
The first thing is transcripts. More than likely you'll need an official and unofficial copy of your school transcripts. Your school should be able to provide both of them.  If you or your student are home schooled there are templates out there for putting together their transcript.
Next, you'll need any of your tests scores. There are a lot of scholarships that give you the opportunity to provide your SAT/ACT tests scores. In most cases it's an optional field, but if your test scores are good, it can only increase your chances of getting the award. Having those scores ready will make the process go much quicker.
You'll also want to have a list of recommendations ready. Some of the larger scholarships will require a letter of recommendation from someone in your life. You don't necessary need to have the letter ready to go at a moment's notice, but you should at least know who you will ask and give them a warning. Sadly, you can't just get a letter of recommendation from anyone. Most scholarships have restrictions on who you can use. Most prefer having an academic reference, which is usually a teacher. Other contests may want a non-academic or personal. Have several people lined up to write a letter to make the application process go by more smoothly.
There are also a few scholarships out there that will recommend or require that you submit a resume. If you don't have on yet, don't worry, they are easy to create and you can get additional help from your guidance counselor. Include all relevant information like work experience, academic awards, any clubs or groups you are a part of, and community service that you've completed.
On top of all that some of the higher rewards scholarships do require an in-person or over the phone interview. Even if the prospect of doing an interview makes you want to crawl under your bed, your fear shouldn't keep you from applying for them. The reward for scholarships that require an interview is usually much higher than for the ones that do not require personal contact.
Nail the Essay
If you didn't already know, scholarships require more than simply filling out a form with your basic information and having a recommendation letter. The vast majority are going to require you to complete an essay, which is normally the basis to determine if you get the scholarship, or if someone else beat you for the money.
Sometimes the essay is going to be an optional part of the application, but I HIGHLY suggest that you do one if it's an option. The essay is what is going to make you stand out from the other applicants.
Treat this essay just like you would with any other important essay. Your essay shouldn't be something that you threw together at the last minute.
Don't rush through anything involving the essay, it could be the difference between winning thousands of dollars or having to pay that money yourself.
Tips for Scholarship Essay Writing
Because the essay portion is such a huge part of the process, it deserves it's own section in the college scholarship guide. Each essay is different, but there are some tips that ring true for all of the scholarship contests.
Depending on what the essay is, you should make it as personal as possible. Remember that the people deciding who wins are going to get hundreds, if not thousands of applications. They are going to read dozens of stories that are very similar to yours. You need to find a way to make it stand out.  Don't just list why you deserve the award, describe how the award is going to propel you onto your dreams of becoming a journalist. Don't just tell them about the community service you've done, show them how your work has impacted the lives of the people in your hometown. Each one is going to be different, but make sure that you inject as much character and personality into the essay that you can.
This tip should go without saying, but I'm going to say it anyways – proofread. Then proofread again. After that, proofread one more time. There is nothing worse that you can do for your chances than submit an essay that is riddled with typos and grammar errors. You could have one of the best stories that the judges ever see, but it it's loaded with simple writing mistakes, they are going to toss it straight into the trash.
You should take the time to go through your essay with a fine toothcomb.
There are a few ways that you can beef up your proofreading skills. After you've read through the essay, try reading it backward. This will force you to really look at the words instead of glazing over them. Additionally, read the essay out loud, not only does this help look for any errors, but it also reveals any sentences or words that sound awkward or out of place.
Proofreading isn't something you have to do alone. There are a lot of problems with your essay that you aren't going to notice, that's why it's important to recruit some help. One of the best ways that you can rid your essay of errors is to have somebody else read through it. While they are reading, you can be looking for more scholarships to apply for, it's a win-win.
Deadlines, Stay Organized
When you're applying for so many different scholarships, and can be difficult to keep all of the deadlines for the applications straight. Each person is different in how they organize their "to-do's," but I suggest that you get a calendar and mark all of the dates for the applications. Because we live in the age of technology, setting reminders on your phone or putting them in your phone's calendar is another way to ensure that you don't miss any deadlines.
Each scholarship is going to have a different deadline, some give you one month while others could give you a whole year to complete. The biggest piece of advice I can give about deadlines is, DON'T WAIT UNTIL THE LAST MINUTE. When you're completing scholarships for money, it's important that you stay ahead of the game and don't procrastinate until the last day. You never know what could happen or what could go wrong. There are so many different things that could cause you to miss the deadline because of your computer crashing, simply forgetting, or a family emergency.
Scholarships for Younger Students – Start Early and Often
One of the less common scholarships is the ability for younger students to go ahead and start saving for their education costs. There are dozens and dozens of different scholarships for students as young as eight years old. Sure, it might seem a little crazy to start applying for scholarships before you're in high school, but college is expensive, and nobody wants to have a giant mound of debt as soon as they leave school.
Applying for scholarships at a young age is a little different than applying once you're in high school. Because of the Children's Online Privacy Protection Act, anyone under the age of 13 isn't allowed to enter personal information online, which means they won't be able to apply for any of these opportunities without parent consent.
Just like with "traditional scholarships," these grants that are target towards younger students vary in award amount. You will find a lot of them that offer around $250 – $500 for winning the scholarship, but there are some much larger contests that have prizes around $20,000, which could go a long way when paying for higher education. Regardless, even when you see one of the smaller prizes that only offer a couple hundred dollars, I highly suggest that you apply (or encourage your child) to apply for those. The majority of students see these as a waste of time, which means that there is going to be less competition and a higher chance of winning. Those smaller scholarships can quickly add up to a serious discount on your degree. Every dollar that you earn from these scholarships is one less dollar that you have to pay out-of-pocket.
Additional Information You Need to Know
There is one thing that you should take note of when you are awarded a scholarship. If your receive the money, you'll need to send an update to your financial aid office at the college you'll be attending. These scholarships are going to impact your other loans and grants. There are certain restrictions, like you the grand total of all the assistance you get can't exceed the cost of the tuition.
Now Go Do It!
You have the tools you need, now get busy and make this happen.  The work you put in now is going to make you feel a lot better when you graduate college with little or no student loans and your peers are looking at tens of thousands of dollars in debt.