In my family both my wife and I work and we have a ton of kids activities throughout the week.
With all that chaos it is hard for either of us to put together a nutritious home cooked meal with the limited time we have.
This is where meal kit subscriptions like PeachDish come in and help us put together quality meals with less prep time and less time thinking about what we "want" to cook.
How Does Peach Dish Work?
If you love cooking but want to save time on preparation, PeachDish is an easy, reliable, affordable and exciting culinary experience from the convenience of your home.
Try a variety of recipes of your choice, get an assortment of pre-measured ingredients and enjoy a nutritious and wholesome home-cooked meal with this premium meal kit service.
PeachDish enhances and eases the home cooking experience by offering a one-stop, doorstep solution to planning, budgeting, grocery shopping, researching recipes and assembling ingredients for cooking.
It offers a delightful, swift and healthy experience for culinary enthusiasts.
Enjoy the goodness of seasonal and Southern-inspired cuisine with handpicked recipes specially crafted by a team of expert chefs for the amateur as well as the expert home chef.
PeachDish offers a wide range of menus ranging from year-round classics to seasonal specialties along with Southern delicacies.
Enjoy the goodness of local produce from farms in and around Georgia. Membership is free and you only need to sign-up to access your account and try out a variety of menu options.
The account would provide a four week shipment schedule to help you plan in advance so you can sit back as you receive your meal boxes through the month.
You can also skip days without a charge. The schedule needs to be confirmed by Sunday night as the shipment leaves on Tuesday. You can choose to order meal by meal, or become a subscriber.
The subscription service offers the best choices of meal plans based on your diet preferences and selection history. You can choose from 12 menus each week. Each menu serves two people and the servings can be scaled up.
The ingredients of each dish are clearly listed along with the nutritional content and the information about the chef.
Each box would have four servings, so you can choose a single menu or two menus with servings for two people each.
The menu categories include a plethora of vegetarian and non-vegetarian options alongside signature delicacies, chef favorites, gluten-free as well as superfood options. There are also quick fix meals that can slide easily into your schedule.
To indulge your sweet tooth, there are meal options for desserts as well. You can also surprise your loved ones with gift cards for every occasion. These are available in digital and physical formats.
When you open your meal box you would find everything you require to swiftly toss the meal together in your kitchen.
You will receive precisely measured quantity of ingredients including herbs, spices and fresh, local, organic food products.
Accompanying these would be a simple menu card containing the information about the dish along with step-by-step instructions with images so that it is easy to follow.
For anything else that you may require, you can browse the online store that houses sweets, beverages, spices, condiments, snacks, cookbooks and also food options for your pets.
A value-based meal kit service, PeachDish is committed to bringing wholesome, healthy and organic food to your kitchen with minimum packaging or food wastage.
It promises high quality, fresh produce, a transparent supply chain for subscribers and a unique recycling program. The carefully crafted recipes offer a unique and engaging culinary adventure to bring out your best home chef experience.
Pricing
PeachDish provides the option of weekly delivery subscription or delivery on a one-off basis.
The shipping is included for subscribers while others pay the shipment charges according to the delivery location. Presently, PeachDish ships anywhere across the country.
Cost per Meal
Vegetarian: $25/2 servings
Meat: $25/2 servings
Seafood: $40/2 servings
Vegan: $25/2 servings
Gluten-Free: $25/2 servings
Sweet: $16.99/2 servings
Quick Fix: $25/2 servings
A standard delivery includes four servings at an estimated rate of $12.50 per serving. A minimum cart order of $45 is required for individual shipping. You can order multiple servings, different menus and items from the online store.
You also have the option of a one-time shipment with a $12 shipment fee when you log in as a guest.
Types of Meals
PeachDish offers diverse plans for various diet choices: vegetarian, meat, seafood, seasonal dishes and sweets.
The special meal plans range from classic to experimental including – gluten-free, vegan, superfood based recipes, quick fixes, staff favorites, guest chef recipes and new techniques.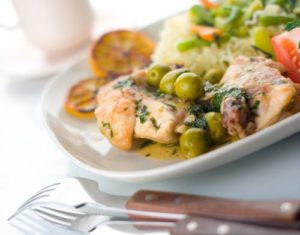 There are 12 menu options each week. One menu options serves two people and the servings can be scaled up. Each box requires a minimum of four servings for shipping.
Subscribers can opt for a single menu with four servings or two different menus with two servings each.
Company History
Located in Atlanta, PeachDish is a national meal kit delivery service that takes the farmer's produce to the home chef's kitchen.
It matches locally-grown ingredients and special seasonal recipes with nutritious options for diverse tastes of subscribers. With a focus on Southern dishes, it has emerged as a frontrunner in the meal kit industry.
It was founded by Hadi Irvani in 2013. Organic farmer, catering industry expert and advocate of wholesome food, Judith Winfrey, is the President of the company.
It is the first meal kit service with an integrated recycling program aimed at minimizing packaging waste. Equally committed to food waste solutions, PeachDish delivers portioned ingredients and has a distribution system for surplus food.
Alternatives
Blue Apron – One of the early winners of the subscription meals war, Blue Apron is a national brand with great meals.
Dinnerly – One of the most affordable meal kits, Dinnerly is a great option for anyone looking to try out meal kits.
Every Plate – Great for all levels of cooking skill, EveryPlate is a great option to try.
Pros
Locally sourced, fresh and seasonal ingredients are made available throughout the country.
Their specialty is Southern-inspired cuisine.
It offers diverse customizable options for different dietary and lifestyle choices.
There is a dedicated online store for condiments, seasoning, sweets, beverages, snacks and other products. It also has a section for pet foods.
The menu cards and instructions are simple and easy-to-follow.
It offers a choice for subscription along with meal to meal ordering.
Food wastage is averted by providing pre-measured ingredients and composting or distributing surplus food to food banks and employees.
Their unique recycling program lowers packaging wastage.
Cons
Although the menu changes every week, there is repetition of recipes in certain sections.
Each box requires a minimum of four servings for shipping.
PeachDish Review Bottom Line
With a distinctly southern flair to their menu options, PeachDish is a good choice among the best meal kit subscription box options.
With several years in the business under their belt, you can be sure that Peach Dish will be there to keep fulfilling orders going forward.