Have you considered getting rid of your paid television service?
Do you have friends who have cut the cord but you aren't sure where to start?
The Roku streaming media player is considered to be one of the top devices on the market in helping you to cut your costs by cutting out cable.
Roku is my personal favorite when it comes to media players so I put together this Roku review so you can see all the benefits of the platform and understand which of the five media players is right for you.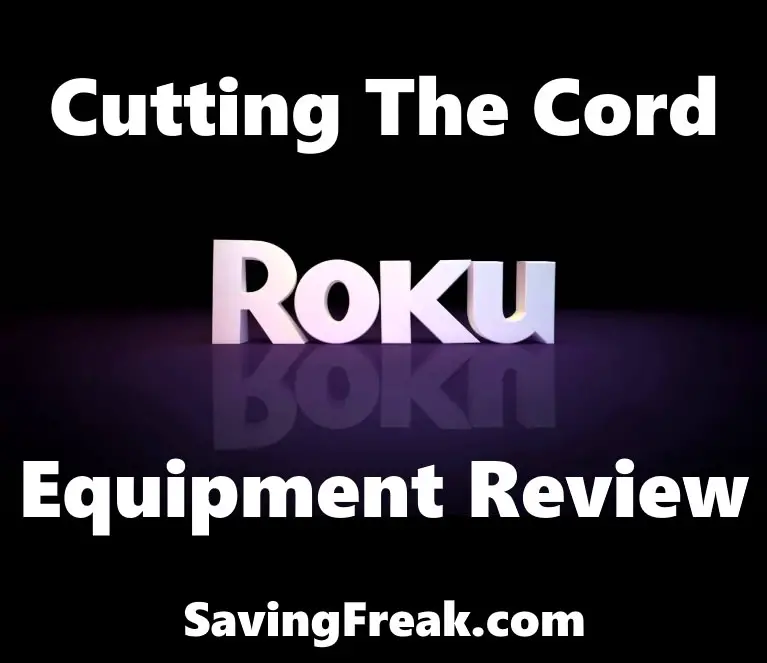 What's a Roku?
Roku was one of the first stand alone media players to hit the market. It has apps built into it (they call them channels) that sync with content providers. There are over 3,000 Roku channels and they include pretty much all of the top content providers that come to mind when you think about streaming video content.
The online account is easy to work with and you can even add channels to your Roku devices directly from the online channel store.  I almost never do this because it is even easier to add channels from the interface on your television.
The Hardware
The Roku boxes themselves are pretty small and they have a fun little mounting kit that can allow you to mount them to the back of your television.  The most basic model is a streaming stick that plugs right into your HDMI port.  I will cover all the current options below.
Usability
The interface on the Roku is SUPER easy to work with. Every selection is easy to make and the channels are easy to sort.  A typical Roku user will see this screen come up when they switch on their Roku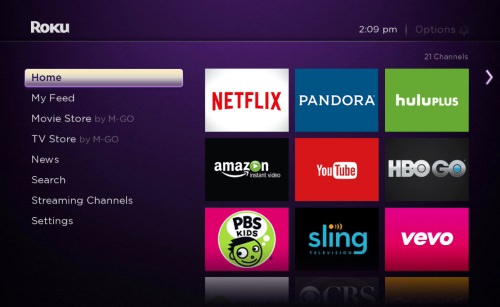 The home area shows all the channels that you have added to your account.  Putting channels on your Roku does not cost you anything, but many of them are fee based services (Netflix, Hulu Plus, Amazon Prime, etc.).
The movie and TV stores sync with a service called M-Go which allows you to purchase both movies and television shows and have them show up directly on your streaming player.  This isn't a big advantage since you can do this through a TON of different channels on the Roku and seems like they just tried to make it easy.
The news section gives you updates about what is going on with the Roku services, as well as, new channels and updates to existing channels.
You add your channels by going to the streaming channels section of the interface.  You can also add channels by logging into your online Roku account.
The setting carry everything going on internally with your streaming device.  This includes connecting to your wifi network, checking for software update, and connecting to your Roku account.
Channels Available
Like I said above there are over 3,000 channels so I am not going to list them all.  The Roku team has really pushed to keep the devices up to date with the latest content providers.  They worked out deals with all the Disney owned channels (ESPN included) and of course carry Netflix, Amazon, HuluPlus, and have even added YouTube to make it easier to watch online videos. So all the big channels that you are hoping to have are there.
There are also a TON of small channels.  Churches even have their own channels to broadcast their services.  There are also a lot of private channels that you can get by searching the Internet for codes.
The Roku App
The Roku app keeps getting better and better with time.  They are very dedicated to keeping up with the latest tech.
Once you have the app on your phone or tablet you can control any Roku device on your home network.  This means that I can turn off my children watching Netflix from the comfort of my bed.  I can hear the screams of frustration all the way upstairs.
Another cool feature of the app is the ability to share pictures from your smart device directly to your television.  This is fun if you want to share pictures with a group or your kids are dying to see the pictures that you just took, but refuse to share the space necessary to all look at your phone.
Types of Roku Media Players
As of this writing there are five Roku media players that are current.  You can find older models on ebay and a few on amazon but I recommend getting the latest technology.  I had to retire my first generation because it didn't work with all the channels and my one model that is a couple generations behind is starting to get quirky as well.  I haven't swapped that one out because it is connected to our small playroom TV and whenever it randomly resets itself I get to here my four year old daughter yell, "COME ON TV!!"  It is hilarious.
Roku 1
Also called the Roku SE, this is your best option if you have an older television.  This is the only current Roku model that also has the old school red, white, and yellow A/V cable.
The Roku 1 isn't limited to just old school audio video cables it has an HDMI port which makes it compatible with all newer televisions.  It works completely off of WiFi and will connect to any b/g/n router. If you don't know what that is, but have bought a router in the last 5 years you are good.
This is a great option for a room that has an old television. If you have a television that is used rarely or does not need the top of the line, but is up to date with an HDMI port (that is the one that looks kind of like a mouth) then I would get the Roku Streaming Stick.
Roku Stick
This is the base model of all the Roku devices.  It is very easy to see why.  The streaming stick plugs directly into the back of your television.  The stick is powered through a USB port which can be plugged into the USB port on your television or directly to an outlet with the provided USB adapter.
As with all the Rokus, the streaming stick runs off of your home WiFi network and is a handy little device.  We take ours with us when we head to the beach for a week and need something to watch after the kids are asleep.
You get all of the video streaming channels, but the processor that runs the stick is not nearly as powerful as what you will get from the Roku 2, 3, or 4.
That being said this is the most affordable of all the devices on this list and can be had at regular price for $49.99 or on sale for $39.99.
Purchase from Roku.com  Amazon or Target
Roku 2
The Roku 2 is your down and dirty get the job done well option.  It doesn't have the small size of the streaming stick and it doesn't do some of the fun stuff of the more expensive models.  What it does is play video very well.  Unlike the lower end models it has a graphics processor that is optimized for video.
It has a few bells and whistles like tapping into your Netflix profiles and easy to use instant buttons on the remote.
Roku 2 is also the least expensive model to include an ethernet port and micro SD card slot.  So you can plug in directly to your home network and use the micro SD to view pictures directly on your television.
So who buys the Roku 2? If you just want a streaming medial player then this box does everything you want it to and has the great Roku interface that we love.
Roku 3
The Roku 3 has been the top of the line in the Roku family until October 2015 when the Roku 4 was released.
First, take everything I just said about the Roku 2 and add a ditto. The Roku 3 is an upgrade to the 2 in that it adds gaming ability and voice search.  The games are pretty good but this is not really a competitor to an Xbox or Playstation.
The voice search is a nice upgrade that you can use directly from the remote control.  On top of that the remote is not limited to direct line of sight.  It connects using Bluetooth so you can point it anywhere and still get a response from the box.  The final nice remote feature is that it has a headphone jack that when you plug in it turns the sound off and allows you to hear your show without bothering anyone around you.
The Roku 3 has a fast HD optimized processor and will play all your streaming video with top performance.  The perfect person to purchase a Roku 3 wants to have some gaming options and a really cool remote control.  If you are going to use a universal remote on this model then you might as well save the money and get a Roku 2.
Roku 4
The Roku 4 is the latest and greatest of the Roku family of players. It takes a big step up from the 3 with a quad-core processor that is optimized to work with 4k Ultra HD video.
Because the processor is so much more powerful than any of the previous Roku devices, it appears that that the end goal is to pursue competing with Microsoft and Sony in the gaming marketplace. What they do better than anyone with the Roku 4 is the 4k Utra HD.  If you have one of the 4K televisions then this is definitely the device for you.
Now I do not own of super high end television, but there is one feature on the Roku 4 that I LOVE!!!!  That feature is this small little button on the top of the device.  You press it and your remote starts beeping so you can find it. How awesome is that?