Whether you are looking to go off-grid, trying to cut costs, or the store was sold out, having a few toilet paper alternatives may be a good move.
While it seems our society partly survives on our access to TP, there are substitutes for toilet paper that can get you clean when you cannot reach the next roll, save you money, or open up a whole new world of toilet paperless living.
Bidet
A bidet is a simple device that attaches inside your toilet. When you are done with your business, you hit the button, and it sprays your undercarriage.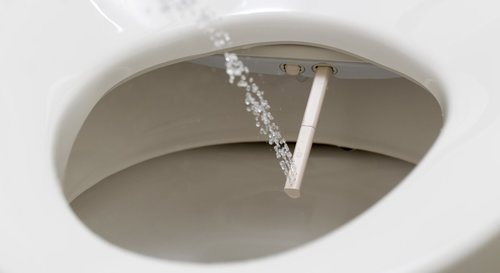 Once you are clean, you can either drip dry, use a small towel, or a couple of squares of toilet paper. It's actually more hygienic than toilet paper and a popular alternative in many parts of the world.
Even if you opt for using toilet paper to dry off, it will significantly reduce your consumption. Bidets are also pretty easy to install, can cost less than $30 on Amazon, and the more expensive ones include a heater for the water.
Sprayer

In Southeast Asia, they use a handheld sprayer to clean their backsides, frequently called a "bum gun". It works with the same concept as the bidet and has the same hygienic advantage.
Once again, these are not difficult to install on your own, and I saw several for less than $30 on Amazon.
Irrigation Bottle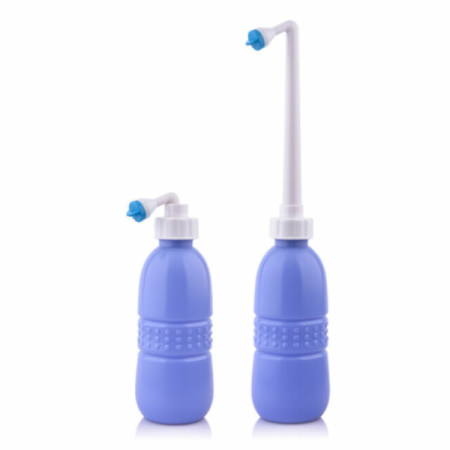 Still keeping with our getting clean with water them, there are irrigation bottles that are made just to help you get a good squirt underneath.
Most times, you will see them called a travel bidet, and they are effective and easy to clean. They cost significantly less than their plumbing attached brethren as I saw many listed on Amazon for less than $15.
Pieces of Cloth
Most people think of rags that they use for cleaning, but this could be any reasonably soft piece of cloth (the softer, the better in my book).
Just like using cloth diapers on your kids, you can place the small pieces of cloth in a container that can be sealed. They actually make cloth diaper pails just to keep the smell down until you are ready to wash.
Sponge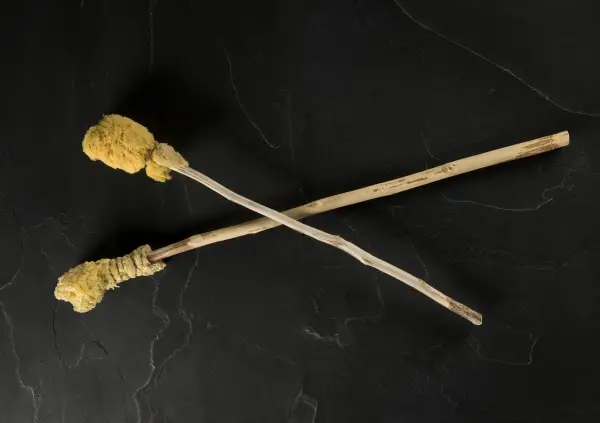 The ancient Romans didn't have toilet paper, so they made do with a sponge attached to a stick… which they shared.
While I don't think reusing right away is a good idea, you can definitely have sponges on hand and then throw them into a sanitizer and wash them later.
You could use the same methods for sealing them off like rags until you are ready to get them clean.
Rope
Back in the wind and sail days, sailors didn't bring toilet paper on their voyages. Instead, they would fray the end of a rope and drop it in the ocean.
When they were ready to "swab the main deck," they would pull the rope up and give a good mopping. It still works today, and the frayed end kind of works like a scrubber.
Corn Husk
Corn husks were some of the first trials at toilet paper. The middle layers are softer than the outside layer while not to think like the layer closes to the cob.
Mullein

Anybody who backpacks regularly probably has heard of Mullein leaves. Not only are they soft, but they also absorb water.
These plants can grow on any of the inhabited continents on the planet, so if you want to start an alternative to toilet paper garden, this one should work for you.
Banana Plant
Banana plant leaves are large, flexible, and softer than regular paper. You will need to tear them into pieces to use them instead of toilet paper.
Mostly found in tropical climates, but you can grow bananas in your home if you have enough sunlight.
Maple Leaves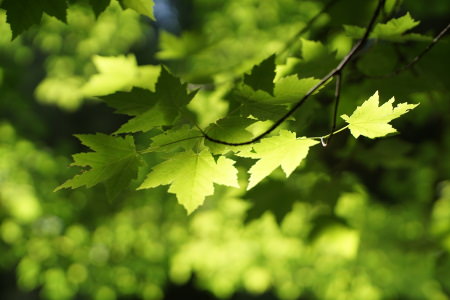 I didn't want to leave out my Canadian friends, so we have to include the mighty maple leaf on this list.
Maple leaves have several advantages, sugar and broadleaf maples have large leaves, the trees produce a ton of leaves, and they don't have any hairs on them to make the aggravating to your skin.
Large Leaf Aster

The large leaf Aster is found all over the eastern United States and Canada. They even have the nickname "lumberjack toilet paper."
The leaves look like they were made for wiping since they are smooth, large, and shaped like a heart to make you feel warm inside.
Cotton Wood

There are different varieties of cottonwood, but the larger leafed ones are best in an emergency. They are a little tougher than some of the others on this list, but that means you don't have to worry about them tearing while in use.
Cottonwood has a pain-relieving effect, which means they are also useful as bandages in an emergency.
Hazelnut Leaves

Hazlenut leaves are soft and completely devoid of toxins. They do have a little bit of fuzz on them, so if you have sensitive skin, this may present a problem.
The only other downside to hazelnut leaves is that they are pretty small and you may need several to finish the job.
Snow
You can mold snow into a sheet to make it easier to wipe, but just grabbing a handful can be a good substitute for toilet paper.
This seems like more a survivalist tactic when hiking in the mountains, but if you live in an area where snow is available and like that cold fresh feeling, have at it.
Rock
OK, you have to be careful here, you don't want to go with just any old rock. Smooth flat rocks are going to give you the best results using the "scraping method".
I know this sounds amazingly unpleasant, but many ancient societies found this quite effective. Between each scrape, you can stir some water with the rock to remove the excess.
Paper
In a pinch, any old paper will do. Your best bet is going to be newspaper.
The reason is that newspaper is very absorbent and, once you dip it in water, a reasonably comfortable wipe. Dry paper is a bad idea because of paper cuts. YIKES!
Your Hand
I decided to leave this one for last because, as a westerner, this sounds gross. The truth is millions of people use their left hand to clean themselves and then clean their hands thouroughly.
You only want to make sure you don't get anything under your nails because that seems like it would be no fun to clean.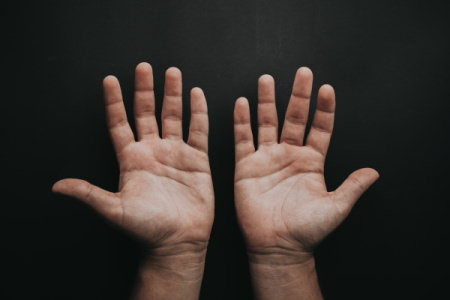 Toilet paper is a need for many people, but if you want to you, can reduce your need to use it or eliminate it.
Whether you are looking for alternatives to toilet paper because you ran out, are looking to save money, or to be more environmentally friendly, there are plenty of substitutes to choose from.