When small businesses, any kind of organization, and individuals first realize the need to develop a website deciding what type of web hosting can be confusing. An Internet search for cheap servers or cheap website hosting will bring up a tangled list of providers vying for attention with a plethora of options thrown on top. It is spaghetti and meatballs, and it is hard to tell what noodle leads where.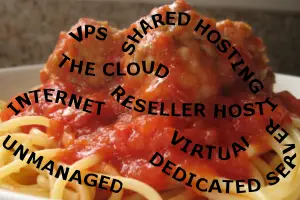 Hopefully this basic guide will make things a little clearer and steer you towards some of the better "meatballs" inside the web hosting industry. Our goal here at VPN Hawk is to help consumers find the webhosting solutions that meet their needs and stay within their budget.
There are four basic types of web hosting available for rent: a dedicated server, a virtual private server, shared hosting, and reseller hosting. The end result of all types will be the same, websites and services available on the Internet. But the cost, quality, management skill required, and implementation are very different. Please read the descriptions below with links to the best web hosting companies available provided.
What is a dedicated server?
A great metaphor to explain what a dedicated hosting server is would be housing. So when you buy dedicated server hosting it is equivalent to renting the whole house. You have access to all the resources available on the machine and you don't share the bathroom or kitchen with other clients. You are the only one living in that "house" (server). This is not the same as dedicated IP hosting. Dedicated IP hosting just means the address or "mail box" belongs only to you. You can have your own mail box whether you rent your own home, apartment, or bunk in a boarding house. Dedicated servers are best for websites that will have very high amounts of visitors (traffic), server intensive applications running, or custom requirements not available with other hosting environments.
Now the best dedicated server hosting can mean different things to people with different needs. There are managed dedicated servers, Self-Managed or Unmanaged dedicated server hosting, and Colocation hosting.
Managed hosting on any server including managed dedicated servers is when the user does not have complete control over the server. Users are often denied root access for Linux servers and administrator access on Windows server. The benefit of this to the user is they do not have to maintain the operating system, the configuration, monitor, update, or deal with any significant issues of managing a server, this is left to the hosting provider. So it is equivalent to renting a house and having someone else responsible for mowing the lawn and performing all the maintenance.
Unmanaged server hosting is just that, unmanaged. You have full administrative access to the server and are responsible for the security and maintenance of the server. The benefit to the user is they have complete control over the operating system and software. Unmanaged server hosting can be less expensive when it comes to rental cost but can be more expensive when factoring the cost of paying staff to manage the servers.
Colocation web hosting service is the equivalent to renting a plot of land and then parking the mobile home (your server) that you own on that plot. So the user owns the server outright, the mortgage is paid off, and the web hosting service is renting out physical space that the server takes. This is also called rack space hosting. This rack space can come with different benefits such as the number of IP addresses, Internet speeds, bandwidth, and electrical power. It is not uncommon for users who desire colocation web hosting to rent space by the ¼, rack, ½ rack or an entire cabinet capable of holding many servers. The benefit of colocation web hosting is that the user gets to park their server on some great real estate with failsafe power backup, security, and high internet speeds that would not be available in a typical business location.

What are virtual private servers?
What is a VPS? Virtual servers are like renting an apartment. There are several people living under the same roof (one server) but everyone has their own space in the apartment complex. With VPS hosting the server is divided either by partitions or containers so that each part has its own separate operating system and allocation of server resources. Even though there can be several VPS accounts on one server, the VPS account holder will only see their virtual environment and have the ability to reboot their portion of the server and use it as if it was their own dedicated server. In most ways a VPS is the functional equivalent of a dedicated server.
Virtual private servers are a great option for many small businesses and individuals that don't need the resources of a full server or want to pay for them. Buying a VPS is also much cheaper than a dedicated server but provides many of the same benefits. One drawback to a VPS is that some unscrupulous hosting providers will oversell their servers. This leaves its clients fighting for limited resources and underperforming websites. Here on VPShawk you can rest assured that VPS providers recommended are the best.  Learn more about the top VPS services in our VPS web hosting review.
What is shared hosting?
Continuing to use the housing analogy, shared hosting is like renting a bunk in a guest house. Everything is shared from the front door to the bathroom. You can however have your own "mail box" or IP address if you want it. Buying shared web hosting service places your website on the same server with many websites, possibly hundreds or even thousands. The server resources, CPU, RAM, bandwidth, etc. are shared by all websites. This is the cheapest hosting available and a great way to set up a single website or several small sites. This is a good option for an individual, group or business that just wants to have an Internet presence. One of the main blogging platforms on the Internet is WordPress which often used on shared hosting. So when you see the term WordPress hosting you can almost guarantee they are talking about shared hosting.
Shared server hosting is low cost web hosting that is a good fit for most users and where most should start if they just want a simple website. It is important though to purchase web hosting from a reputable webhosting provider. It is common for providers to try and undercut the competition by offering the cheapest web hosting and then make up the difference by overselling their servers. This makes their servers load pages very slowly when people try to view websites on them. Problems can also arise if another website has lots of visitors or applications that take up all the server resources. When renting hosting, it is best to request your own IP address to prevent your website from being associated with the IP address of other websites that may have questionable content.
Here are some rock solid web hosting companies that we use and recommend. 
What is reseller hosting?
Reseller hosting is for those who have a business mind and would like to start their own hosting service. An entrepreneur can purchase a reseller account over a shared server for around $25 a month and host an unlimited number of domains. These accounts are limited in bandwidth and disk space, but it is easy to rent more as the need arises. Resellers can also rent dedicated servers as well as virtual private servers and subdivide them for sale.
Reseller hosting accounts are also an option for those with multiple websites, as it makes it easier to manage many websites under one control panel.

Rackspace has an awesome reseller program. Click here to go to Rackspace now.  The text below is from their website.
Reseller Program
We built the Rackspace Reseller Program to enable all types of businesses—like yours—to incorporate hybrid cloud hosting into their current product and service offerings. The Reseller Program helps you succeed by:
Providing a simple and intuitive program that makes it easy for you to do business with us
Enabling you to benefit from the unique depth and breadth of the Rackspace Hybrid Cloud portfolio
Leveraging our global brand to uncover new opportunities and easily resell our solutions to your customers and prospects