Univox Community is a system which allows users to share feedback on up-and-coming products, or ones currently on the market. Businesses then use this data to help guide the next stage of their product development and release.
This information is hugely valuable to them, and so in order to gather it, they pay users well to complete carefully crafted surveys.
How Does Univox Work?
To get started on Univox, you will be asked to provide basic information, including age, gender, region, car ownership, and general shopping behaviors.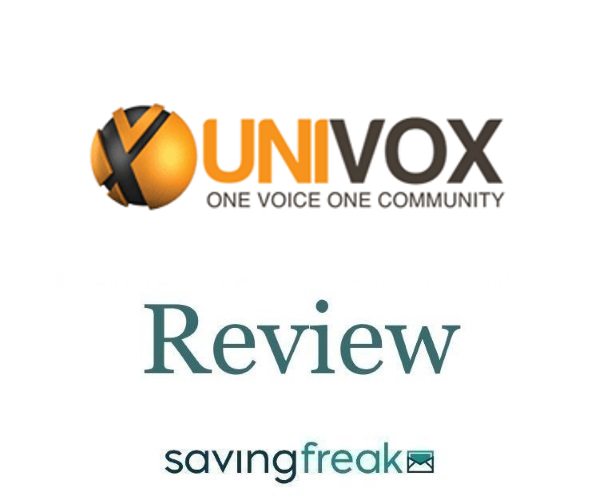 This data will be used to ensure you receive surveys which are relevant and suitable for your lifestyle.
As an added bonus, you receive $5 from the site for completing this first task; your account is also credited with 200 points ($2) as a welcome gift, simply for signing up with the site.
Is Univox Legit?
Univox Community has been helping businesses improve their products for many years, and appears to be totally legitimate and valid. Users report getting paid correctly and on time, and the businesses involved in the program are also legitimate.
How do I get paid?
The main option for earning on Univox is completing surveys, and this is how you will make your money. Surveys can range from super short, taking just a minute or two, to more lengthy tasks, which can take over an hour.
On average, users can expect to receive around $0.50 to $2 for 5 to 15-minute surveys; these are the most common type. The longer surveys pay more for your time but are available less regularly.
Users can also earn rewards by interacting with the site—joining polls, discussions, and activities. Be selective here—not all of these activities lead to rewards; some are simply for fun.
Every time you complete a survey or complete a paid activity, you will be rewarded with points; 100 points is equivalent to $1. There is a minimum cash-out requirement of 2500 points ($25), and money can be sent via Amazon e-gift card, a Virtual Visa card, or through PayPal.
A key feature of Univox is the choice of four user levels. Progressing up through the levels can help to reduce the number of points required to cash out, and depends on the number of surveys completed; there is no fee to progress. The four levels are as follows:
Basic users – The redemption button is activated at 2500 points ($25).
Verified users – The redemption button is activated at 2000 points ($20).
Premium users – The redemption button is activated at 1500 points ($15).
Ambassador users – The redemption button is activated at 1000 points ($10).
All levels have a minimum redemption level of 100 points ($1) and a maximum of 1000 ($100). This remains the same no matter what level you are at.
Company History
The Univox Community website is owned by Market-cube.com. Established in 2009, this team specializes in custom market research, delivering samples, online panel development, and research technology.
Alternatives
Univox is a great way to earn money with surveys, but it has many competitors. Three of the best alternatives include:
Toluna – A longstanding options, Toluna Surveys is a well known and respected option.
Prize Rebel – One of the best known GPT programs, Prize Rebel offers multiple ways to earn.
Valued Opinions – Not as well known as some of the other survey sites, Valued Opinions has been working online for more than 15 years.
Pros
Disqualification bonus – Unlike other market survey sites, Univox will still reward your time with a bonus even if you are disqualified during a survey. The amount is small – just $0.05 – but it is better than receiving nothing for wasted time.
Sign-up bonus – You can start earning straight from sign-up with a $2 credit reward for all new customers. This is in addition to the $5 you will receive by completing the profile information questions and gives you a respectable $7 for very little effort.
Referral bonus – If you refer a friend to join the site, you will be rewarded with $1 once they complete a survey, or when they try to qualify for 10 surveys. Up to five referrals will be rewarded, giving you $5 in total.
Mobile app – The mobile app allows you to complete surveys no matter where you are, and can be a chance to earn a few dollars on the go.
Cons
Very little customer support – A common issue with the site seems to be the lack of communication from a customer support team. Users have reported long delays and issues when a problem crops up.
Disqualification – While Univox is unique in rewarding users who are disqualified, some have noted that this particular situation seems to happen a lot. In addition, some surveys will let you participate for an unreasonable amount of time before informing you that you have been disqualified; some users report having been 10 minutes into a paid survey before being kicked out. Univox has responded to this criticism, saying that users need to ensure their profile information is up to date before beginning any surveys.
Random account blocking – One curious criticism reported by some users is the experience of having their account blocked for unconfirmed "suspicious activity." Due to the lack of customer support, users describe these situations as frustrating and difficult to rectify before being able to get your account up and running again.
Univox Community Review Final Thoughts
Univox Community is an easy-to-use survey site, which rewards users for their opinions with cash. You can decrease the amount needed to cash out the more often you participate, and will be rewarded even for surveys which you do not qualify for.
The lack of customer support is concerning, however, and seems to be the number one reason users decide to walk away from this opportunity.