Our society has seen a rise in two-income and single-parent homes. This makes it more difficult for most families to put healthy home-cooked meals on the table.
Terra's Kitchen, and other meal kit delivery services, have made it easier and faster to get your family an affordable dinner with healthier ingredients than restaurants.
How Does Terra's Kitchen Work?
Placing Order
Terra's Kitchen is a healthy prepared meals delivery service.
To order meals, you start by signing up with your email ID and zip code.
Next, you need to describe your requirements. This can include, do you eat meat, or would you prefer the meals to be strictly vegetarian and how many people will you be serving. You will have the option of editing or customizing your requirements and the menu every week. So, what you enter at this initial stage isn't set in stone.
Next, you will have the select which day you want the first weekly delivery, out of the option offered by Terra's Kitchen.
Now, you get to customize the menu and select the food items or dishes that you want to be delivered as part of the first weekly delivery. Terra's Kitchen will offer some suggestions, but you can clear all of those and start from scratch. On the right side of the page, you can check the order summary. This will inform you about the number of items you have selected and how full your order is in percentage terms.
Once you've selected the dishes you want, move to the checkout. You will need to provide the delivery information such as name, address, phone number, and any special instructions you may have.
Orders can be customized up to five weeks in advance. For any given week, make sure you're done with customizing before the weekly alert mail is sent to you.
If you don't want to go through the hassle of customizing each order, don't worry. Terra's Kitchen will automatically preload meals for the following week based on your plan size and meal preferences. These will be delivered to you unless you decide to change.
You can also skip a week if you don't want any food delivered for that week. Log in to your account and use the calendar feature to skip orders.
Note that depending on your location, available delivery days will vary. Also, Sunday and Monday aren't currently available.
Delivery Vessel
The dishes you order will be delivered in a specially designed climate-controlled vessel. It's equipped with built-in insulation, which ensures that the ingredients remain fresh. Plus, the ingredients remain cool till at least 9 pm of the day it's delivered, and unless it's particularly hot that day, the ingredients will stay fresh till the next morning as well. It has multiple drawers, and each ingredient is packed in individually sealed containers. The package will also have the recipe cards in it, with step-by-step guides to prepare each dish.
Preparation
The majority of ingredients for each dish are delivered as a part of your order, but there are few other ingredients that you will have to keep handy. Most of these are your regular household ingredients salt, pepper, olive oil, etc. In any case, if you click on any individual dish on the menu, you will find a 'What You Need' section, which will inform you of the requirements.
Pricing
Pricing depends on the types of dishes you order and ingredients in the order, but there is a minimum order value, and the plans start at $72 per week. Terra's kitchen also offers Grab + Go food items that you can carry with you, and these start at $1.99, while the 2-to-4-serving meal kits begin at $9.99.
There's no delivery charge for the first weekly order. Subsequently, for all orders of $100 and more, there's no delivery charge, while you will be charged $6.99 for orders below $100.
Types of Meals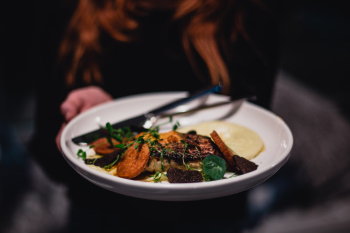 At the time of selecting the dishes to be delivered off the Terra's Kitchen menu, you can filter them based on several parameters.
Meal Type: Dinner, lunch, breakfast, snacks, beverage, and dessert.
Eating Style or Diet: Gluten-free, paleo, keto, low calorie, vegetarian, pescatarian, vegan, lean, and green, and low carb.
Cooking Time: 15 minutes or less, 20 minutes, 25 minutes, 30 minutes, and slow cook.
Allergen: Dairy-free, egg-free, gluten-free, peanut-free, seafood-free, shellfish-free, soy-free, and tree nut-free.
Ingredient: Beef, chicken, pasta, plant-based protein, pork, turkey, seafood, and vegetables.
Serving Size: 2 servings and 4 servings.
All of the ingredients for these dishes are cut, peeled, prepped, and delivered in exactly the right proportion, so all you have to do is cook. And, most of the dishes can be cooked in 15-30 minutes, except for some that have tougher to cook protein.
Not only can you order various types of dishes, oat bowls, fruit bowls, smoothies, etc., you can also order individual ingredients like burger patties, ground beef, cod fillets, salmon fillets, chicken breasts, chicken thighs, chicken tenders, shrimps, ground turkey, applewood bacon, broccoli florets, cauliflower florets, green beans, red potatoes, bok choy, yellow squash, etc.
Company History
Michael McDevitt founded Terra's Kitchen in 2015. It has thus far raised $2.2 million in funding across two rounds.
Dr. Lisa Davis is the Chief Nutrition Director at Terra's Kitchen and is responsible for what goes on the menu. They have both an Android and iOS app so that you can order directly from your phone.
Alternatives
Gobble – A top rated meal kit by Parent's Magazine.
Dinnerly – One of the least expensive meal kit options.
Hello Fresh – One of the most populare and well known meal kits on the market.
Pros
The degree of convenience that Terra's Kitchen provides is remarkable. It not only helps you eat healthy regularly, but it also eliminates the need to worry about what to cook daily.
The way the ingredients for the meals are delivered sets it apart from almost the entire competition in the meal kit delivery space.
The wide-ranging menu on Terra's Kitchen serves all possible dietary requirements.
Cons
Given that there are numerous high-quality diet-based meal delivery services out there that deliver pre-cooked dishes, the fact that you need to make time to cook the dishes that Terra's Kitchen delivers can be a bit off-putting for those wanting to heat and serve.
The minimum $72 order is suitable only for about two meals, which places them on the expensive side.
Terra's Kitchen Review Final Thoughts
For those who want to cook but don't have the time or cannot afford the many ingredients it takes to make nicer meals, Terra's Kitchen is a great option.
The shipping is well designed, and the recipes are easy to follow for all levels of cooking skill.
Whether you are looking to replace your evening meals entirely, or to get a break each week from the allure of eating out, Terra's Kitchen is going to make that decision much more manageable.