The Brickell men's grooming kits contain a comprehensive range of products.
If you don't want to shop around for all the shaving and grooming products you need, these kits present a great option.
How Does Brickell Work?
If you want to enjoy the benefits that Brickell's products have to offer, your best course is to visit their website. Here, you will have the option to look at their products and kits, and purchase the ones you think will work best for you.
You can also take Brickell's skin health quiz to determine exactly which products you need for your unique skin tone and conditions.
The quiz will request your age, your diet, the number of hours of sleep you get each night, how many glasses of water you drink per day, and other pertinent information. With this data, Brickell will be able to send you appropriate recommendations.
Another option you have is to try Brickell's Premium Men's Natural Skincare & Grooming Sample kit. This kit is free, but you will have to enter your payment information, even though this is not a subscription service.
When you receive the sample kit, you can try out the different products and select the full-sized versions of the ones that work for you.
Pricing
The kits you can choose from include:
Complete Defense Anti-Aging Routine: $225
Daily Advanced Face Care Routine I: $77
Daily Advanced Face Care Routine II: $77
Daily Elite Face Care I: $221
The individual products that come with the complete grooming and skincare kit (worth $103) include:
Face Wash: $25
Face Moisturizer: $35
Renewing Face Scrub: $22
Brushless Shave Cream: $24
Men's Scrub Bar: $12
Daily Shampoo: $20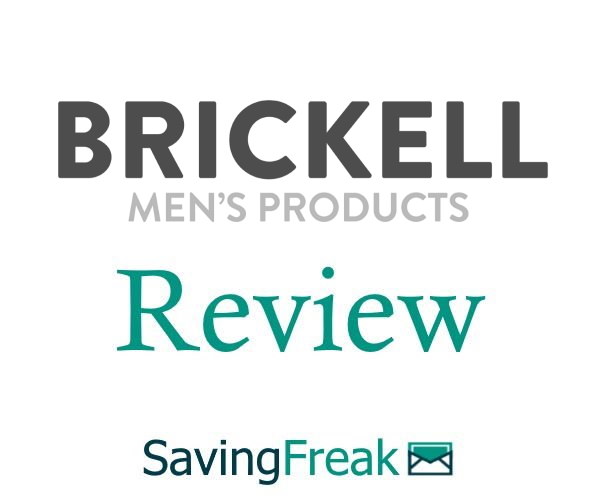 Products Available
The products that are included in the Brickell kit fall into the face, shave, body, and hair categories. The ingredients of these products include Aloe vera, with its effective moisturizing abilities, jojoba that protects the skin and retains moisture, and shea butter containing vitamins A, E, and F.
Face Moisturizer
Moisturizer is a product that is often overlooked by men. Brickell's face moisturizer is specially formulated to help keep your skin looking fresh and prevent aging, dryness, wrinkles, and blemishes.
The Brickell face moisturizer includes several organic ingredients, including Aloe vera, green tea, shea butter, and jojoba seeds. The green tea contains oxidants, which prevents conditions like acne and the accumulation of toxins. The moisturizer also has a long-lasting and subtle citrus smell.
Face Wash
The Brickell face wash contains natural ingredients and is ideal for preventing excessive oil production that, together with pollutants, can clog your pores and cause skin conditions, like acne. The product also contains charcoal that cleanses your pores and gives your skin a fresh, clean appearance.
Other natural ingredients include olive oil to break down sebum, and jojoba and Aloe vera to soothe and hydrate your skin. The face wash also has a citrus scent that complements the aroma of Brickell's moisturizer.
Facial Scrub
Shaving is an activity that many a man dreads. Applying this facial scrub from Brickell prepares your skin for shaving by getting rid of pollutants, impurities, and dead skin cells. The scrub also nourishes your skin and lift your whiskers to ensure a smooth shave.
The ingredients include jojoba, Aloe vera, avocado butter, coffee extract, vitamin E, and green tea. These work together to soften your skin and facial hair to prevent irritation.
Shaving Cream
This non-lathering shaving cream was developed with natural ingredients to give your face a protective layer. This natural coating protects your delicate facial skin from the rough abrasion of your razor's blade and helps you achieve a smooth glide and close shave.
This shaving cream has a lotion-like feel and smells like lemongrass, peppermint, and eucalyptus.
Strengthening Shampoo
Not only does this shampoo rid your scalp from flakes, but it also gives your hair volume and fullness. The shampoo also strengthens your hair, giving it a lush, healthy appearance.
The shampoo's ingredients include hydrolyzed wheat protein, vitamin E, peppermint and tea tree oil, and amino acids. The inclusion of vitamin E helps to prevent hair loss, and it stimulates your follicles to boost hair growth.
Mint Soap Scrub Bar
The mint soap scrub bar has the appropriate texture to rid your skin of dead skin cells and dirt while its natural ingredients feed and refresh your skin.
The soap bar's ingredients include olive, tea tree, coconut, and palm oil, as well as peppermint leaves. The soap also contains essential vitamins to nourish and hydrate your skin.
Company History
Brickell was launched in 2013 by Josh Meyer and Matt Bolduc to provide men with high-quality, organic grooming products. Since its launch, the company has added a wide range of shaving products as well as skin and hair care products to their inventory.
Alternatives
While Brickell provides quality grooming products, they are hardly alone in the market. Here are some of the top alternatives.
Harry's – Known for their top level razors, Harry's carries a variety of shaving and grooming products.
Dollar Shave Club – The most well known company for delivering razors to your home, Dollar Shave Club has expanded their offering to a variety of products.
Flamingo – No reason to let the men have all the fun, Flamingo brings delivery razors to the women's market.
Pros
Products only contain natural ingredients
Brickell has all manner of grooming products available that you may need
You can purchase products individually or as kits
There are no side effects to Brickell's products
You can order a sample kit to try out different products
Brickell has a skincare quiz to help you find the most suitable lotions for your needs
Cons
Products are relatively expensive
Overzealous application may rapidly deplete your inventory
Brickell Review Final Thoughts
Brickell offers men a wide variety of high-end, natural grooming products that are available in a convenient kit—perfect for home or travel.