Printer ink can be the bane of your computer using existence.  It seems like no matter which printer I buy the ink is laced with liquid gold.  To counteract this  business model I employ two strategies.  The first is to purchase my printer ink cartridges more cheaply and the second is to use less ink, without cutting back on my actual printing habits.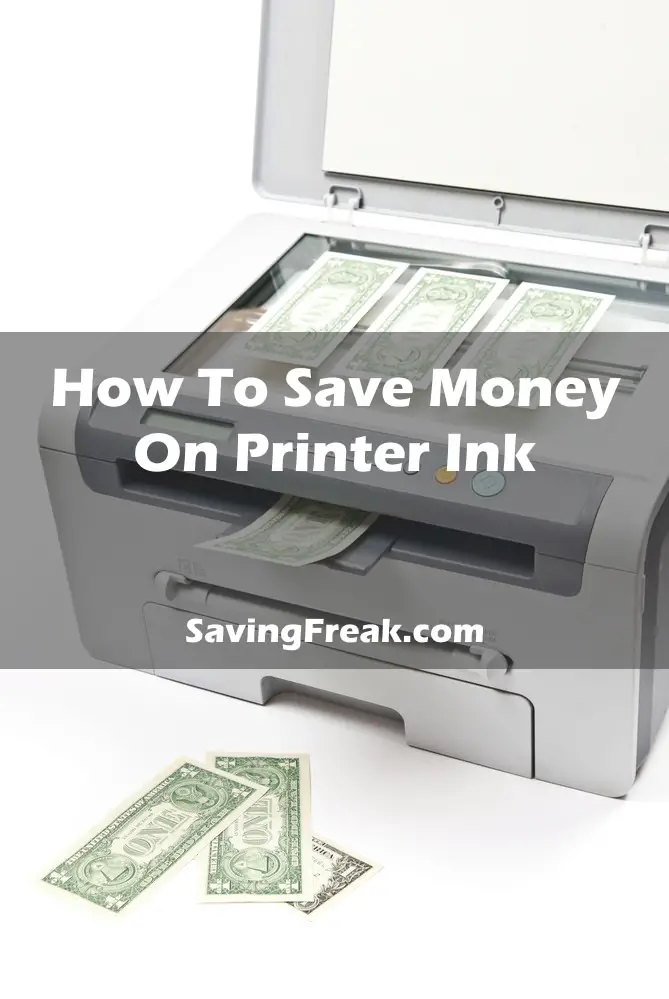 To help you save money on printer ink, I put all of these strategies together in one place so you can get your ink costs down as low as possible.
Buying Cheap Printer Ink Cartridges
You can read all over the internet about buying ink on Ebay or on other places but the way to get your ink the absolute cheapest way is to use a combination of saving tactics.  This is the way I buy all of my ink.  There are easier ways, but this is going to get you the best bang for you buck.
Websites
Now there are a ton of websites that will get you very good prices, but I focus on just two.  These two websites are:
When I purchase ink I always go with the refurbished or off brand cartridges.  I have had no problems with using them.  If you do not like the idea you can still save considerable amounts on brand new name brand cartridges.  The cheapest printer ink cartridges will be the off brand or refurbished.  These sites will also work great on getting toner for your laser printer (I have a laser also and use them for new toner).
To give you an idea of how much you will save using the websites I looked up the cost of an HP 28 color cartridge. If you bought the cartridge at Staples it would cost you $33 the remanufactured cartridge on 123inkjets is $19 and the brand new name brand cartridge $36.  I know that is more than $33 but wait for it, the game is just beginning.
Cash Back Websites
So the key to getting the best price is to get as much cash back off your inkjet purchase. The reason I only use 123Injets and 4InkJet is that they have the BEST cash back through MrRebates.com.
Here is how it works. Instead of going straight to the inkjet website, login to your MrRebates account first (if you do not have an account sign up here).
Once you have logged in, search for the website you want to go to and then click on the link provided by MrRebates.  When you click on this link it registers and will deposit a percentage of your purchase back into your MrRebates account.
As for the numbers, the reason why we chose 123inkjets and 4inkjets is that these particular websites have the most substantial cash back offers.  You will receive 20% cash back into MrRebates by clicking through to 123Inkjets.com and 18% cash back with 4Inkjets.com.  That knocks down our price from $19 to $15.20 and $36 to $28.80.
You can also use Ebates.com but the cash back is not as good as with MrRebates.
Pay With a Credit Card
With all purchases that you can I recommend using a cash back credit card.  You are guaranteed to get at least 1% cash back and some will even do better than that (I get at least 1.25% back with my BankAmericard). Make sure you are paying your card off each month.  Getting hit with interest pretty much defeats this whole exercise.
By combining these three methods (remanufactured cartridges online, MrRebates cashback, cashback credit card) you will save a ton off of shooting down to the store to pick up your new cartridges.  Of course the other way to save money on ink is to use less of it.
Ink Refills
I have not had great experiences with refilling my cartridges.  I tried doing it myself for a while and got ink everywhere and when I had Walgreens do it for me the cartridges seemed to wear out.  Once I figured out the above buying strategy I quit doing refills because the cost was about the same.  That being said, I have several friends who swear by refilling their ink and have done very well with it.  I have to admit it bring the price per ink cartridge down.
Save Money By Conserving Ink
Most of us are ink wasters.  The printer companies have set us to make sure we use more ink than we need to, and thus, spend more buying ink.  Here are five ways to use less ink and save more money.
Buy a New Printer
So many people buy the cheapest printer they can find when they go shopping.  The bargain price printers are designed to make up the money on the back end.  This means you will pay more for ink, because the company may have even taken a loss on selling that cheap printer to you.
Do your research and find a printer that is known for using less ink, this is rated in cost per page.  Even if you pay two or three times as much, you will save a significant amount over what you will spend on the more expensive ink cartridges.
Change Your Printer Settings
Whether you use the default settings from your operating system (Windows, OSX, etc.) or from the software that comes with your printer, they tend to be set up to give you very good pictures.  For most printing you can change the settings into draft quality.  This is especially useful if you are just printing something for later reference.
Print Mostly in Black
Black ink cartridges hold much more ink than the color and are less expensive.  So if you do not need color do not use it.  You can set up your image to print in monochrome and only use black ink.  Also, if you are printing something where you only need the content, copy and paste it into notepad.  This will keep you from printing the pictures.
Use Your Printer More Often
This sounds counter intuitive, but with many types of ink cartridges, especially the ones for cheap printers, if you are not using your printer at least once a week the cartridge can dry out.  Keep that ink  moving around and you will use your whole cartridge.
Ignore the Cartridge Warnings
Well, don't ignore them completely. but the first time they pop up it is usually telling you that the ink is getting low not that it is low.  I have gone a month with that stupid warning popping up and did not notice a change in my printing quality.  What the message does do is it gives you a chance to shop around for the best price.  So when my ink warning goes off I just use the purchase strategy above to get my stock ready.
Watch Your Power
Cycling the power on your printer puts it through a prep  is even a font stage. This frequently moves the ink around on the printer head.  Basically it uses a little ink to get cartridge ready for printing.  If you are turning your printer on and off all the time then you are wasting ink on this process.
Use a More Ink Efficient Font
Some fonts use more ink than others. The more expensive the font the more cheap printer cartridges you have to buy. The BBC put out an article detailing the different fonts and how much ink they use in comparison.
If you want to skip all of the details you can go pick up ECOFont for $19.99.  It puts small holes in your fonts and will save you 50% of what you normally print.
Whether you employ all or only some of these tactics you can save your self a significant amount of money on your ink costs.  So go get some cheap printer ink cartridges and make sure you are using as little ink as possible.