David Bach sold a ton of personal finance books by teaching to make things automatic. The more we can make good financial habits automatic the better our finances tend to be. So when I see a new product or service that helps people automate their finances, I am willing to give it a try.  Thus, four months ago I started a new services so I could now present to you my Digit.co review.
What is Digit?
Digit is a micro-savings account.  This means that you save very small amounts of money consistently over time. Think of it as a way to increase savings without having to think about it.
The idea is to use technology to help people to have better financial habits. We all know that saving money on a regular basis is a big part of being financially stable.  Digit comes in as one extra and innovative way to help people make regular contributions to savings.
Remember these are micro-savings, so you aren't likely to be able to put enough money away for a down payment on a large purchase (house or car), but you could save enough for a small emergency or a modest summer vacation.
How Does it Work?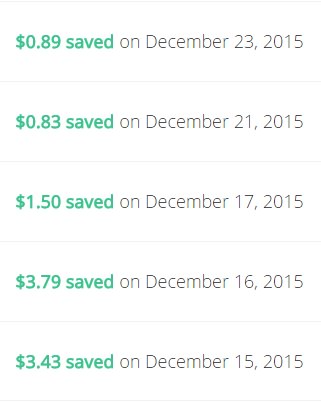 Digit syncs with your checking account and evaluates your income and spending habits.  Once the algorithm has had a chance to get used to your habits it will automatically transfer small amounts of money to your Digit.co account.
The algorithm is created to make sure this does not create a stress on your account or to EVER overdraft.  In fact they have a no overdraft guarantee.  If digit were to ever overdraft your account they will pay the fees.
I attached digit to a checking account that does not get a lot of activity.  So what you see in the image here is where I placed a deposit and the savings rate went up.  When there was no more deposits on the account it backed off and started saving less.
Digit is not an really app, but judging by the fact that they are hiring Android and IOS engineers I would guess that apps are on the way.
They do, however, send you daily text messages updating you on the balance in your attached account. In fact, almost all of your interaction with digit is done through text message.  The texting interface is so easy I actually prefer it to logging in on the website. You can see all the Digit text commands HERE.
Transfer Frequency
As you can see the transfers can happen pretty frequently.  I never get more than four in a week and they were never more than $4.  Most times they were less than $1.  The average person on Digit will get 2-3 transfers per week.
How much the transfers are depends on how your spending and income habits work out.  Digit does guarantee that you will never get a transfer that is less than $0.05 or more than $150.  They do mention that both of those numbers are very rare.  If this frightens you then remember that Digit has their no overdraft guarantee.  Like I said, I never saw a withdraw more than $4.
Not A Regular Account User? No Problem
One thing I was most curious about was if Digit would still be effective if I am not a regular user of this account.  Since I attached a much less used account than if you attached it to your regular checking, I wondered if their algorithm would be off.  From what I saw starting out, it seems like it took it a little while to figure out my spending, but once that happened all was good. I would say it took Digit about one month to get a real feel for how this account would be most effective.
So if you use a credit card to make most of your payment so you can get the rewards, Digit will still work for you.  Just make sure you are paying off the credit card from the account where Digit is attached.
Where Does the Money Go?
The money is stored in a savings account with Wells Fargo.  It is FDIC insured which means that your savings are safe up to $250,000.  You have access to you money and can withdraw at any time by texting withdraw and an amount.  You usually get the transfer into your account by the next business day.  Business days for Digit end at 4 PM PST. So if you request a withdraw after that or on the weekend expect it to be two business days.  Also, there is not minimum balance with the account so you do not have to worry about penalties or fees.
Digit Plus
Digit will tell you they do not give you interest on your account.  That statement is partially true. Digit has just released a new feature called Digit Plus that does give you limited rewards.
The way Digit Plus works is that if you have $100 in your account and leave it there for 3 months they will give you a bonus of $0.05.  I know it's not much but it is a start.  This translates to 0.2% interest on the account.  If you are not keeping up with current interest rates, that is better than what you would get if you walk into a bank and open up a savings account, but not nearly as good as an online savings account.
Improvements
The one thing that would make Digit a better service would be more ways to interact with your money. Right now you can only make withdraws and do most account actions through text.  If they were to bring out a robust app or even allow the website to allow you to make these changes that would be very helpful.
Like I said above, they are currently in the process of hiring IOS (Apple) and Android engineers, so I expect big changes to the model over the coming year.
Recommendation From My Digit Review
I was really skeptical of Digit at first.  Since my family is very planned with out money it took some getting used to when money was being withdrawn from my account without me doing anything.  That being said, I have come to really like the automatic part of it and have over $100 in my digit account now.  I am going to leave that money there to see how effective the Digit Plus feature is and then move that money to a higher interest account.
If you are a person who has problems saving, then the Digit Service is going to be a great option for you.  It isn't going to make you wealthy, but it can get you started and really make a difference in helping you take that first step toward better financial habits.
To Sum Up my review of Digit:
Pros
Automatic – After a little annoyance at seeing money come out of my account, I have really come to like the automatic feature.  I can see this being a big help to people who have problems with saving regularly.
Simplicity – While this could be considered a con, I like how simple the savings are.  One account and automatic savings. You have full control and can increase or decrease savings and withdraw at any time.
Cons
The Algorithm – It really isn't that big of deal but not knowing how the algorithm determines how much is going to be transferred kind of annoys me.  Don't bother trying to figure it out.  It is a closely held secret.
Lack of Options – Digit will probably fix this soon, but not being able to make changes to the account through the web or on an app is a drawback.