In my opinion, Visa gift cards are the most valuable of any of the gift cards you can get.
Not only can they be used anywhere, but they are easy to use for regifting. So when I found out there are ways to get free Visa gift cards, I dove in to find all the programs that make it possible.
Ways to Get Free Visa Gift Cards
GetUpside
GetUpside is an app that pays you cash back when you fill up at participating gas stations. Once you sign up for GetUpside, it is easy to earn free Visa gift cards.
Before you get gasoline, pull up the app, select a gas station nearby with the most cash back, and fill up your tank, paying with a credit card you register on the app. Some stations will automatically send your purchase, while others will require that you upload a picture of your receipt.
Either way, you get money back per gallon for all your gas purchases. They also have a referral program that gives you and the person you refer 15¢ per gallon cashback on their first fill up.
MistPlay
MistPlay is an app that pays you to play video games on your phone. That's right; get paid for gaming.
What I like most about MistPlay is that the games available are well known mobile games. They aren't some weird unknown online games with hardly any users. I even earned points for beating my sister at Words with Friends.
If you are already playing mobile games, this app will help you earn Visa gift cards for free each month.
Swagbucks
Swagbucks got their start by allowing people to get paid to search the internet. Now they have multiple ways to earn, including shopping, taking surveys, watching videos, and much more.
You get paid in points called SB. These points can be redeemed for free gift cards or money into your PayPal account. Swagbucks is one of the easiest ways to earn a little extra cash in your spare time.
InboxDollars
InboxDollars started more than a decade ago, paying people to read their emails. They still have this feature but, like Swagbucks, have expanded how you can earn to a host of other options.
InboxDollars is one of the oldest GPT programs online and can consistently bring in the gift cards.
Digital Rebates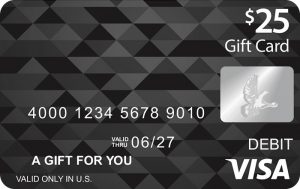 Rebate websites have been around for more than 20 years, and they continue to be popular.
If you are not familiar with cashback rebate sites, you sign up for an account and either load their browser extension or visit their website before shopping online.
When you click on their link before shopping, you will get a percentage cash back for anything you purchase. I have used this for grocery shopping with the pickup at Walmart or for almost any online purchase. The most popular rebate sites are:
Coupons
I started using coupons out of the newspaper before all the extreme couponers came around and ruined it for everyone. This did make the industry get smarter, so now you can use coupon apps to get cashback on your grocery shopping.
Apps like Ibotta and SavingStar make it easier than ever to get cashback that turns into Visa gift cards when you select your coupons and do your grocery shopping.
Gift Card Giveaways and Contests
Companies love to offer giveaways to attract attention to their brand. You can enter these contests to win free gift cards.
The rules will vary for each contest, but expect to have to follow the brand, like a post, and share it with friends. If you save searches for popular giveaway hashtags, they should show up in your Instagram and Twitter feeds automatically.
The most popular hashtages are:
#contest
#giveaway
#freebie
#sweepstakes
#freebiefriday
Ask for Gifts
Do you have that one family member that always seems to get you a weird gift? Something off the wall or completely unusable?
Instead of regifting, why not ask them to get you a Visa gift card instead? It will put an end to the search for what to do with those gifts.
Rewards Credit Cards
Rewards credit cards are one of the oldest ways to earn money for something you were going to do anyway.
In my family, we use a combination of two credit cards. One card is solely for gasoline purchases and gets us 5% cash back at gas stations. The other card we use for everything else, and it gets us 2% cashback.
With both cards, we can exchange our points for money off our bill, Visa gift cards, or gift cards to Best Buy, Amazon, and other retailers.
Free Visa Gift Cards for Your Data
Nielsen Computer and Mobile Panel will pay you for sharing your data usage with them.
I know this sounds creepy to some people, but Google, Facebook, and others are already using your data, so why not get paid for it? You get paid for each device you register. So smartphone and computer both can earn you Visa gift cards.
Paid Surveys
Paid surveys will require a little work to make enough to cash out; that is why I put them at the bottom of this list.
Still, the amount of work is minimal and something you can do when you are binge-watching your favorite show. I earn about $30 a month in gift cards from using these sites:
Stack Your Rewards
The best way to get the most from your efforts for free Visa gift cards is to stack your rewards.
Stacking means using more than one of the strategies above at the same time. For example, when I get gasoline, I always use the GetUpside app first. I then pay for my gas with a rewards credit card that gives me 5% cashback.
My average cashback lately on GetUpside has been 9¢ per gallon. Suppose I get gasoline for $2 a gallon. I earn 4.5% cashback from GetUpside and 5% cashback from my credit card. So a 20-gallon fill-up just got me $3.80 in Visa gift cards.
I use this same strategy with my 2% cashback card, digital rebates, and grocery coupon apps. It will rack up your earnings much faster.
Final Thoughts on Getting Free Visa Gift Cards
If you are like me and find a new way to make or save money, you can get impulsive about this new strategy.
I strongly encourage you not to try all of the above ways to get free Visa gift cards at once. None of these methods will replace your day job, so trying them all at once will end in frustration.
However, if you can incorporate two or three into what you are already doing, it can boost your budget. Take it slow, try a couple, and figure out which options work best for you.