It is a common misconception that you have to have a large amount of money to start investing, but there are many options where you can invest 500 dollars or less.
These options and strategies for investing $500 will help you determine what works best for you.
Ways to Invest $500
It is common for some of these investment ideas to not appeal or apply to everyone, but you can start these options for at most $500.
Also, remember that many of these investments will let you invest much less than $500, so you can mix and match a little too.
Betterment
Betterment has emerged as one of the top robo-advisors and is a great way to start your investing. The way it works is that when you start your account, they will give you a short series of questions.
From those questions, they can determine how much risk you want to take in your investing. Once they have that information, all the investing is done for you.
You put money in, and the service does the rest. Betterment is like getting a financial planner with significantly lower fees.
Fundrise
Fundrise allows you to invest in real estate without actually having to manage the real estate. The investing is done in one of their real estate investment trusts (REIT).
What sets them apart from other REITs is that they are open to any investor instead of just accredited investors.
What makes Fundrise even more awesome is that you can get in for exactly $500. The low entry cost makes it a perfect fit for our purposes of putting our 500 dollar investment in a place where it can grow.
Exchange-Traded Funds
Exchange-Traded Funds (ETFs) act like mutual funds in that each one can invest in hundreds or even thousands of stocks/bonds at one time.
They are different because ETFs are traded just like stocks, so you can buy into one for much less than you can invest with a mutual fund.
Because they act like stocks for buying and selling purposes, you have to purchase an ETF through a brokerage.  If I were starting out purchasing ETFs, I would probably go with M1 Finance.
M1 has more than 2,000 commission-free ETFs. You get to buy your first set of ETFs for free, putting your entire investment into actually investing.
Savings Account
The advantage to investing in a savings account is that you can hold the money here as long as you like, it is fully available to you when you need it, and it is FDIC insured.
Currently you can get competitive rates with online savings accounts.  Their rates are much better than what you get with your typical local bank.
Certificate of Deposit
CDs are getting slightly more interest than high-interest savings accounts.  The downside to a CD is that you lock up your money for a specific period.
With the interest rates the way they are now, I probably wouldn't do longer than a two-year CD.
You can take out a CD at any bank or Credit Union, but the online CD Account rates will be much more competitive.  Currently CIT Bank has been offering great rates at even short-term investment CDs.
Dividend-Paying Stocks
When companies pay out a portion of their profits to the stockholders, these are called dividends.  Many companies that focus on distributing a dividend every year or even every quarter.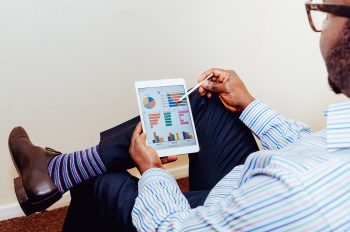 You can then reinvest those dividends.  On top of that, the value of the stocks can also rise, giving you a greater return on investment
If you are looking to get the most diversification for the lowest price, I would go with Public.com.  There are no fees to invest on your own and you can see what stocks other investors are purchasing.
They will even let you purchase fractional shares so you do not have to put your money into just a couple of dividend producing stocks.  Learn more of how it works in my Public.com app review.
Company 401(k)
If you are not already maxing out your 401K match you should put your extra cash into your company offered account.
This is because, if you get matching funds, you get a guaranteed return on your investment and that money that the company is matching is a part of your compensation package.
If you are not sure how to put those investments to their best use, you can hire a 401(k) robo-advisor named Blooom. They will look at your account and help you make decisions to meet your retirement goals
Pay Down Debt
Back when I had credit card debt this is exactly where I would have put an extra $500.  Most credit cards have interest rates in the 20%-30% range.
If you have this much interest working against you then no other investment is likely to make up for this level of negative interest.
So if you have $1000 of credit card debt, apply your 500-dollar investment toward the balance and then surf the rest to a new 0% balance transfer card.  This way you pay down the debt and get your interest down to zero while you pay off the rest.
Craigslist Flipping
There are some really great deals to be had on Craigslist, especially if you live in a metro area.  If you can find a niche where you have experience, then flipping those items to sell either back on Craigslist or through other websites that will buy items.
You should focus on items that you really know and where there is a market for the purchase.  I would spend some time watching maybe two or three categories and see what is being sold, for how much, and how quickly.
The goal is to make quick turnarounds.  If I were just starting out I would probably look at a $100 investment for my first one and then work my way up to investing 500.
Some popular items for Craigslist flippers are:
Cars
Furniture
Power Tools
Appliances
No matter what direction you go, do your research and learn what works best for your Craigslist market.
Start a Business
Maybe Craigslist isn't your game but you are great at making jewelry or custom clothing (monograming is popular in the South).  Take your $500 and your talent and turn it into a small business.
People all over are selling items on Etsi.com and others sell by building up a facebook group by starting with their friends and getting those friends to suggest other people join the group.  Other ideas for selling stuff include Craigslist, Ebay, and local flea markets.
What is great about all of these marketplaces is that it costs you very little or nothing to start selling.  So you can put your investment of 500 dollars toward actually making products instead of spending it on marketing.
BONUS – Invest in Your Knowledge
There are tons of ways to expand your knowledge and making that investment in yourself can pay off big time.
Whether it is a course that makes you more marketable for a new job, allows you to move up within your current employer, or gives you the ability to start your first side gig.
All of these are a great benefit to you for the long run.  If you don't have a community college that has low cost classes, look online to websites like Udemy that offer online courses in just about any subject.
How I would Invest 500 Dollars
Whenever I start thinking about how I would invest a specific amount of money I always want to put an emphasis on diversification.  To that end I would invest my $500:
CIT Bank – $200
With interest rates well above 2% for high interest savings, I would want to start building a sum of money over time that opens more gateways to better and more diversified investment options.
CIT Banks savings builder gives you better interest if you make monthly deposits.  This is great motivation for continuing to build my portfolio.
Start an account with CIT Bank>>
Betterment – $200
Having someone managing a piece of my portfolio for me over a longer period of time is really appealing. Betterment has done a very good job for my family so far and is a good place to start for any beginner.
Start an account with Betterment>>
ETF – $100
Being able to buy into thousands of stocks and not having to purchase full shares is a big bonus. M1 Finance with more than 2,000 free ETFs to trade with makes this a very easy decision for diversifying my stock investments.\
Depending on how soon I could get into more diversified investments, I might even drop this to a $50 initial investment, in order to speed up my timeline for investing $5,000 in the more profitable Fundrise funds.
If you are looking for an institution that gives you more investing options but charges fees on some of them, you should start with TD Ameritrade.
Start an account with M1 Finance>>
By structuring my 500 dollar investment this way I can get myself diversified in a bunch of different stocks as well as keeping 40% of my investment liquid.
This liquid cash strategy would be specifically focused on accumulating money into my savings account where I could make a $1,000 investment or even an investment of $10,000 that could be much more lucrative than this first $500.
Final Thoughts on How to Invest 500 Dollars
Investing $500 in and of itself is not going to change your life in the short term.  What it can do is set you up for much better things in the future.
So do your research, find an investment or investments that you are comfortable with, and make that move toward improving your future.