I started using high interest online savings accounts back in 2000.  Call me an early adopter but the higher interest rates were too good to pass up.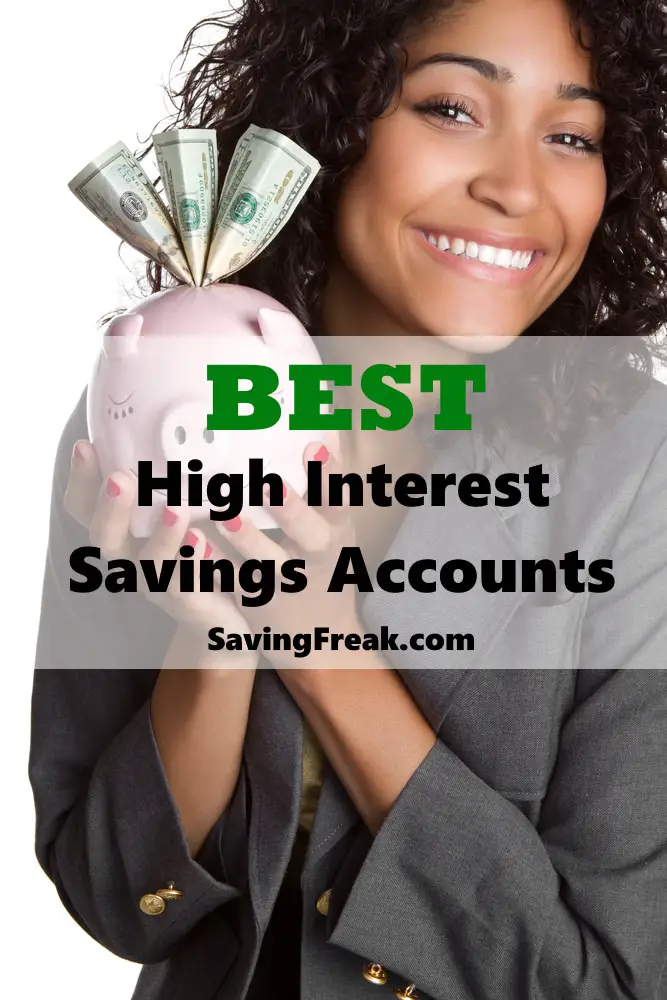 These accounts are a must when looking for a place to store your emergency fund or any type of needed savings.
These savings accounts are vital in protecting our money against inflation and since they are FDIC insured, the money is safe up to $200,000.
The interest rates in these accounts are not great right now because of the low interest environment, but the recent small increase by the fed will help savers over time.
Top Online High Interest Savings Accounts
These are all the banks I have evaluated, spoken to users, and actively use myself.  Each one has its own benefits and I cover those in the mini reviews you will see below.
Your money is going to be safe with any of these options.  I use Capital One for my personal emergency fund and, since my dad was in the Army, USAA for my everyday banking and checking.
Online Savings Account Reviews
After scouring the net and throwing in my own personal experiences.  Here is a bit about each of these top providers of high interest savings accounts.
360 Savings from Capital One – Best All Around Service
Capital One
bought out all the accounts for ING Direct back in 2012.  I opened an ING Direct account as my first online savings account back in 2000 (they offered me $25 for signing up. BOOM!).  That means I have had that account longer than I have known my wife.
The switch to Capital One hasn't really changed anything I like about the account.  It has some of the best features of any savings account and most of all the account are simple.
There are 38,000 free ATM locations across the country and they are tapped into the Allpoint network.  There are also cafes in seven metro areas.  If you are looking for physical locations then you aren't going to find anything better than the few cafes.  This is an online bank in the truest sense.
I recommend them as the top option because they do not have a minimum opening deposit, minimum balance, or any monthly fees.  The on one downside is they do tend to offer slightly less interest than Discover or BBVA Compass Bank.
Capital One 360 Online Account Summary:
Opening Deposit – $0
Minimum Balance – $0
Monthly Fees – $0
Annual Fees – $0
Discover Bank – Best Rates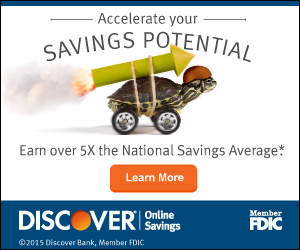 Pretty much everyone has heard of the Discover card, but did you know they are actually a deposit centered online bank?
Discover Bank offers all your normal deposit level services (checking, savings, CD, Money Markets and IRAs). The rates are very competitive (especially on the CDs) and they offer over 60,000 fee free ATM throughout the country.
I really like Discover Bank, but they do require a minimum initial deposit of $500.  So I bumped them down the list a bit for that minor inconvenience.
Discover Bank Online Account Summary:
Opening Deposit – $500
Minimum Balance – $0
Monthly Fees – $0
Annual Fees – $0
BBVA Compass Bank – Easy to Use and Low Minimum Deposit
With locations across seven different states you can actually find physical locations for BBVA Compass Bank.  The bank operates in 716 branch locations in Alabama, Arizona, California, Colorado, Florida, New Mexico, and Texas.  The original bank was founded in 1964 and, though they are known for working with small business accounts, the online presence is very friendly to consumers.
The interest rates have been very competitive in both savings accounts and money markets.  The accounts are no frills and are a great emergency fund location.
BBVA Compass Bank Online Account Summary:
Opening Deposit – $25
Minimum Balance – $500 (to avoid fees)
Monthly Fees – $0
Annual Fees – $0
USAA – Best Full Service All Things Financial for Military and Military families
USAA has been a well trusted bank for military service members and their immediate families for years.  Recently they opened up their services to the descendants of service members even if they no longer live in the same house.
My dad was in the Army just after he and my mom got married.  So he was eligible for a USAA account.  I had him go sign up and then he gave me his USAA id number.  I was then able to sign up as an adult child underneath him.
USAA is not going to give you the best interest rates on this list.  In fact they are probably the worst.  What they do offer is all things financial.  You can get all your insurance, banking, loans, etc. all in one place.  The best part is everything is SUPER cheap to use and very integrated.  If you can get in and get their insurance products then you are going to save money over almost any other company.
One bonus to the USAA online savings account is that they will give you higher interest the more money you have in your account.
USAA Online Account Summary:
Minimum initial deposit – $25
Minimum balance – $0
Monthly fees- $0
Annual fees – $0
Synchrony Bank
Synchrony is another solid high interest savings bank and is one of the most competitive when it comes to interest.  They put all their focus into online savings and are not as competitive in the money market and CD arenas.
Synchrony Online Account Summary:
Minimum initial deposit – $30
Minimum balance – $30
Monthly fees- $0
Annual fees – $0
Ally Bank
Ally is a great bank and has some great customer service ratings.  If you go this route you are going to have minimal problems.
Their biggest draw is that they actually offer interest on their checking accounts.
Ally Bank Online Accoung Summary:
Minimum initial deposit – $0
Minimum balance – $0
Monthly fees- $0
Annual fees – $0
Bottom Line
No matter which of these online savings accounts you choose, you are going to get a much better interest rate than you will with your standard bricks an mortar banks.  I have a standard account with Bank of American and I am getting 0.01% interest.  That's right, for every $100 I have in there they give me one penny each year.
As you may guess I do not have much money in that account.  So whether you have a larger emergency fund, or are just starting yours, open up a high interest account to protect that balance as much as you can from the dreaded inflation monster.