I work with high school students from all over North Carolina, South Carolina, and Georgia. It is one of the great joys I get out of life to see them learn and grow into productive members of society.
The financial conversations we have can be as simple as how to save money or more complex like and ways they can make money for themselves or super complex like macro economics and race relations.
Since I am a financial blogger our conversations frequently turn to money and what you need to do to be prosperous.
After having these kinds of discussions and seeing the poverty statistic in the news the thought came to my mind, "What are the actions or decisions that are the most likely to lead someone to end up in poverty?"
Now I was born into a middle class family.  This means that for me, middle class is the norm and I know exactly how to get and stay there.
Knowing myself, I figure there were probably some areas that I take for granted when it comes to not being poor.
So I went out and did some research on decisions that lead to poverty. I focused on long term poverty because someone losing a job and taking some time to find a new one doesn't count as having to live a life of poverty. When I was done I found seven way to not be poor.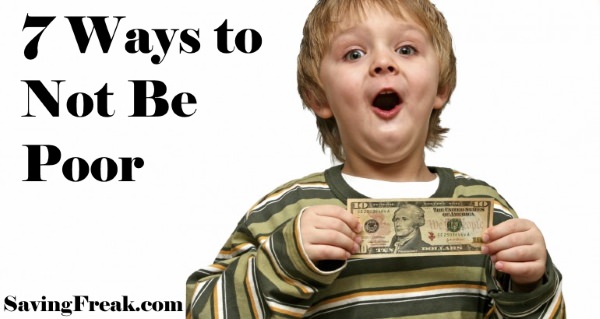 1. Stay in School
It seems simple but at least getting your high school diploma is a great start to not being poor. Only 3.8% of people who graduate from high school live in long-term poverty. That is compared to 14.2% of people without a high school diploma.
If you get at least some college then the rate drops to 1.2% for long-term poverty.
2. Get Married and Don't Have Kids Until You are Married
If you look at history it used to be that widows lived in the most poverty. This was because in a male dominated society it was hard for a single woman to produce an income. In today's world the poverty is worst among single moms.
Only 1.7% of married households with children are long term poor. On top of this stints of poverty for married households are 12.6% shorter than female only headed households.
Married couples without children only have a 1.3% long term poverty rate. Single adults without children have 7.9% long term rate.
In contrast single parent homes are poor long term at a rate of 26% and the vast majority are single moms.
Marriage also pushes people to advance farther. Men who are married make 22% more than their unmarried counterparts.
3. Stay Married
I don't have exact statistics for this but there is an old saying that goes, "Marriage is grand. Divorce is 100 Grand."
By getting divorced you are now paying for two separate houses with all the extra expenses that go with it. I don't do emotion on this blog but I am sure the emotional strain of divorce cannon be good for your finances either.
Obviously if you are in an abusive relationship I want you to get out and get help.  Please don't miss the overarching point here that if people who don't opt out of marriage because it is "too hard" tend to do better financially.
4. Work Any Kind of Job and Work Hard
I know people are having a lot of discussions about the working poor but the truth is that having a job, even a part-time job reduces the poverty rate.
83% of single mothers who do not work live in poverty while only 60% with part-time jobs live in poverty. Only 18% of single mothers who work full-time are living in poverty.
Same goes for long-term poverty. 10.8% of adults who do not work are long-term poor while only 1.7% of those who are part-time employees and 0.4% of full-time employees are long-term poor.
The working hard part makes it easier for you to advance with your current employer or to get a great reference from a manager.  Hard workers are a premium in any business and business owners will pay a premium to keep them.
5. Have Successful Friends
Jim Rohn once said, "You are the average of the five people you spend the most time with." While I don't fully agree on all aspects of life, it does hold true that if you are not spending time with people who are successful then you will not have the same opportunities to be successful.
By finding friends who are making the amount of money you want to make you can learn from them how to get to that level of income.
6. Don't be a Crook
Zig Ziggler once said "You can have everything in life you want if you will just help enough other people get what they want." The opposite applies if you cheat people.
If you have ever seen movies where the criminals do not trust anyone they are always undone by the one person they do trust. This is because they spent their lives only looking out for themselves. If you work to find mutually beneficial situations you not only end up with more in the long run you also end up with real friendships.
7. Plan Long Term
When learning more about the mindset of people who live in poverty I found a great article where they interview someone who has lived in long term poverty. The point she makes is that people who have been poor for a long time stop thinking long term.
If you are thinking long-term you can avoid many of the pitfalls that are listed above. It is short term thinking and seeking immediate gratification that can get any of us in a bad spot.
This is one of those cases where the public education system does not do a good job of teaching our young people something they desperately need to know.