Do you want to completely revamp your wardrobe but don't know what to do with the clothes that are already stuffed everywhere?
The scores of unused clothes and styles of the years gone by that you will never wear again?
Now, you can earn money by selling your gently used and designer label clothes online and also de-clutter your wardrobe.
Gone are the times when you had to put up a yard sale or look for a local thrift shop to sell your clothes.
Best Places to sell Clothes Online
Selling clothes on the internet is extremely easy, not to mention extremely convenient. The internet allows you to reach a larger market and in fact, your buyer could be anywhere around the world.
Thanks to this you can get a better price for the same piece of clothing. Here, we will be discussing some of the best places where you can sell your clothes online and make a neat pile of cash.
ThredUP
ThredUp is among the biggest online consignment stores for clothing.
The  started as a site where you could sell the clothes that your kids have outgrown, but later branched out and now accepts women's clothing, handbags and shoes too.
ThredUp is a good option where you can sell your gently used branded clothes and want to escape the hassle of making lists, taking pictures and meeting buyers.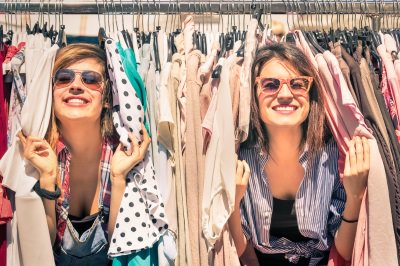 ThredUp sends you a "clean out" bag, which lets you ship all your unwanted clothes and accessories free of cost.
All the items are inspected and processed by ThredUp and you can get up to 80 percent of the resale price of the item.
You will receive the cash via PayPal and the items that are not sold are donated by ThredUp to charity.
And, if ThredUp does not buy some of the clothes and you want them back to sell them somewhere else, you have to pay a return fee to get your clothes back. It's a good idea to estimate how much you can earn for every item before you actually ship it to ThredUp.
ThredUp has a huge inventory of items that gives a buyer plenty of choice and you can find brands such as Anthropologie, J Crew, Moxie, Free People, etc. on their site.
For sellers, the drawback of ThredUP is that they are quite choosy about the clothes and accessories they accept and for a bigger payout, your items need to be branded, boutique-designed or designer wear.
Poshmark
Most of the online sites let you sell clothing and accessories pretty easily, but Poshmark is one of the few that you can completely operate via your phone app instead of going onto the website.
The Poshmark app has been designed as a combination of eBay and Instagram and the site claims to have more than 4 million sellers.
The process of listing on Poshmark is very easy. All you have to do is upload the pictures of the items along with a product description. The entire listing process can be done via the mobile app.
The feature that sets Poshmark apart from other sites is that the site allows interaction between the buyers and sellers, who can "follow" each other and they can also rate the items and add their comments on them.
You can find a wide range of items on Poshmark including brands like Michael Kors, Tony Burch, Chanel, Celine and lower priced items like H&M. When the item that you have listed sells, Poshmark sends the shipping label to you via email.
You print it out the label, box the item for shipment, and it will ship via the postal service.  All shipping is paid for by the buyer.
Poshmark also allows you to host a Posh Party to make selling easier, where you can invite your followers to view your product listings and buy them.
Signup with Poshmark>> – Use code SAVINGFREAK to get a free $5 credit just for signing up.
Mercari
Mercari got it's start in Japan and quickly expanded to the United States in 2014.
The Mercari app makes it easy to sell just about anything directly to consumers. What sets it apart from many of the others on this list is the multiple shipping options.
Instead of having one option, a seller can select their shipping option and the build that directly into the price. This makes it easier to know exactly what you are paying without tacking on shipping charges.
The RealReal
A luxury goods consigner, The RealReal appeals to the high-end customer with names such as Louis Vuitton, Gucci and Cartier, and deals in women's and men's clothing, jewelry, shoes, bags and accessories.
The site validates all the items it offers to ensure that they stock only authentic merchandise. The site is very user-friendly and you can easily navigate around the attractively themed collections. You can mail your items to The RealReal in the prepaid envelopes provided by them or ask for a free at-home pickup.
The site claims that it has around 4 million sellers. Most of the items listed on The RealReal sell in just 30 days and hot items can sell as quickly as within 3 days of th
eir listing on the site. After a period of 30 days, the site adjusts the price of the item to make it attractive for the buyer and once an item is sold, you get 70 percent of the item's sale price.
Sign Up for TheRealReal>> – SavingFreak readers get a free $25 credit on their first purchase.
LePrix
LePrix was launched five years ago as SnobSwap and the brand has undergone a makeover and has been relaunched as LePrix. On the LePrix website, you can earn money for women's clothes, bags, shoes, etc. in different ways.
You can send your clothes to LePrix, who will sell it for you, you can sell the items on your own or you can simply swap your clothes and accessories with another seller.
LePrix typically stocks high-end items that appeal to women who don't really have a huge budget to spend on designer clothes and accessories but need to refresh their wardrobe often. You can easily find high-end brands like Chanel, Christian Louboutin, Coach, Tony Burch, etc. on the site available at a price range between $250 – $400.
LePrix authenticates each of the items it lists and sells in order to maintain the high-end image and this also helps to maintain the buyers' trust who are assured that they are buying the "real thing." If you are planning to sell some of your valuable items, then LePrix requires that you consign the items and leave them at their local boutique partner and the items will be available for sale both in store, as well as online.
Another excellent feature of LePrix is its "swap" feature that allows you to trade an item for another instead of buying and selling. And, if you don't really fancy swapping, the site still allows you to buy and sell stuff while you can also do a bit of bargaining with the seller to get the best price.
Tradesy
If you want to sell your designer clothes, handbags, shoes, sunglasses and even your wedding dresses, then Tradesy is a great place to do just that. The listing process on Tradesy is fairly simple.
Based on the brand and the quality, you create a listing and upload the photos of the items, which are enhanced by Tradesy to make them more appealing.
You then ship all the listed items to Tradesy free of cost and when an item is sold, you can receive your payment via PayPal, to your bank account or you can also get a Tradesy store credit. Typically, the selling price of your items on Tradesy is around 65 percent of the retail value of the item.
Tradesy specializes in selling handbags, so if you have many handbags, which you no longer use, you could make some money by selling them on Tradesy.  You can find several upmarket brands such as Louis Vuitton, Yves St Laurent and Chanel on Tradesy.
eBay
If you are a DIY seller and are looking for an easy place to sell clothes, then you could consider eBay, which is among the biggest and most popular online marketplace. On eBay, every month, the first 100 listings are free. And, you can fix the price of each item that you wish to sell or you can put it up for auction and start a bidding war.
The key to selling clothes on eBay is to include good quality pictures from all angles and detailed descriptions of the items that you are listing. It is a good idea to draw the potential buyer's attention to the price tag, if the piece still has one or other features that could make it an attractive purchase.
Give as many details as possible in order to give your product the best possible chance of being sold. It is also a good idea to sell the items in lots on eBay instead of listing them individually as similar style items sold together do better on eBay.
For example, if you have 3 pairs of leggings, you could list them together.
The main limitation of eBay is that there are fees both at the PayPal end and on the selling end and so, you must make sure that the price of the items includes the fees and the shipping cost so that you can still make a profit. eBay is a preferred site to sell stuff, as the commissions are pretty low and you can even keep up to 90% of your selling price, which is significantly higher compared to other clothing websites.
Tips for Selling Your Clothes Online
Just like sellling a house has become a mostly online search, there are strategies for selling your clothes without someone being able to physically touch them.
Take Good Pictures
If you take bad pictures you are going to be more frustrated with buyers, if you get any. Take clear pictures that include full length, as well as, close up shots.
Make sure the lighting is very good and your clothing is laid out nicely and you will set yourself apart and make the clothes more appealing.
Be Honest
If you are not honest when you sell your clothes you will get them returned and waste money on shipping.
If there is a flaw in the clothes let people know. If you are a smoker list that the clothing comes from a smoking home.
Make all conditions of the clothing super clear and you will not have problems with getting the clothing returned.
Price Correctly
You have to know what an item is going for brand new before you can correctly price your used clothing.
We all have instant access to prices for pretty much anything. If you think that people are going to pay the same price for a used item versus a new item you are going to be sitting on those items for a long time.
Expect to Negotiate
When you price price responsibly, but expect that people are going to ask you for less. Most online marketplaces allow for some haggling between buyers and sellers.
If you are looking to maximize your sales while giving as little as possible away, try bundling multiple items together at a discount. You get more in your pocket and the person buying feels they got an ever better deal.
Final Thought on Selling Your Clothes Online
So, if you're in a mood to clear out all the clutter in your closet and at the same time make money disposing of the clothes, bags and shoes that you will never use, then selling them online is a wonderful and convenient option.
Now, you can sell all your favorite items with just a few clicks of your mouse instead of going through the entire effort of organizing a garage sale to get rid of all your stuff.