I was quickly interested when I first learned about Poshmark and knew that a full Poshmark review would be good for everyone.
My family is big into buying lightly used items from online and local sources.
Buying gently-used has saved us tons of money on kids' clothes and many other items that we use around our house.
We have also used these platforms to our advantage for selling things we no longer need and could still be useful to some other family.
After doing some poking around the e-commerce platform and talking to friends who use it extensively, this is what I learned.
What is Poshmark?
Poshmark is an online marketplace app that makes it very easy to sell used clothing and accessories online. 
While it may seem very similar to eBay for the national market and Craigslist for local selling, they bring a unique experience that emphasizes social media and being mobile-friendly.
SavingFreak Exclusive
SavingFreak.com readers get a free $10 when they
sign up with Poshmark
and use the invite code
SAVINGFREAK
.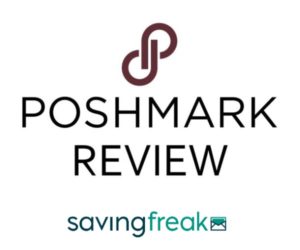 With most other platforms, your best experience will be through your desktop or laptop computer.  With Poshmark, the Poshmark app is the primary means of buying and selling.
On top of that, they encourage a social environment where buyers follow poshmark sellers, types of items, or different brands that they are interested in.
The focus for the online marketplace started out on used clothing, but the emphasis is on higher-end brand name items.  The brand could be anything from Adidas to Michael Kors to Zales.
As Poshmark has grown to be on of the most popular apps for online shopping, the variety of products available has expanded. There are now over 3,000 different popular brands listed on the marketplace, and the variety of products now includes new items and products well outside clothing and accessories
Is Poshmark Legit?
Yes, Poshmark is a legitimate online marketplace founded in 2011.  In Internet years, this makes the company a well-established brand.
As with any site where you have individuals buying and selling, there are complaints listed online from people who feel they were not treated well. Most of this has to do with the seller not the Poshmark platform
Overall, the feedback I see and experience is positive, and the experience for buyers and sellers seems to be fair and enjoyable.
How Does Poshmark.com Work
The getting started part of Poshmark was SUPER easy for me.  I signed up online (get $10 free when you sign up and use our link and the code SAVINGFREAK) and then downloaded the app to my phone.  The regular computer interface was easy to learn, and the Poshmark app was even easier.
For Buyers
Since buying is the easiest part of the service, I started my Poshmark review there.  The app walked me through picking some of my favorite brands and then started displaying them in my feed.
I was even able to filter results to my sizes, reducing the amount of time wasted looking at clothing that would not fit me.  On top of that, I was able to put in sizes for members of my family so I could shop for their clothing all at once.
One of my favorite features, and what set the Poshmark app as a good idea for me, is interacting with the seller and haggling over prices directly through the platform.
Since the back and forth is part of the platform, it is much easier than through text or email on Craigslist and better than the bidding with no interaction on Ebay.
If a buyer receives a product that is not as described, they have several days to notify Poshmark through the app, print a label, and return the item.
SavingFreak Exclusive
SavingFreak.com readers get a free $10 when they
sign up with Poshmark
and use the invite code
SAVINGFREAK
.
Posh Parties
One final thing that every buyer needs to understand is Posh Parties.  When you first log into the app or website, you are in the Poshmark showroom.
A party allows you to focus on a specific personal style, brand, or type of clothing. These parties can expedite your search for specific items.
Think of being able to focus your entire searching around a types of designer items or even as specific as Louis Vuitton designs.
There are now even third-party Posh party bots in development that allow you to easily search the different Posh parties.
For Sellers
Like many red-blooded men, I tend to wear my clothing until it disintegrates off my body. Not surprisingly, I do not have enough extra clothing that would be good to sell on Poshmark.
Instead, I sought advice from some more stylish friends who get new clothing more frequently than some people change toothbrushes.
Every seller can set up a Poshmark closet or boutique, take pictures of items using your phone, and upload them to the Poshmark app.  This works like your consignment store.
Like social platforms spread information, the key to selling your stuff quickly is to get a good number of followers to your profile/closet.
Like the buyers, sellers have a window to cancel a transaction and have up to seven days to ship.  Most sellers try to ship quickly and limit buyer wait time, but the Poshmark platform doesn't penalize for any shipping within the window.
Fees
Poshmark is not cheap, but it isn't outrageous either.  Any item from a seller that is less than $15 incurs a $2.95 charge and a 20% charge if it is over $15.
What you get for these fees is a straightforward online platform to sell your stuff, exposure to motivate buyers, and pre-negotiated flat rate shipping through the post office. This takes any of the annoying shipping questions out of the equation.
The ease of shipping evens out the fees you pay when compared to the lower fees but no standard shipping or returns through Ebay.
Other Poshmark Services
As we completed our Poshmark review we found additional features on the platform that make your shopping easier and safer. These benefits include:
Posh Protect
The Posh Protect policy guarantees that you will receive a full refund if your purchase never ships, or it does not match the description given.
To take advantage of the policy, you have to inspect any item you receive immediately.  If it does not meet the description, you can reject that item, get a USPS priority mail shipping label at no cost, and ship it back to the seller.
Posh Authenticate
For any luxury item over $500, they will inspect and authenticate the item for no charge. Instead of the item shipping directly to you, it ships to Poshmark's authentication, to verify its authenticity.
Verification includes:
Logos
Tags
Materials
Hardware
Quality
For a limited time, Posh Authenticate items will also qualify for free shipping.
This is a great feature to help potential buyers feel good about a high-end purchase and sellers who want to get top dollar. For example, if I were selling an engagement ring or other luxury items, having a third party verify the authenticity, and prove I'm not selling counterfeit items, is only going to drive up the price.
The Community
One of the main goals of Poshmark is to create a community where people work together. This mentality means there are people that do not work for Poshmark willing to help and guide you through the platform.
It is a unique online marketplace experience.
SavingFreak Exclusive
SavingFreak.com readers get a free $10 when they
sign up with Poshmark
and use the invite code
SAVINGFREAK
.
Pros of Poshmark
The Poshmark app is one of the easiest to use shopping apps in the Apple or Google Play app stores.  The pictures are easy to see, the prices are obvious, the filtering is simple, and the back and forth over prices is very straight forward.
The prices can be as much as 70% off of the retail price, beating the regular price of places like TJ Maxx, Plato Closet, or a consignment shop.
Even setting up a Poshmark account is easy through the app or online.
People looking to buy and sell are going to be very pleased with how easy Poshmark makes their transactions.
Cons of Poshmark
From a seller's perspective, the big drawback to Poshmark is the high fees. They are much more expensive than Ebay, which has lower fees, and Craigslist, which has no fees.
This is mostly made up for by the shipping fee being added to the price, a relaxed selling environment, and ease of use through your Android or iPhone app.
The other drawback that needs to be addressed is customer support.  Poshmark strives to have an open marketplace. That openness comes with some understanding that things will not go 100% smoothly.
Most of the Poshmark customer service complaints that I have seen come from a much early period, but there are some concerns about complaints not getting answered quickly.
Many times the complaints are people that didn't follow the directions on the Poshmark website. So there is a little buyer beware and make sure to follow the rules.
Strategies for Getting the Best Prices
Just like any traditional marketplace, there are insider tips for how to get the best prices. Since my wife and I have both been making purchases, here are some ways to get an even lower price on your next Poshmark purchase.
Be Social
Poshmark is a social marketplace, so being social can pay off big. Participate in parties, follow people, make contact with sellers who have stuff you like regularly.
All the socializing only pays off when you are looking to get the best price or to sell your stuff quickly.
Bundle
Most sellers will offer you a discount if you purchase three or more items from them. This typically results in 10-15% off your purchase price of each item.
On top of that, you get only one shipping charge for all three or more items.  You save on the top price and the shipping, all for bundling a few items from the same sellers.
Favorite Items
Whenever you purchase an item where you may want to buy more, you should also favorite that item. It can clue the platform into your style choices, and you will get suggestions of other similar or complementary items when you check your feed.
You should also favorite items that you are considering buying, because the seller may decide to lower the price in general or sweeten the deal with a private offer.
We have gotten as much as a 30% off private offer on an item we were considering buying but had not yet pulled the trigger. This strategy can rack up some serious savings.
Frequently Asked Questions
Is it safe to buy from Poshmark?
Yes, it is safe to buy from Poshmark. You have several days once you receive an item to review it and either accept or reject the item and money is not released until you approve of the item
When you reject you can provide a picture and an explanation as to why it didn't meet the description on the post.
Is Poshmark Worth It?
Yes, Poshmark is worth it. I have have been able to get excellent prices on items on this platform.
I always check the asking price against Walmart and Amazon prices and then negotiate from there.
Can You Get Scammed on Poshmark?
It is very difficult to get scammed on Poshmark. You do have to pay attention to descriptions and check the item when you receive it, but whenever an item does not meet the description we have been able to get a refund.
Is Poshmark Better than Mercari?
Poshmark is not better or worse than Mercari. The apps have a very similar feeling but are targetted toward different groups of people.
We did a full comparison of Poshmark vs. Mercari to break down all the differences.
Does Poshmark Show Negative Reviews?
Poshmark doesn't show any reviews. While you can make a Poshmark review for a seller, that information is not made publicly available.
That being said, they will remove sellers and buyers who get excessive amounts of bad feedback.
How Safe is Poshmark for Buyers?
Poshmark is safe for buyers. If an item is misrepresented in the listing then you can get your money back and a free shipping label.
If the listing is accurate and you make a purchase, then expect to keep the item.
Alternatives
Poshmark is hardly the only online marketplace. A few of their top competitors include:
Mercari – Started in Japan, Mercari allows you to sell just about anything online.
Ebay – The most well-known auction site online. Ebay has a huge following.
TheRealReal – Geared toward only high-end items. TheRealReal has a verification process to ensure items are real.
Poshmark Review Final Thoughts
The Poshmark app presents a unique opportunity for buyers to get lower prices for new items and used items in excellent shape and for sellers to make extra money quickly as an easy to use consignment solution.
Poshmark.com boasts one of the easiest to use mobile selling apps on either Android or IOS, and they make what is best described as an online consignment store.
If you are looking for a great platform for eCommerce, I would include Poshmark as one of my main options.