CVS was one of the first great discoveries I made when I first started using coupons. Since CVS stores are all over the country, you are able to take advantage of these deals wherever you go, even if you are traveling. This is why I find it very important to understand how to use coupons at CVS.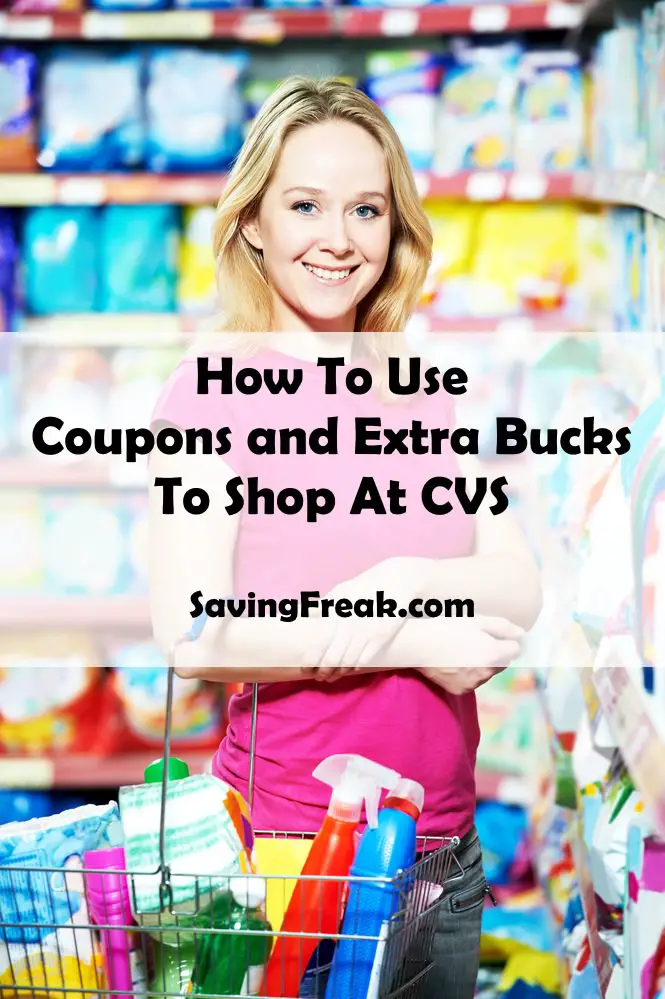 CVS created a unique approach to promotions and the other two major pharmacies, Walgreen's and Rite Aid, eventually had to fall in line because of their success.
Getting the most out of your CVS shopping is a little bit of science and a little bit of art. To get the whole picture you need to understand how the CVS deals work, their promotional methods, and how to use coupons in conjunction with these ads. You will also need to employ some simple tactics that will let you maximize your CVS weekly ad savings.
CVS Weekly Ad Specials
To take full advantage of the CVS weekly ad you need to know a few things:
The CVS weekly ad runs from Sunday to Saturday
You need an extra care card (it's free) to take advantage of the deals in the CVS weekly ad
Buy one get one free items at CVS require that you purchase two of that item. So the first one is full price and the second is free
The Primary promotion of the CVS weekly ad is Extra Bucks. These work like cash back CVS currency.
CVS does not double coupons so you will only get face value of any coupons used
CVS publishes a monthly magazine that has store and manufacturer's coupons
You can use both a store and a manufacturer's coupon on a single item.
You can use two coupons on a BOGO deal. So you get extra money off the one item you already got for free.
Understanding these rules you can save a ton of money at CVS stores. To get to the next level you need to have a mindset of how to exploit these rules to your advantage.
Understanding these rules you can save a ton of money at CVS stores. To get to the next level we need to take a very close look at Extra Bucks, how they work and how to exploit them.
How to Use CVS Extra Bucks
CVS Extra Bucks (EB) are the primary way that CVS does promotions in its weekly ad. Like I said above they work like cash back or getting a gift card back when you purchase a specific item. The only difference is that when you make the purchase the EB prints off at the bottom of your receipt.
An average everyday run of the mill EB promotion will look like this:
Buy Juicy Juice 64 oz. for $3 and get $1 EB –Limit 2
Pretty simple. Just buy one 64-ounce bottle of Juicy Juice and get $1 in EB back on your receipt. They set a limit on each item for how many times you can take advantage of the deal. In the example above you can do this twice.
Extra Bucks and Coupons
Using CVS Extra Bucks is completely independent from using coupons. So no matter how many EB you are getting back you can always use a coupon on the purchase. This is important because every once in a while the planets will align and you will actually make money off of a purchase.
As an example, I once purchased a Starbucks Refresher in a can for $1.29 and had a 50₵ off coupon. On top of this a $1 EB coupon printed off on the bottom of my receipt. So I made 21₵ by purchasing that item.
This only happens every once in a while, but it is a very fun time for all when it does.
Rolling your CVS Extra Bucks
If you just stopped with the above information you could save a lot of money, but the real savings is in structuring your purchases to roll your EB from one purchase to the next.
The idea is pretty simple. You purchase an item that generates CVS Extra Bucks and then you use those EB on another item the generates more EB. It's kind of like the circle of life but it is the circle of savings.
What is even better is that you can use this method on multiple purchases during a single trip to CVS. You see, Extra Bucks can be used on the very next transaction. Notice that word is transaction not on your next visit.
This means you can make a purchase for an item, pay for it (preferably using coupons) get Extra Bucks back, and then immediately use them on the next transaction.
A really nice trip to CVS should look something like this:
There is a deodorant deal for $2.99 with $2.49 EB back and a deal on razors for $4.99 with $3.99 in EB back. I have a $1 coupon for each one.
I put both items in my cart but only purchase the deodorant in the first transaction. This means I pay $1.99 out of pocket and get $2.49 back in EB.
After this I put my razors on the counter, use my $1 coupon and my $2.49 from the first transaction. So after that I pay $1.50 out of pocket for the razors and get $3.99 in EB back.
So total I spent $3.49 out of pocket and got back $3.99 in EB. That is a $0.50 profit. This is just an example you will usually spend a little money but this kind of scenario has happened to me on multiple occasions.
Using CVS Extra Bucks to Buy Diapers
There was a time when I used Extra Bucks to buy toothpaste, deodorant, and all sorts of personal and household items. That time stopped when we started having kids and for the last 6+ years I have been using EB to purchase diapers. If you are not a parent or are about to become a parent, you will find that diapers on a per ounce basis are outpacing gold.
The typical diaper deal at CVS will be something to the effect of, "Buy $30 in Pampers products and get $10 EB". Usually they will drop the price of the diapers to $8.99 so you have to purchase four packs to get the deal.
The good news is there are always coupons available for Jumbo packs of both Pampers and Huggies and they are usually for at least $2 off.
So in a typical diaper scenario I would buy 4 Packs of Pampers and that would be $35.96. I would use four $2 off Pampers coupons and pay $27.96 out of pocket. Finally we get $10 back in EB. So the total cost is $17.96 or $4.50 a pack.
That is a pretty sweet deal for name brand diapers. Next time there is a deap on Huggies or Pampers I would take my $10 EB with me and only pay $17.96 out of pocket while getting another $10 EB back for the following diaper purchase.
This helps keep my wallet full and out babies bum clean.
Bottom Line
Using these kind of methods with your CVS weekly ad, can greatly reduce your grocery costs on every day items. If you have a CVS Pharmacy in your area it should be one of your regular visits for your personal care needs, diapers, and, on occasion, food.
This is a primary method that people how coupon regularly really cut their grocery budget. You can almost eliminate the cost of toothbrushes, toothpaste, shaving needs, deodorant, some makeup, and other personal care items.