OK, so maybe stealing is a little strong. Even if they know how much I am saving and are allowing me to get such good deals, it definitely feels like stealing!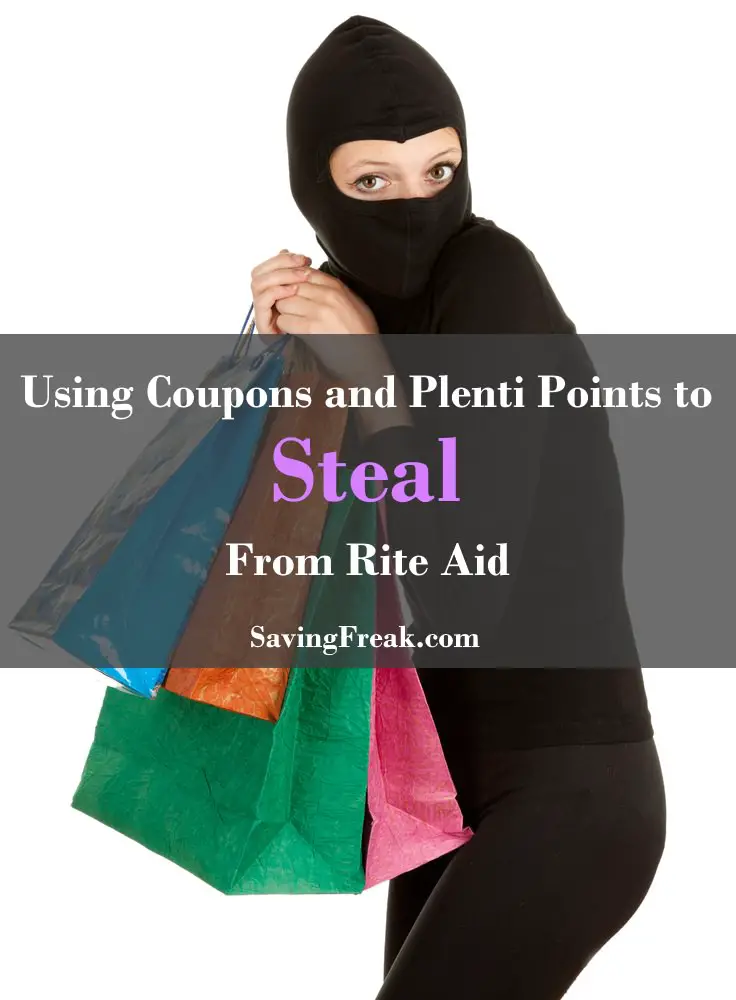 I have both a Rite Aid and CVS in my local area and I am very happy to shop at both of them.  Lately Rite Aid has become my go to store of the three pharmacies because they offer so many ways to save money.  With coupons, e-coupons, store coupons, and Plenti points all playing into the way you can save it's important to know all the rules.
To help you out, and keep it straight for myself, I put together this full Rite Aid review of money saving ideas.
Types of Coupons at Rite Aid
Rite Aid has a bunch of coupons for you to take advantage. They of course take manufacturer's coupons both printable and the weekly circulars.  They also have their own store coupons.  There are two ways to get coupons from Rite Aid:
In-Ad -Rite Aid puts store coupons directly into their weekly ad.  The great thing about these coupons is that there is always a nice supply of ads at the front of the store when you enter.
Load2Card – I love these coupons because they load directly to your Plenti Card (more on that later). You log into your online account and digitally load the coupons.  When you check out the coupon pays automatically.  Some of the Load2Card coupons are store coupons and others are from the manufacturer.  So make sure you pay attention to the print on the screen.
The Rite Aid Coupon Policy and Other Store Quirks
Rite Aid has the weirdest mix of couponer friendly and unfriendly policies.  So here goes
You can use one manufacturer's coupon per item
You can use one store coupon per item
Store and manufacturer's coupons can be used together
When an item is buy one get one free you HAVE to purchase two to get the deal. It is not a 50% off each item kind of deal.
If you have two items that are a BOGO deal you can use a coupon on each of them.
There is no doubling of coupons.  All coupons are face value only
You can use Plenti points with any transaction no matter how many coupons you have used.
On top of this you earn one Wellness+ point for each dollar you spend whenever you make any purchase at Rite Aid.  As you accrue Wellness+ points your status as a customer changes.  When you get to 500 points you attain silver status and get 10% off any non-sale item in the store every day.  Once you reach 1000 Wellness+ points you get 20% off any non-sale item in the store every day.
How Plenti Points Work
In order to take advantage of any of the advertised deals at Rite Aid you have to have a Plenti rewards card.  Once you have one you are now eligible for Plenti points and this is where the real savings kick in.
Plenti points were created by American Express (yes that one).  It is a multi-retailer rewards program.  You can earn rewards at a bunch of different retailers and then spend them at both Rite Aid stores and Exxon gas stations.  Each point is worth 1¢ and you earn one point for every dollar you spend.
What is even better is, not only do you earn points when you make any purchase at Rite Aid you also earn points by making specific purchases.  For instance, Rite Aid will run a promotion where you buy one package of baby wipes and get an extra 100 Plenti Points. There are new deals each week that will reward you with additional Plenti Points.
Making it All Work Together
So we know that we can use coupons, weekly promotions, and Plenti points all together to make a really awesome deal.  This is what a really good deal at Rite Aid would Look like:
Buy $30 of Item A and get $10 in Plenti Points
Item A costs $6 and has a $1 off coupon in the Rite Aid weekly ad
You find a $1 off manufacturer's coupon online and print five copies.
Buy 5 of Item A, use 5 manufacturer's coupons and 5 in-ad coupons
Out of Pocket cost – $20
Get back $10 in Plenti Points
Your total cost is 33% of the regular price.
Now this is a pretty good deal, but what if you took that $10 in Plenti points and were able to do the same thing next week.  Now you are talking about only $10 out of pocket and you have another $10 in Plenti points to spend on the next deal.
By taking your Plenti points and using them to buy items that produce more Plenti points you can consistently get low prices on tons of household needs.
What I Buy from Rite Aid
If this is your first time finding out I have three children under the age of seven, so I mostly buy diapers at Rite Aid and have been for almost seven years.  It is a big part of my cheap diapers strategy.  Along with diapers I will purchase lots of household items like toothpaste, deodorant, and hair products.  these items seem to produce a lot of Plenti points offers and are something you can get for free or almost free when you bundle them with coupons.
By rolling over my Plenti points from one purchase to the next I insure that I have a continuous flow of low cost items and can make sure I get to spend my money on more important things, like steak.
Save