Rechargeable batteries are a popular option for cell phones, and many portable devices, but do they make sense for other electronic devices?
As with most financial decisions, the answer is, "It depends".
How Much do Rechargeable Batteries Cost?
Setting aside when they go on sale or clearance, you can purchase rechargeable batteries for between $1.75 and $2.50 a battery.
For example, you can purchase an eight pack of AA rechargeable batteries from Walmart for $13.97. Different types of batteries will cost different amounts. You can see the latest prices at:
When Rechargeable Batteries are Worth It
Rechargeable batteries, for most people, are great for reducing waste and helping to improve the environment. Since the one use batteries end up in the landfill rechargeables reduce this multiple times.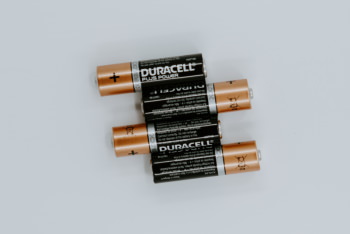 For the budget conscious, rechargeable batteries are best used for electronics that are used frequently and are high current. This makes them very valuable to parents of small children who burn through batteries faster than Kleenex in the winter.
I know that my son will get going and run several remote control vehicles at the same time. Within two or three days he's running for a new set of batteries.
As we found out above, rechargeable AA batteries came in at $1.75 a piece for an 8-pack. An 8-pack of alkaline AA batteries is currently $5.47, or 68.5¢ a piece.
This means you only have to recharge the batteries three times in order for this deal to pay off. According to Energizer, rechargeable batteries can be recharged hundreds of times.
That is some easy math to save money on your battery purchases.
Since batteries are usually purchased when we go to the grocery store, I usually pay for them with money from my grocery budget. So, instead of spending money on batteries, I can spend more money on important money on important things; like steak.
When Rechargeable Batteries are a Waste
Alkaline batteries can last a VERY long time in the right situation. That situation is when you have a low current drawing devices like smoke detectors, thermostats, and wall clocks.
In my family we have an only sometimes used wireless keyboard and mouse on the desktop computer. The batteries in those devices can last as much as two years before needing to be replaced.
If we continue under the math that you have to recharge batteries three times to break even, it may take six years before we reach a break even point.
In this scenario I am going to roll the dice and go with the alkaline batteries over the rechargeable ones. We also have to take into account that after a long period like this, the rechargeables may no longer hold a charge very well.
Tips for Using for Longer Life
Once you decide to take the plunge and go the route of rechargeable batteries, you will want to take a few
A good charger – With any rechargeable battery you need a good charger to make sure the batteries last longer. A slow charge will give you the longest battery life, but take much longer to refresh the charge. See top chargers at Walmart and Amazon.
Remove when charged – If your charger does not have an auto cut off, you will want to remove the batteries when it is done. Constantly charging the batteries once they are full can ruin them.
Keep a few extra alkaline – If you have a device that you need to use no matter the condition of the batteries, it is best to keep a few alkaline on the side for when you are charging. Once again, being able to slow charge will give you many more recharges.
Final Thoughts on Rechargeable Batteries
If you are an individual or family with a large number of battery powered devices, and those devices sustain heavy usage, then rechargeable batteries are going to save you money and are worth the extra expense.
For those with few devices or not big users of electronics, then it may make sense to avoid rechargeables and go with the traditional alkaline batteries.
I know for my family of five, rechargeable batteries have saved us hundreds of dollars. My brother, who is MUCH older than I am and no longer has any children living at home, no longer sees the need to keep them around.