Have you given up hope that you can save money at Starbucks?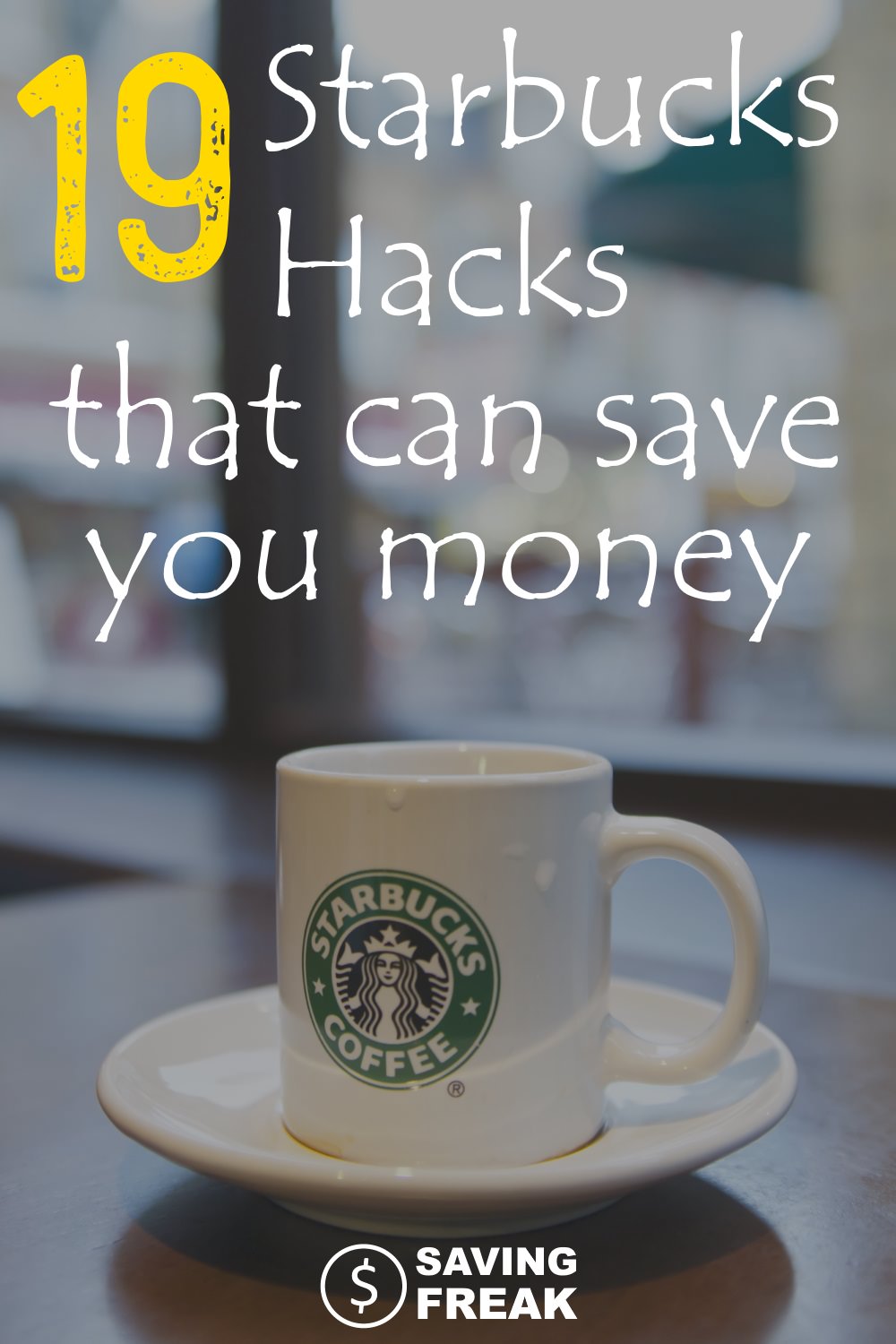 While spending less and Starbucks are not really a concept that go together, there are ways to limit the damage that the five dollar coffee vendor can do to you wallet.
If Starbucks is more than a coffee shop to you and you can't seem to be satisfied with cheaper options, here are 19 Starbucks hacks that can save you money.
Become a Member of the Rewards Program
If you aren't at least doing this then you aren't even trying. By being a part of the Starbucks rewards program and using the app when you checkout you qualify for a bunch of different types of rewards is a great way to save on your purchases.
How it Works
With every dollar you spend on Starbucks products you earn two stars.  This also goes for Starbucks products you buy at the grocery store or other locations.  So if you brew coffee at home, use the Starbuck k-cup or grounds and earn more stars.  The more stars you earn the better your benefits.
Instant Benefits
Every person who is part of the program has access to some pretty cool benefits, no matter how much they spend.  They include:
Free drink birthday reward
Free in-store refills (who doesn't like a free refill?)
Order ahead online or with your phone
Pay on your phone by loading a Starbuck gift card
Special member events and offers
The member events can be pretty interesting.  Sometimes its a free syrup day (perfect for you pumpkin spice sauce lovers out there) or a BOGO deal.  It can really vary depending on how or for what Starbucks wants to entice you back into their stores.
Gold Level (Earn 300 stars within 12 months)
All Instant benefits
Any item on the menu for free for every 125 stars you earn.
Personalized Gold Card
Monthly double stars days
Always Check the Menu
Just like any chain, Starbucks frequently puts items on special and introduces new items at discounted prices. They do this to get people addicted to their latest and greats (and eventually very expensive) drink. You never know when something is going to be on sale, so don't settle for the same old same old when you could try something new and save a buck.  So give that new caramel macchiato, white mocha, cinnamon dolce syrup iced tea latte with a shot of espresso and soy milk. It may be the only time you get to taste it for less than one semester of college education.
By Your Gift Cards at a Discount
I am a big fan of purchasing gift cards at a discount from online sources. Instead of picking up a gift card at your local FourBucks, you can purchase it online from places like Cardpool. As of this writing you get 10% off by buying the gift card from their site.
Go Light on the Ice
If you are an iced coffee drinker, get them to go light on the ice and you can actually double the amount of drink you are getting. They fill the cup up completely with iced if you let them.
Switch Out Your Drink Choice
If you are getting all the fancy blended mocha frappe blah blah blahs, switch to iced coffees and add your own milk and sugar to taste. It's healthier than the toxic does of sugar you usually get with these drinks and will save you more at least a dollar on every trip.
Order a Short
If you are really a small time coffee drinker, you can order the size that isn't on the menu. The short size will save you about 80₵. Did I mention that it has the same amount of espresso as the tall?
Split a Frap
The venti size frappuccino is typically only $1 more than the tall. It is twice as large. So if you have another frap addict in your friends then you can split a venti size and save each of you at least one dollar.
Make Your Own Latte
Order a triple espresso over ice in a venti cup and head to the condiment bar. There you can mix milk and sugar yourself and make your own latte.
Cafe Misto
If you feel too cheap making your own latte then opt for the cafe misto. Half the coffee, half the milk and significantly cheaper. Your calorie counter will be happy too!
Go for the Press
You can get a coffee press pot of coffee and basically buy your coffee in bulk. It is much cheaper than ordering the drinks individually and works great if there is more than one person in your group to split the cost.
Craving Caffeine? get the Grande
If you are getting the mixed/blended drinks you may think the venti would give you more caffeine but it actually has the same amount of espresso as the grande. So go grande and get the same pick me up for less.
Don't Buy the Bottled Water
Starbucks water and ice are triple filtered. So the water they pour off the tap could be cleaner than the filtered water in the bottle. So just ask for a water it will cost you MUCH less.
Get Your Tea with "No Water"
The tea at Starbucks is half as strong in your cup as it is in the pitcher. That's right, they water down the tea when they pour it for you. Order your tea with no water and it will be twice as strong. To try this out I ordered a regular tea, a tea with no water, and then a cup of water. I drank the regular tea and it was yummy. I then took my now empty tea cup and poured half my water and half my tea into it. It tasted the same.
Bring Your Cup Back
Straight coffee, grande, no syrup, no whip cream, or other wimpy stuff, will run you more than $2. If you are a multi-cup drinker, you can get a refill for just 55₵. You do have to stay in the store to get the refill.
Bring Your Own Mug
If you are only buying one cup a day, you get a 10₵ kickback when you bring your own mug with you. You can get the same discount by bringing in a competitors cup and they will give you a refill for the same price (many times they replace the cup). While it isn't a lot, if you are a chronic Starbucks patron it does add up. Starbucks offers their own mugs for purchase, but like the coffee they are a bit overpriced. I would try something on Amazon.
Bring Your Pooch for Some Extra Whipped Cream
Bring your dog in and order the puppychino and they will give you a small cup filled with whipped cream. Recent reports have said that whipped cream is not good for your dog so you may have to just consume it yourself.
Chai Latte Your Way
Save some money by ordering just the chai tea instead of the chai latte. You can always ad your own milk and sugar at the condiment bar.
Get the Tall in a Grande Cup
If you are ordering anything that requires milk, order it without milk and have them put the tall in a grande cup.  You can then walk over to the free condiment bar and add your own milk.  Grande for tall price, BOOM!
Order Ice on the Side
When you purchase any iced beverage your order will be half ice and half beverage.  By ordering your ice on the side you control exactly how much or how little ice is in the drink and how watered down your beverage ends up.
Final Thoughts on Starbucks Hacks
Starbucks and their assorted coffee drinks are not a cheap way to go, but if their stores have become a part of your life you might as well limit the damage they can do to your budget.  By taking advantage of these Starbucks hacks you can still enjoy your drink without worrying as much about your wallet.