Amazon.com has become one of my primary ways to save money in a pinch. What most people do not know is that there are sneaky ways to save money on Amazon that are much less obvious than going to the site and doing a search.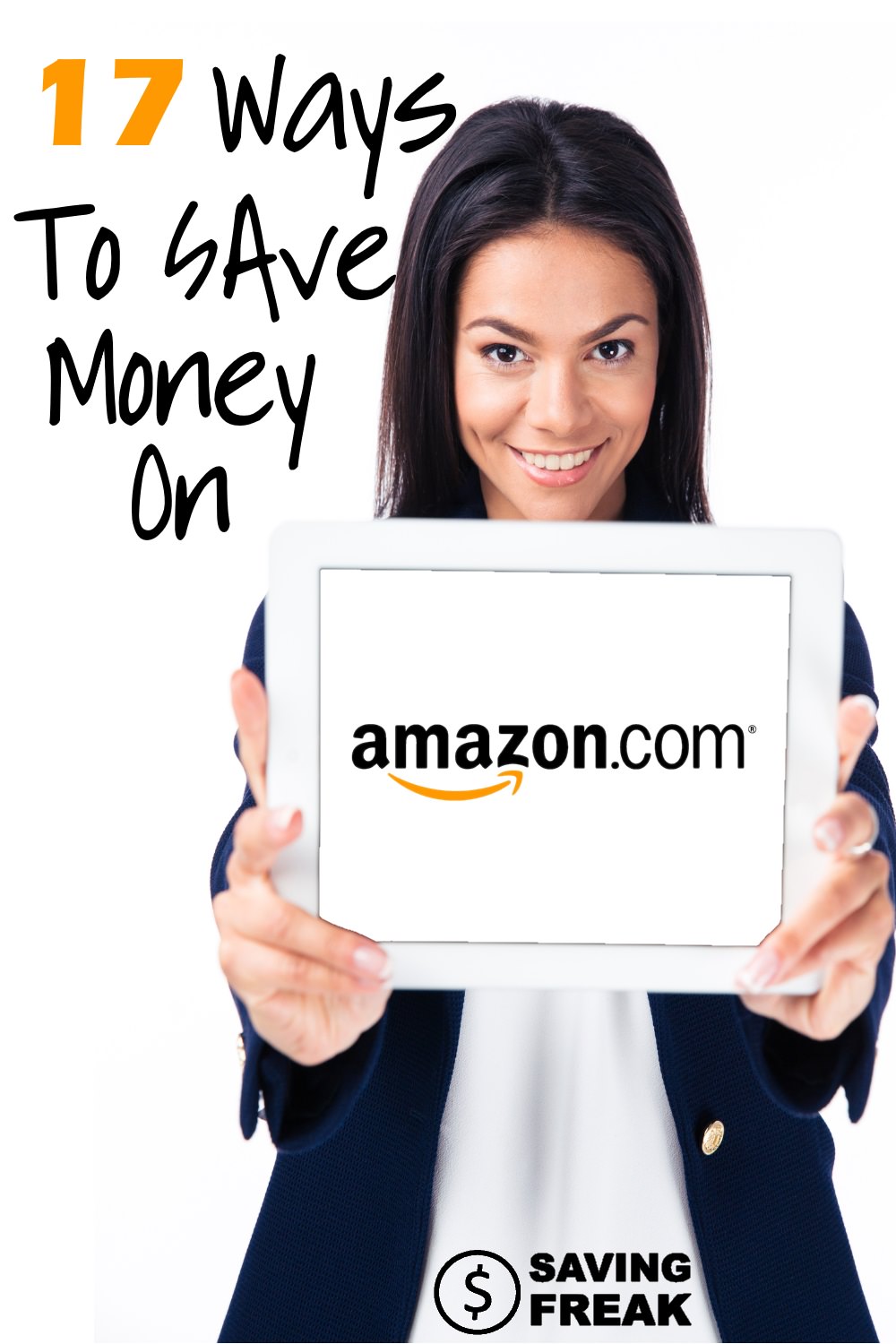 There is no one comprehensive list because Amazon is always changing, but here are the 17 ways I save money on Amazon.com. And you want to read to the end because the last two are borderline diabolical.
Amazon Prime
Amazon Prime has a ton of different features that will save you money.  Two-Day free shipping, the Amazon lending library (free book each month), free streaming musing, and a cloud storage for your most beautiful pictures.
The cost is $99 per year and it more than pays for itself in shipping.  The reason this one is first is because the free shipping makes pretty much every purchase less expensive.  So if you are going to become a hard core Amazon shopper, a Prime Member ship is an essential.
Not sure that Prime is right for you?  Good news, they have a 30-day trial period.
Amazon Warehouse
Once upon a time I worked for Sprint selling cell phones.  I sold phones inside of a Best Buy store in Charlotte, NC.  It was there that I discovered the magic of open box items.  While I love my wife and children more, open box items are a close second.
Well Amazon has their own open box and used items section called the Amazon Warehouse. They give you deep discounts on open box and used items and it is and it really is a great place to shop when you see something you want but not at the full price.
Amazon Outlet
Overstocks, closeouts, previous year models and markdowns are the name of the game at the Amazon Outlet
. These are still new items, but they aren't selling or space needs to be made so Amazon marks them down.  I frequently see 60% off in the outlet.
Amazon Mom
The Mom market is HUGE! Diapers, toys, cool accessories, and just stuff, it all adds up.  With an Amazon Mom subscription you can get 20% off a subscription for diapers.
On top of that, set up your baby registry on Amazon and get one time 10% off on items in your baby registry within 60 days before your due date.
Subscribe and Save
This is a pretty simple service.  If you take out a subscription on everyday household items you get 15% off.  These are all items that you use up over time.  See the whole list of Subscribe and Save
.
Add-On Items
These items are usually small quantity and low prices.  Amazon drops the price even lower in exchange for you purchasing at least $25 worth of stuff.  This minimum spend applies to prime members as well.  If you are already making a purchase that is close to or over $25 it is worth checking out the Add On Items
.
Pre-Order to Get the Lowest Price
Amazon has a pre-order price guarantee.  This means that if you pre-order books, CDs, DVDs, software, movies, or video games and the price were to go down any time between when you order and the release date then you will get that lowest price.
What is even better is it all happens automatically, so you don't even have to monitor the prices.
Price Match on Televisions
There are more than 50 online retailers that Amazon will price match for television purchases. You can see the list HERE
.
Free Books
While you get a free book each month through the Kindle lending library (with prime membership), there are actual free books all over the place.  I will be honest, some of them are terrible, but other times authors will drop the price of an ebook to free for a day or two to boost their exposure.
Prime Extension for Shipping Deadlines
If you are a Prime Member and they miss the shipping deadline, you can report it and they will extend your Prime Membership by one month.  That is an $8.25 kick back for something Amazon probably didn't even do.
Skip the Two Day Shipping
Paying for two day shipping on stuff has to get expensive, even when you customer is paying for the Prime Membership.  Amazon will reward you with credits toward different kinds of purchases if you choose the no-rush shipping (usually 7-10 days). Right now they are giving you a $1 credit toward eBooks, videos, and other digital products, but it changes all the time.  No matter what the reward if you do not need the item very quickly then rack up these extra credits.
CamelCamelCamel
I have no idea why you would name your site CamelCamelCamel.  What I do know is that this is the best tool for making sure you are getting a good price on Amazon.  Just go to the site and type in  the keyword or copy and paste the product page.  Then you will get an awesome and easy to read chart that shows you the price history of the product or products you are looking for.  Easy peasy price comparison.
Swag it Up
I am a big fan of Swagbucks. Basically, all you do is quit using Google as your search engine and start using Swagbucks.com.  They pay you point in SB (swagbucks dollars) and you can exchange them for giftcards, Amazon giftcards.  There are many other ways to earn SB and you can see them all in my Swagbucks Review.
Trade Your Stuff
Did you know that Amazon has a Trade-In Program
. You can take your old electronics and books and ship them to Amazon for free.  In exchange they give you Amazon gift cards.  Bundle those with your Swagbucks gift cards and you have some serious Amazon shopping.
Push a Promotion
Amazon has a fun little quirk in their system and you have to be logged into your account for it to work.  If you see an item you might want or is priced a little higher than you want to pay add it to your cart. DO NOT CHECKOUT!!  Just leave the item or items in your cart and walk away.  After a few days Amazon may decide to remind you that you have items sitting in your cart.  They also may decide to give you a discount code to prompt you to finish the transaction. I have seen as much as 20% in discounts because of pushing for a promotion. This is not a 100% of the time kind of deal but it does work.
Two Browser Shopping
Did you know that Amazon will sometimes offer lower prices to people who do not have an amazon account?  This is actually a tactic of many online retailers.  The reason is that once they have your info they can advertise to you frequently.  Here is how you take advantage of it:
Open a new private browser window. The main browsers are:
Firefox – Open a New Private Window
Chrome – Open a New Incognito Window
Safari – Open a new window and turn on Private Browsing
Internet Exploerer – If you are using Internet Explorer you probably still have dial-up and should just move on.
In your regular window find the item you want and copy the url for that item
Paste the url into the private window and search without logging into Amazon.
If the price is lower add it to your cart, login and purchase.
This method, like the add to your cart method is not 100% but it does work sometimes.
I hope that these tips on how to save money on Amazon turn you into an Amazon deal finding machine.  If you have any other tips share them with everybody by adding them to the comments or hitting me up on Twitter @SavingFreak.