Swagbucks has become an internet sensation and a great way to earn money online.  While I have been a user of Swagbucks for several years you may have never heard of it before or are skeptical of the program I put together this comprehensive review.
First I will answer the most common questions I have answered when  I will walk through the different ways to earn SwagBucks.
Is Swagbucks Legit?
Swagbucks is ABSOLUTELY legit!
I have been using Swagbucks since 2008 and have had nothing but good experiences.  They have made small changes here and there but mostly they have improved their offerings and made it so we can keep earning money for the long term.
There are several reasons to believe in their legitimacy beside my personal recommendation:
No fee to participate – 100% Free
A+ Rating with the BBB
They are not young in internet years having started in 2005
They have 245,000 Twitter Followers and 1.3 million Facebook fans.  At some point this many people would have caught on if this were a scam.
Having been a part of the Swagbucks program for over seven years I have earned well over $1000 in gift cards and that doesn't include the prizes that I have had sent to my house (including my awesome Swagbucks t-shirt).
My favorite is the Amazon gift card because it gives you such a broad range of items to purchase.  So for me it is the best bang for the SB.
Get Signed up for Swagbucks and start earning your SB today
How Does Swagbucks Work?
For lack of a better comparison Swagbucks works like a points system.  The more SB you earn (Swagbucks points) the bigger the prize or gift cards you can redeem them for.
When the program first started it was just a search engine that paid you for doing your search through them instead of Google, Bing, or Yahoo.  The way they could do this was to share part of the advertising revenue that a search engine generates with the people using the search engine.
So basically you get to share a piece of all that money that the Big Boy search engines have been keeping all to themselves.
What Kind of Rewards Can You Get with Swagbucks?
When they were younger program you were able to request prizes that would be shipped to your home.  Realizing that it costs much more in shipping they have switched to an almost all gift cards reward system.
There are two options beside gift cards that you can select.  The first is you can donate your SB to support charities. They have a wide variety of charities and causes that you can donate your SB toward.
Second, you can get your earnings deposited into your PayPal account.  I never used to do this because you got a better deal on the Amazon gift cards but they have since standardized what you can purchase with your SB (500 SB for a $5 gift card or paypal deposit).
So now you can just get straight cash deposited to your account.  A pretty sweet deal considering all you have to do is switch your search engine.
How to Earn Swagbucks
OK you didn't come here JUST to see if Swagbucks was legit and how it works you want to know how to earn as many of these magical money makers as you can.
1. Using the Search Engine
The most popular and most used way to earn SB is the search engine.  Now you may think that you won't get good results from what ever second rate search they are providing but the results are actually powered by Yahoo.
If you didn't know Yahoo is now powered by the same algorithm that Bing provides.  Those two search engines together provide just under 40% of the search traffic in the United States (Google has just over 60%).  So you aren't in bad company when using this search engine.
Think of it this way.  You are going to search the internet a lot in the next week.  Why not get paid for it?
What you will notice from the gray box in the picture is that you can actually integrate Swagbucks as your default search engine on your web browser. Swagbucks will work with all of the four major web browsers; Firefox, Chrome, Internet Explorer (and now Edge), and Safari.
2. Shopping Using Their Site
My review of TopCashBack.com explains why it is my most top pick of the cash back rebate sites, but if you are looking to consolidate your money earning efforts Then Swagbucks offers really competitive cash back rates.  You can log in to your Swagbucks.com account and click on a store before you shop there.  When you do this you will get a percentage of your purchase back in SB.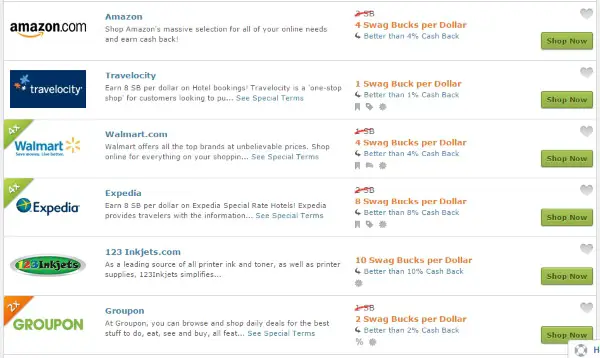 As of this writing they are running some specials on their normal rewards offers.  You can see here that if you shop on Amazon you get 4% cash back in SB.
The same goes for Wal-Mart and even 2% back on Groupon which is just ridiculous, when you consider the already discounted prices there.
3. Taking Surveys and Polls
In my Survey Junkie review I covered how they make a big deal of paying you to take surveys.  Swagbucks also gives you rewards for taking their surveys.
They do not pay as well as surveys from LifePoints.com but I am a big fan of consolidating your efforts to get paid faster.  This is by far the fastest way to earn SB and can earn you as much as $9/hour.
There are a ton of sites that claim that you can make money taking surveys, but many are scams.  Swagbucks is one of the few that actually deliver on their claim and let teens take surveys for rewards.
On top of the surveys you can also answer a daily poll or read their emails. These two options aren't worth very much but should take you a less than 10 seconds, as long as you aren't working on dial-up internet.
4. Watching Videos
If you watch a lot of videos on YouTube then you can earn some extra cash by checking the videos in your member area first.  The whole area is powered by the AOL On video service.
The current categories that you can watch are:
Entertainment
Music
Fashion
Health
Food
News
Home & Garden
Pets & Travel
Technology
SB Originals
You can earn up to 150 SB a day so don't think you can turn watching videos into a full time job.
5. Playing Games
If watching videos to get SB wasn't enough you can play online games to build up your totals.  The rewards for playing the game are not great but if you are already spending hours on Facebook games you can switch and earn a little while playing.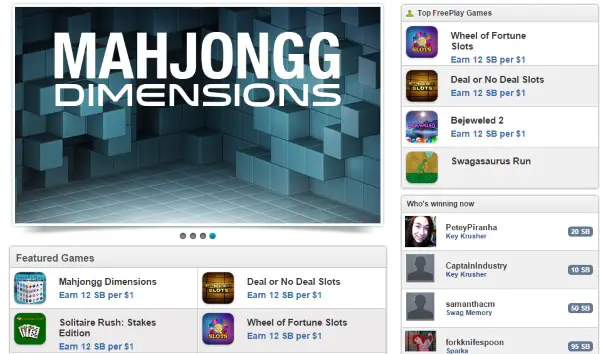 6.Printing Grocery Coupons
If you are already printing out online coupons when you are shopping for groceries, then you know they can be a great way to save money.  By printing any coupons.com coupons from the SB coupon area, you will get paid 10 SB for every coupon you redeem.
7.  Refer Friends
If you are like me and know a bunch of people who love these kind of programs you can get paid by referring your friends and family.  You get 10% of whatever SB your referral acquires.
So if Friend A earns 250 SB you get 25.  What is really awesome about this part of earning SB is that you keep that referral earnings for as long as the person is active.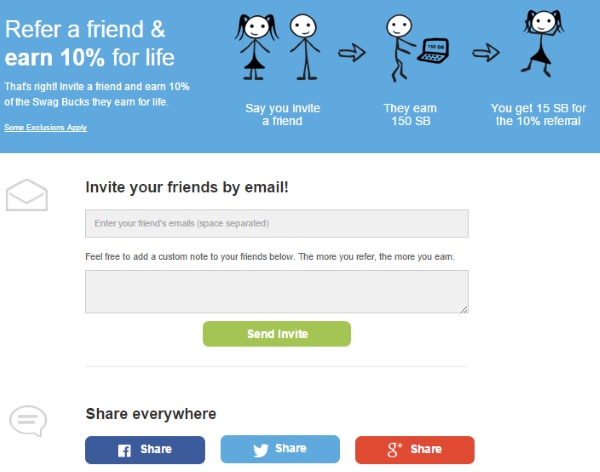 Since anyone 13 and older can sign up, referring friends is a great way for kids to make money.
Swagbucks Alternatives
Inbox Dollars – The closest thing Swagbucks has to a direct competitor, InboxDollars is a top option for anyone looking to make a little extra online.
Harris Poll – A top market research firm, Harris Poll Online gives you a great option for online money.
TopCashBack.com – One of the best cash back rebate sites, TopCashBack is a good option for those who shop online frequently.
Conclusion
Swagbucks really is once of the truly legitimate online rewards programs that has become one of my top ways to make money online.  If you are looking for a way to earn a little extra cash they provide one of the most robust offerings of different ways to earn rewards.
Really anyone can benefit from using the paid search feature and if you have the time then the other offerings can really boost your earnings.
If you have any questions about Swagbucks or have some other tips to share make sure to leave that in the comments or hit me up on twitter @SavingFreak so we can all benefit.