Wal-Mart constantly gets the nod as the every day low price leader, but I tend to put target as the overall price leader.
Aside from the fact that Target has a much nicer feel to their stores, You can really get amazing discounts by shopping at the second largest retailer in the world.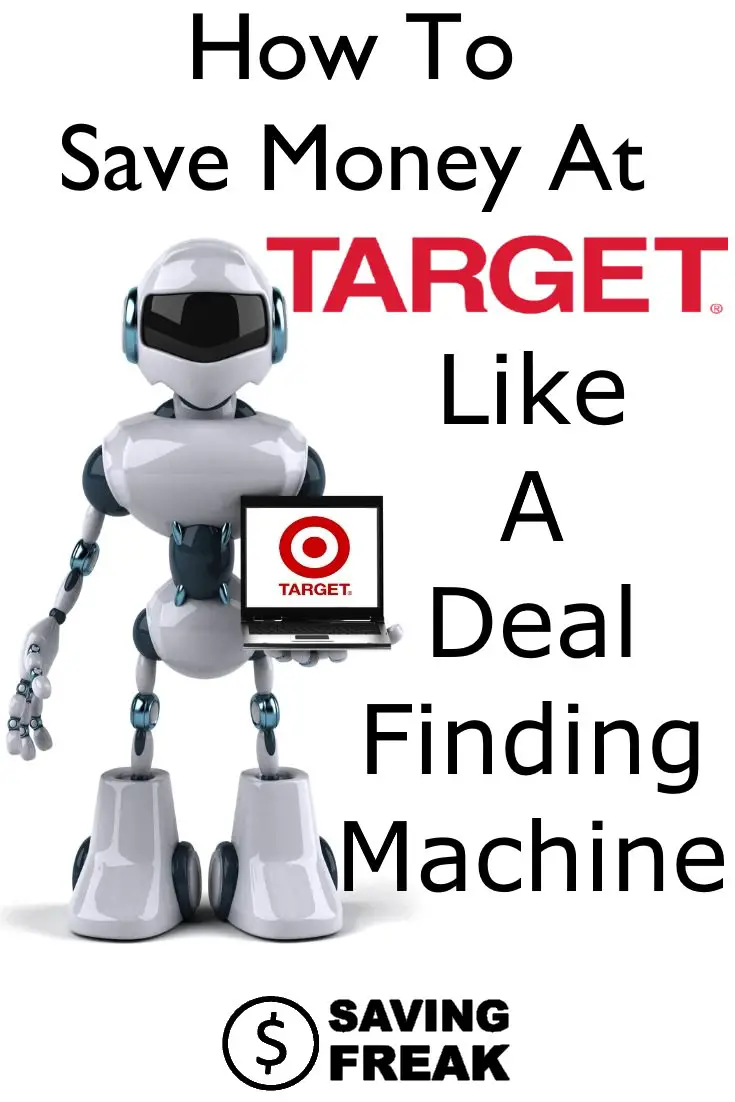 While you may decide to stick with Wal-Mart, Target shopping has turned out the best bang for my buck.  To help you get your Target shop on I put together all the ways I save money by shopping at Target.
Weekly Promotions
Like most retailers, Target has a weekly circular that offers discounts and promotion.
Since target is a superstore they have both groceries and all the other stuff you think of buying at a megastore.
This is the most basic promotion you will find and you do find some decent discounts, but if this is the only way you are shopping at Target then you are missing the boat. And we are talking about a really BIG boat.
Target Clearance
Target has great, not good, but GREAT clearance pricing.
What is even better is that they have a very organized system of how their clearance works. And if there is a system, then we can learn how that system works and take advantage of it.
The basics of Target clearance is that pretty much everything eventually goes on a clearance price. For most items you will see them first go 30% off, then 50% and finally 75% off.
Not all items fully follow this schedule. For instance, if Target breaks even on a product at 60% off then it will only go to 60% off.
Another example is seasonal items (Christmas, Halloween, easter, etc.).  These items will go up to 90% off.
It is very likely that the only stuff left when it gets to 90% is not the best items, but every once in a while the bargain shoppers miss something you want.
Target Clearance Schedule
Didn't I tell you Target was very systematic with their clearance?
While there is no official schedule, the stores will mark down their prices on clearance items by specific departments on specific days. Here is the schedule that most of the stores seem to follow:
Monday – Accessories, Baby Items, Books, Electronics, Kids Clothing, Office Supplies and Stationery
Tuesday – Domestic Items, Home Decor, Pets, and Women's Clothing
Wednesday – Garden, Health and Beauty, Market (groceries), Men's Clothing, Toys
Thursday – Housewares, Lingerie, Luggage, Shoes, Sporting Goods
Friday – Automotive, Cosmetics, Hardware, Home Improvement, Jewelry
Once an item goes on clearance it will typically get marked down every two weeks. This can vary greatly on store, manager discretion, and available inventory.
If there is an item I want but not at the current percentage off I will typically check in once a week to make sure the inventory does not go down too fast to get the item.
It's All In The Tags
The way you recognized that something is on clearance is the fun little orange clearance tags.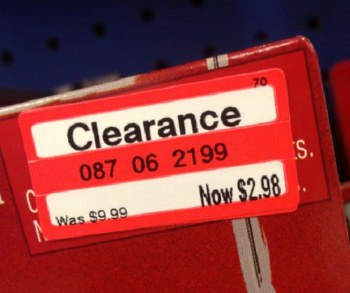 These tags have some great details on them.  First, the percentage off is in the top right hand corner. This is useful because if it says 70 there you know that it is probably on final clearance.
Speaking of final clearance, one way to tell is to look at the last number in the price. If the price ends with an "8" it will be marked down again (ex. $7.98).
However, if the price ends with a "4" then it is on final clearance. If you price does end in "8" always always always do a price check on it using one of the customer price scanners.
The prices frequently go down before the employees get a chance to retag every clearance item.
Finally that funny looking set of numbers in the middle of the tag are the target item number. If the item is larger, then you can just take that number over the scanner and type it in.
Where Did It Go?
You were watching an item, there was plenty of inventory, and it suddenly disappeared. You might want to head to your closest GoodWill store.
This is because extra inventory at Target is frequently donated to Goodwill and the company takes the tax break for the donation. You may even get the item for less than you would have on Target Clearance.
I have saved thousands of dollars properly using the Target clearance system to my advantage and now you can too.
Red Card
Target Red Card has gotten a lot of publicity for having it's 5% off feature. You also get free shipping from Target.com and an extra 30 days to make returns.
The
The card itself comes in both credit and debit varieties. No matter which type of card you choose they have similar features.
The other nice feature of the card is that you can designate a qualifying K-12 school to receive 1% of the purchases you make. I personally prefer the debit variety.
Either way you can sign up HERE.
Target Store Coupons
As if getting 5% were not enough Target also has two ways for you to get store coupons. Even though they have both mobile and printable varieties of their store coupons you can only use one or the other on a single purchase.
Mobile Coupons
Target has their own app that you can download to your phone or tablet. It is great because you can find good deals on it, but even more important, you save mobile text coupons to it.
The codes that come with these mobile coupons can be used in store (scan the barcode) or online. You have to sign up to receive the links that load the mobile coupons into the app and you can sign up HERE.
Printable Coupons
Target has their own store coupons that you can print off of their website.
I absolutely love these coupons because they stack with manufacturer's coupons and are accepted at many grocery stores that consider Target a competitor.
If I am going to make any purchase at target I always give the printable coupons a look before I go.
Target Cartwheel Offers
Cartwheel is a separate app from the Target mobile app. Cartwheel deals are special discounts that range from 5-50% off.
You go into the app, select all the discounts that you want, and it generates a barcode.  Once you have all the items rung up at the register have the cashier scan the barcode and it will take all the discounts off for you.
You can receive discounts on your cartwheel list six times per day and can do this every day until the offer expires.
There are sometimes that they limit the number of times you can do an offer so make sure to read the fine print on each one.
New users get 10 slots to put offers in.  As you make purchases and use the app you can unlock more slots. Overall this is a really easy way to save and very convenient for anyone with a smartphonen or tablet.
Target Price Matching
Target has one of the most generous price matching policies in all of retail. They really decided that they were not going to get beaten on price by any bricks and mortar or website pricing.
Here is the short explanation of what you need to know about the price matching policy at Target:
You have 14 days to ask for a price match
You have to prove the price. That means bringing in an ad or being able to show the employee the competitor's website that has the lower price.
Local competitors are determined by store managers.
There are 30 online retailers that Target will match online or in store. They are: Amazon.com, Babiesrus.com, BedBathBeyond.com, Bestbuy.com, BN.com, Buybuybaby.com, Costco.com, CVS.com, Diapers.com, DicksSportingGoods.com, Drugstore.com, Gamestop.com, JCPenney.com, Kmart.com, Kohls.com, Macys.com, Newegg.com, Officedepot.com, Petco.com, Petsmart.com, Samsclub.com, Sears.com, SportsAuthority.com, Staples.com, Target.com, Ulta.com. Walgreens.com, Walmart.com and Wayfair.com.
If you want more details you can check an extremely boring document from Target HERE.
Target Electronics Trade-In
Target has their own electronics trade-in program. They will accept over 20,000 different items for trade-in and will give you a Target gift card in return.
The condition and level of technology or newness of the video game will determine how much you get back.  Overall it isn't a bad way to get rid of your techno-junk and they will recycle the tech.
Grocery Shopping
Target has really helped people save money on their groceries.
With most stores having a Target Market now, You should really pay attention to your weekly ad.  That being said, there are several ways that Target helps you on grocery prices.
Gift Card Deals
The number one way I see people saving money in the grocery store section is through gift card deals.
They typically go something like this: Buy 2 of item X get a $5 Target gift card.
What they do not tell you is that if the item is a name brand, then you can also you use a manufacturer's coupon with that item.
There are several gift card deals every week and they rotate out among different categories.  There are frequently gift card offers on diapers and this is one of the ways I get cheap prices on my diapers.
Couponing
Target has a pretty generous couponing policy. While I wish they would honor competitor coupons, they do the next best thing, the have their own store coupons.
You can get these by printing them in the coupons section on their website or on their mobile app (available for Android and IOS).
Target also accepts all manufacturer's coupons. So whether you get them from your local newspaper or print them on your computer you can trust that they will be accepted at Target. You can see the entire target coupon policy HERE.
Deal Stacking
Target is a great place for deal stacking. You can put some crazy good deals together by taking advantage of everything that Target has to offer.
On a single Item you can stack: A cartwheel discount, a gift card deal, a manufacturer's coupon, a target store coupon, and a mobile rebate coupon (Ibotta or Checkout 51).
It only happens every once in a while, but it does happen. The fates align and all these different deals line up and you can actually make money buying an item at Target.
Now Go Kill It
You now have everything in your arsenal to take down the best prices possible at Target. Use this wisdom wisely and you can save yourself hundreds if not thousands of dollars.