As a parent I am well aware that diapers are EXPENSIVE.  Whether you go with disposable or cloth the cost of diapers provides a shock to the system for any new parent.
To give you a little of that shock, Consumer Reports tells us that the average family will spend between $1,600 and $2,500 to diaper ONE child.
I have three kids so believe me when I say I have spent no where near that much money to diaper one child and am here to share my freakish wisdom on buying diapers.
Options for Saving Money on Diapers
Generic Diapers
If you have never diapered a child let me be the first to tell you that generic diapers should typically be a last resort.  You buy these when you run out and nothing is on sale.
Of the group I like Aldi brand the best, but they only currently sell theirs in sizes three, four, and five. After that Target and Wal-Mart are about even for me.
What generic diapers are good for is getting a benchmark of what you should be paying when employing a cheap diaper buying strategy.  As of the writing of this article generics go for just under $6 for a jumbo pack at Wal-Mart (Aldi now had theirs down to $5, but since there is a limit on sizes we will go with Wally World).
This means that diapers, on a per diaper basis, are between 14.2¢ for newborn and 26¢ for size 6.  To give you another benchmark, name brand diapers (Huggies and Pampers) will run you $9 a jumbo pack at the discount stores. 
So basically, we are trying to get at least $3 off a Jumbo pack and preferably $4.
Sustainable Diapers
OK I know that cloth diapers are not for everyone. In fact, I was unable to convince my own wife to go the cloth route. 
My sister went half cloth, (cloth at home, disposable when out and about) but my mom was a warrior and went all cloth, and that was before they had the cool cloth diapers they have today.  So two out of three VERY frugal families weren't willing to go full cloth.
That being said, if you purchase your cloth diapers at the right price, you are planning on having multiple children, and you purchase them with the first child, it is the absolute cheapest way to go.
Now these are not the cloth and pin diapers you think of when you think cloth.  These bad boys of the bum bum are pre-folded with Velcro or other built in fastening devices.  They come in different colors and patterns and whatever cuteness a new mom could want.
I did a simple Amazon search for cloth diapers and found so many my eyes glazed over and I quickly ran out of there and back to my diaper coupons.  Over and over I see that the cheapest cloth diapers are ones that are purchased "gently used".
I don't see how any time you talk about a used diaper that the word "gently" could be applied, but even if you buy all yours brand new, over time you will save over disposable.
This is especially true if you buy them with the first child you have and end up with six or seven.  Of course at that point you might as well throw on the denim jumper and make sure all their names start with the same letter.
Pharmacies – The Holy Grail of Cheap Name Brand Diapers
Each pharmacy has their own rewards system but they all work pretty much the same.  You purchase an item or certain amount of a group of items and they give you rewards that work like a gift card.  For CVS it is called Extra Bucks, Rite Aid has Plenti Points, and Walgreens has Register Rewards.
All of the Pharmacies also take coupons and there are ALWAYS online printable coupons for Huggies and Pampers.  I will use CVS in my example but the typical diaper deal at a pharmacy looks something like this:
Buy $30 of Huggies Products and get $10 in Extra Bucks
Huggies Diapers $8.99
Most of the time you can get a coupon for Huggies or Pampers for $2 off.  So in this scenario you would buy four packs of diapers for $8.99 each.  Use four $2 off coupons and you spend $25.96 out of pocket plus tax.
You then get back $10 in Extra Bucks to use on your next purchase, which will be the next time diapers go on sale just like this.  So now we are at $15.96 for four packs of diapers or right at $4 a pack.  That is a good price.  But hold with me for a minute as we explore how this gets better.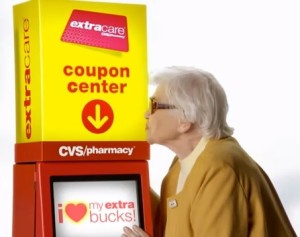 What I didn't tell you is that CVS also has their own store coupons that pop up from time to time online or that you can get from the coupon center (pictured here).
So it's a great week and you have a store coupon for $5 off a $30 purchase of diapers, four $2 off coupons and you still have the $10 in Extra Bucks from the last time you bought your diapers.  Now the Deal looks like this:
$35.96 in diapers
-$8 in manufacturer coupons
-$5 in store coupons
-$10 in Extra Bucks
= $12.96 FOR FOUR PACKS OF HUGGIES!!!!!
Plus you did the same deal and got $10 in Extra Bucks back for your next purchase.  Just keep churning those Extra Buck, Register Rewards or +UP rewards and you can keep that extra money in your pocket.
If you don't have one of the Pharmacy chains in your area there is a good chance you have a Target so keep on going to make sure you can still afford that meat.
Target Discounts, Promotions and Coupons – A Close Second
Target really does have good deals on diapers and they are highly competitive with the pharmacy chains but overall I tend to do just a little better with my Extra Bucks.
Don't get my wrong, you can do really well with Target and the good news is they tend to do the big boxes of diapers instead of the jumbo packs so you probably will not have to go back as much.  Instead of having rewards that print off on receipt paper Target will give you an actual gift card to be used at a later date.
Just like the pharmacies Target has store coupons that can be stacked with manufacturer's coupons.  Target is different in two areas.  The first is a good thing in that if you get a Target RedCard (debit or credit), you get an additional 5% off your purchase.
The second is that by purchasing the boxes of diapers instead of the jumbo packs you get hurt a little bit by not being able to use as many coupons.  Two boxes means you only get to use two coupons.  It takes 3-4 jumbo packs to equal a box and I can use a coupon on each of those.  This means you will typically save money by going the jumbo pack route.
Buying Diapers at the Grocery Store
The grocery store and the two "dollar" stores are my next best places to buy diapers.  Since Kroger is the largest grocery chain in the country we will use them as our basis.
You have to have a Kroger card and you want to make sure you actually register with your home address so they will send you coupons.  Kroger matches coupons up with people based on their shopping habits.  So if you buy baby stuff they send you baby coupons.
They also have great coupons that print off on the register after you check out.  You can stack a store coupon with a manufacturer's coupon and get your price down to a reasonable level.
The final part you need to know about Kroger is that they have gasoline rewards based off of how much you spend.  So if you spend $100 you get 10¢ off per gallon on your next fill up at a Kroger gas station.
If you do not have a Kroger you can get the same gasoline perks by shopping for groceries (and anywhere with as long as you use your Mastercard) by joining the Fuel Rewards Network (that link gets readers of SavingFreak.com 25¢ off per gallon after your first fill up).  They also have a bunch of other ways to get gasoline rewards.
So to sum up shopping at grocery stores: Sale Price + Store Coupon + Manufacturer's Coupons + Fuel Rewards = Cheap Diapers.
Dollar General and Family Dollar Diaper Deals
These two stores are direct competitors and seem to be trying to paint the countryside with their medium size store fronts.  They are such fierce competitors that they charge the same every day low price for a pack of diapers, $4.95.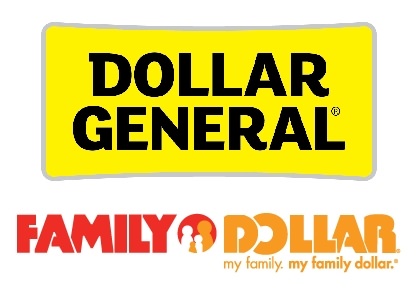 They also both accept manufacturer's coupons, have their own store coupons, and have a ton of other ways to get extra discounts by email, smart phone, text message, etc. 
When you can match that price with both a store, a manufacturer coupon and a discount you will get a really good price on diapers.
The problem is you can rarely get enough store coupons to make this a good long term method for keeping that changing table stocked up.
I do use my local Dollar General with a coupon when I run out of diapers before my local chain pharmacy runs another deal so this works as a GREAT fill in for the more consistent methods above.
Where to Get Coupons for Diapers
There are a ton of potential places to get coupons for diapers.  To make sure you get as many coupons as you need check these sources:
Printable Coupons – Printable coupons are the most common diaper coupons that I use.  Start with Coupons.com, if there aren't any there try SmartSource or Redplum.  You can also get printables from the Huggies and Pampers websites when you sign up to get rewards as well as P&G Everyday.
Weekly Newspaper – I don't have a subscription to the newspaper.  I do typically buy the first Sunday newspaper of every month because it contains an extra Proctor & Gamble insert that has Pampers diapers coupons.
Store Promotions – the final place to get great diaper coupons is through the stores you shop at most.  Many grocery stores and supercenters have baby clubs that you can join and they will send you store coupons to encourage you to shop with them.  Publix and Kroger send out coupon flyers or have them in store for you to grab some extra coupons from time to time.
E-Coupons – Depending on your store you can use e-coupons to grab some extra savings.  The main places are Savingstar and Ibotta.
Free Diapers
While you cannot get free diapers all the time, you can get them once in a while.  I put together a list of how I score a few free diapers from time to time to help you supplement your savings.
Free Samples
Earth Baby – it's only one but it could come in handy.  I stashed mine in the glove compartment of my car because I forget to grab the diaper bag when I take the youngest with me to the store.
Diaper Rewards
There are three main brands of diapers: Huggies, Pampers, and Luvs (which is owned by the same company that owns Pampers). Luvs is the least of the three and does not have a rewards program, but the other two do.
I am enrolled in both of them because when I buy diapers the most important thing is that we do not go generic and we get a good price.
In other words we will use either Huggies or Pampers as long as I am beating the generic diaper price.  The downside to this is that we spread our rewards out over two programs
Huggies Rewards
You only get a few points with each pack of diapers that you purchase but when you get to 500 points you can get a free jumbo pack of diapers.  If you wait till you get to 1000 points you can get a free box.  Other rewards include gift cards, toys and magazine subscriptions.
Pampers Rewards
Just like Huggies you get points by entering codes from every Pampers purchase.  Unlike Huggies this also includes the Easy Ups which are for kids transitioning out of diapers and into big kid underwear (THANK YOU JESUS!).  The only downside is you cannot really get free diapers from their rewards points, but they have a ton of different options for how to cash in those rewards.
Local Charities
If you have low income then you can qualify for free diapers from local diaper banks.  They typically will have other provisions for babies and small children if you need one.
Final Thoughts on Finding the Cheapest Diapers
The key to all of this is getting started and finding out your comfort level and how much you want to spend on diapers.  If you have any questions or suggestions for getting cheaper diaper prices leave them in the comments.