Various studies estimate that between 30% to 40% of adults in the U.S. have a side hustle. These adults make an average of about $700 a month from their side hustles.
Let's learn more about side hustles and how you can benefit from having one yourself.
What is a Side Hustle?
A side hustle is an activity you do in addition to your day job. It is a way to generate some extra income, and it's often very flexible. Many people use a side hustle to pursue what they are most interested in and their passions while making some extra cash and without quitting their day job.
A side hustle doesn't necessarily have to be a fully-fledged side business or generate that much cash. It is mainly about your personal growth, development, and entrepreneurial ingenuity.
It can be anything you can do to supplement your current income. You may start a blog or a podcast related to your business or personal experiences. You can sell various stuff online or walk dogs and get paid for it, and much more.
Whatever activity you choose to undertake as a side hustle, it's about finding your passion and capitalizing on it to make extra cash without having to leave your current job or putting all your time, effort, and even money into something you aren't sure of.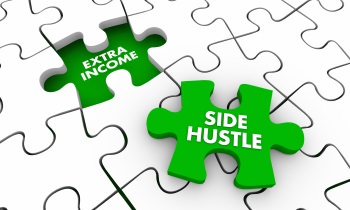 How Sides Hustles Work
We've seen that a side hustle is an activity that you undertake outside your day job. As such, the activity is generally accomplished after business hours, on weekends, or during vacations.
It not only helps you generate extra income but also provides you with the flexibility to achieve work outside of the conventional 9-to-5 period.
There are several ways to start a side hustle. For example, you can start a small business on the side, or complete work for a company on a freelance, part-time, or contract basis.
If your current income is not enough for your needs, but you can't quit your job in pursuit of something more well-playing, a side hustle can give you an avenue to evaluate your passions, test ideas, and build a strong customer base should you eventually decide to quit your job.
Benefits of Starting a Side Hustle
Besides the financial gain you stand to get from creating a profitable side hustle, there are several other benefits, including the following:
Increased Happiness
Side hustles usually are things we enjoy doing. As such, many people with a side hustle report greater feelings of happiness and gratification. In fact, there's nothing as gratifying as making money doing something you love.
You might not be ready to quit a job you hate, but your side hustle will give an opportunity to explore your interests and find meaning in life. This can add some energy in your life and provide a sense of satisfaction you could be missing in your professional life.
Better Opportunities
When you create a side hustle, you are actually opening more avenues to making more connections. A side hustle usually gives you the opportunity to meet and work with individuals you otherwise would never have a chance to interact with before.
There's a high chance your new connections will lead you to better opportunities that are geared to spur your professional and entrepreneurial growth.
Multiple Options
A side hustle offers you more flexibility to enjoy any lifestyle. You no longer have to worry about money when you think of treating your family to that exotic dinner, upgrading your car, etc.
It gives you the confidence that should anything go wrong like you lose your job or have to incur substantial medical expenses, you won't have to go into debt.
Starting a side hustle is also an excellent way to gauge if you are ready for a career change. If you are ready for the change, having a side hustle that helps develop relevant skills is essential.
Lose Toxic Friends
When you have a side hustle, you'll generally be busy and engaged. That means you'll have to avoid some stuff and activities. The first things you're likely to get out of the way are people who don't add any real value to your life.
Make New Friends
Once you're engrossed in your new business, you'll naturally attract other people with the same interests as you. If you decide to do life-coaching as a side hustle, you are likely to meet other life coaches and wellness professionals.
You will have a new tribe, which will play a significant role in the success of your side hustle.
Peace of Mind
With the security of a steady income from your day job, you have the freedom to explore and learn without having pressure to generate a considerable amount of income right away.
You may have enough savings that make you confident enough to quit your regular job, but you'd still be apprehensive to make the move.
That feeling can be stressing. It can even distract you from steering your business to success. However, validating your new business idea while still enjoying the comfort of your day job is a much more comfortable way of handling things.
A sense of Purpose
When you've been doing one thing for a long time, you're likely to feel that your work has lost its meaning. The best way to neutralize that feeling is to have a side hustle. With a side hustle, you'll be revitalized with a new sense of purpose.
You'll have the energy to focus on something you enjoy doing. When you are operating your own business, you will be interacting with customers directly, and you'll have an instant and tangible impact on everything you handle in the business.
Improved Work-life Balance
Having a side hustle may sound like adding more work into your already busy schedule, which can create more stress and eat into free time. Ironically, side hustling can actually help you achieve a great work-life balance.
Namely, you now have a reason for completing your regular work in time and to engage in an activity you are passionate and excited about.
This will help you define boundaries and ensure that your office job doesn't spill into your evenings and weekends.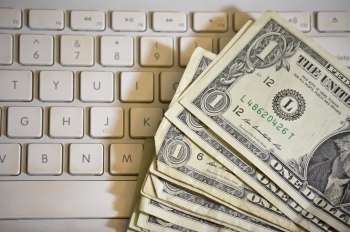 Tax Benefits
You can often write various business expenses off your side-hustle. Things such as travel, transportation, and supplies that are related to your side hustle could be subject to tax benefits. You can engage an experienced accountant to give you more advice on this.
Examples of Side Hustles
There are numerous kinds of side hustles that you can engage in. Here are some of the most common examples:
Rideshare Driving
House cleaning
Tutoring or coaching
Freelance writing
Creating and selling hand-made crafts
Babysitting
Dog walking
Teaching online courses
Providing lawn maintenance services
Providing delivery services
Photography services
Outside catering or selling baked goods
General labor or warehouse work
Mystery shopping
Brand ambassador
In Conclusion
Side hustles may require a lot of time and energy, but they come with a wide range of benefits, including giving you the flexibility to explore your passions and things that you are most interested in. There's a wide selection of side hustles that you can consider.