I don't know about you, but when I walk into Dollar Tree I am always wondering which items are dollar store deals and which are dollar store duds.
Many people think of items you buy from the dollar store as being cheap, poorly made, or even expired. The truth is that dollar stores buy a lot of overstock items from major retailers and that is why they can price their items so low.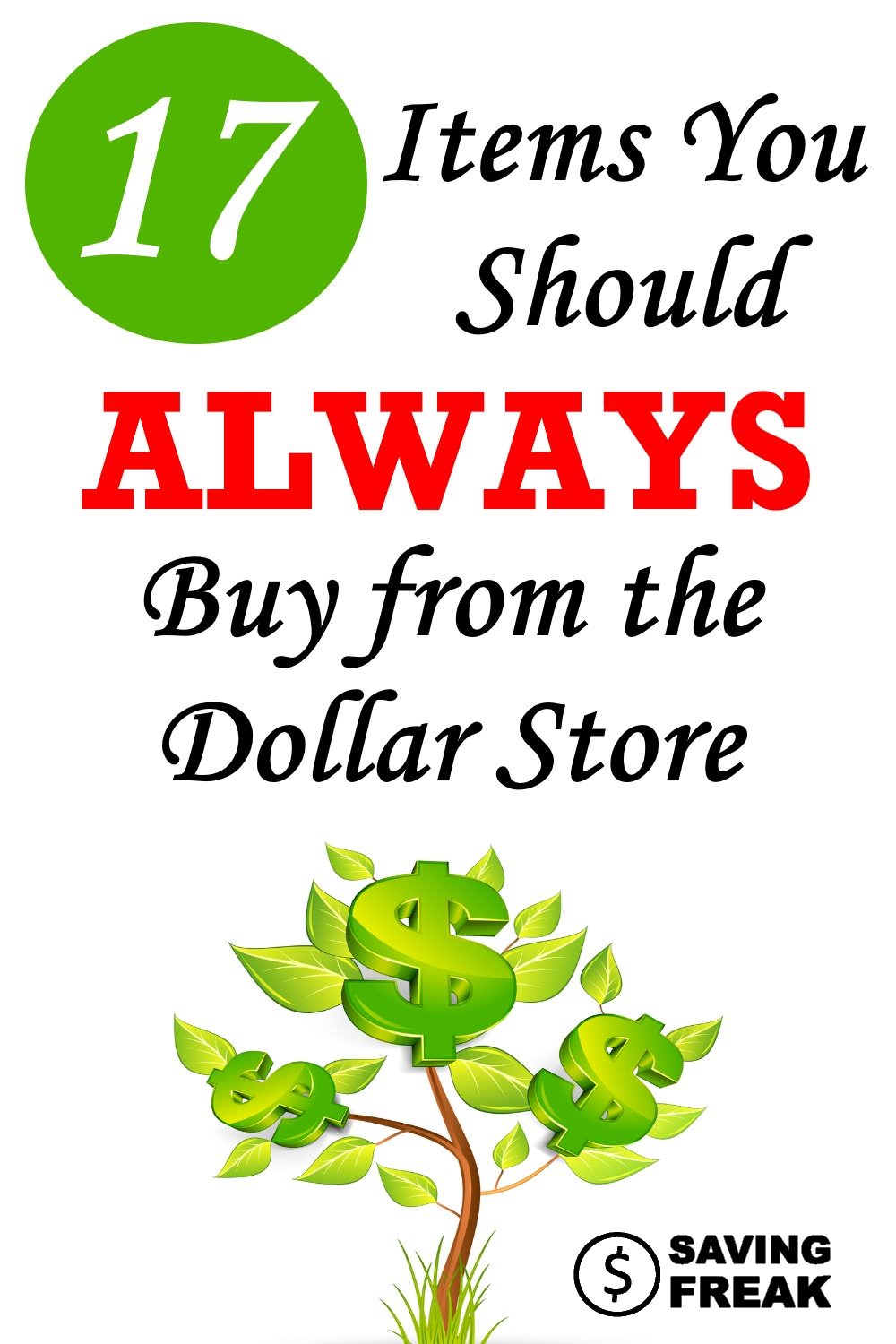 Now there are definitely items to avoid, but there are many name brand and good quality items that you can get EXTREMELY cheap. We can always happen upon the random gem, but here are 17 regular deals from the dollar stores that will beat the best prices of other retail stores almost every time.
Seasonal Decorations
While you can get amazing deals on seasonal items by shopping the Target clearance section after a holiday season. If, however, you find that you are missing a few ornaments in the middle of a holiday season then head to the Dollar Tree to get the items you need at only $1 each.
Spices
They aren't going to have any of the more exotic spices, but the most common kitchen spices are available and they are much cheaper than you can get anywhere else, even shopping at Aldi. They are sometime dated which can affect their potency, but focusing on items that don't age poorly, like salt, will save you a bunch of money from picking up the items from the grocery store.
Cleaning Supplies
Name brand cleaning supplies are a great option for anyone who is good at using coupons. While Dollar Tree does not double coupons getting any amount off of an item that is only $1 is going to be a steal. Most recently I saw bleach with $1 back on the Ibotta App.
Greeting Cards
Have you seen the price of greeting cards these days? You can spend more than $5 on a single card. If I am spending $5 on a card it better get up, sing, do a dance and give the person with the birthday a kiss.
Hair Accessories
I have two little girls and they go through hair accessories like crazy. Who knew a two year old could manage to remove and lose so many items from the top of their head? Dollar stores consistently carry barrettes, hair rubber bands, head bands, and even combs and brushes. It's a great way to save money on all these accessories, especially if they get lost as frequently in your house as the do in mine.
Movie Candy
The average cost of a box of candy at the movie theater is $4.25. Save that money by picking up your candy ahead of time from the dollar store. If you feel bad about sneaking it in, then wait to pick up the candy till after the movie and enjoy it then.
Party Supplies
Gift bags, paper plates, even small party favors, party supplies can really add up. Other retail stores will charge you as much as 5x as much as you will pay at a dollar store. You can even snag decorations and some stores have helium balloons that you can select and have filled right at the store.
Bread
A few stores offer bagels, bread, and more for $1 a bag. They are typically getting close to their sell by date so if you aren't able to eat them quickly you can freeze them or store the bags in the fridge.
Books
Whether it is best sellers or coloring books there is usually a decent selection of different books on the dollar store shelves. These are great ideas for stocking stuffers or as add-ons for birthday presents.
Name Brand Cosmetics
These jewels of the dollar store are a favorite for deal seekers. If you match these items up with coupons you can pretty much walk away with them for nothing.
Sunscreen
We have to sunscreen up our kids every time we go swimming and the cost of that stuff is almost criminal. While I haven't seen the spray cans, there is frequently quality bottles of sunscreen available in the summer.
Pregnancy Tests
Pregnancy tests have gotten super accurate, so why pay so much for the products that run as much as $10. Save the $9 and buy a pack of diapers (you are going to need them).
Mugs and Glasses
These don't happen all the time, but if you need a mug for coffee at the office or just need to replace a few broken glasses at home this is a quick and inexpensive way to replace them. Sometimes the mugs are even attractive enough to give as gifts.
Picture Frames
I have seen so many people do giant collages of pictures on their walls and spend a fortune on the frames to apply those pictures. Since no one is going to go around felling your frames (if you snickered you have a dirty mind), why not pick up the frames from the dollar store and save yourself a ton of money? Make sure to check the hook or bracket on the back that lets you hang it from the wall, some of the cheap ones won't hold up.
Facial Tissue
During cold season you will typically be able to find tissues on the Dollar Tree shelves. With tissues running as much as $4 a box you can make sure to not sneeze your money away.
Water Toys
During summer there are a ton of water toys that are great for around the pool are at the beach. Since my kids break their water guns almost every summer saving a few bucks by buying the for one dollar makes me feel just fine with the destruction that will ensue.
Preserved Foods
Olives, pickles, tinned items, and tons of other items that are almost impossible to have them go bad. Many of these items will be name brand, so you can even match them up with coupons to save even more.
Final Thoughts on What to Buy from Dollar Stores
Dollar Tree and the many other dollar stores really do have good deals on some quality merchandise. Be careful and do thorough checks of what you are buying and you can really rack up the dollar store deals.
If you pay attention on the grocery side, most weeks you can pick up some name brand item for free after coupon. For me the best part of the dollar store shopping is that I can give each kids one dollar and they can pick something out that make them excited we went.